CASE Program Faculty and Staff
Taylor Fidler, M.A., is the Director for the Connections for Academic Success and Employment (CASE) Program. He has worked at Texas Tech University in various roles since 2014, helping students realize their potential as they navigate college and beyond. Fidler has extensive experience in helping students with disabilities achieve their personal and academic goals. Taylor earned his Bachelor's and Master's degrees at Texas Tech University, focusing on communications and higher education. He enjoys spending time with his wife and two children, as well as volunteering in the community.
Taylor Brooks spent his undergraduate at Texas Tech University as a volunteer with students from CASE through a campus organization that aimed to help students alleviate their social anxieties. He graduated with a Bachelor's of Science in Psychology in 2014 and has returned to Texas Tech to pursue a Masters in Special Education with a concentration in Applied Behavior Analysis. In his role as a CASE Learning Specialist, Taylor offers his skills, understanding and ever-growing knowledge of ABA to better approach students enrolled in CASE when addressing their social needs, soft skills, and executive functioning skills. Taylor also works alongside the Burkhart Center's Clinical staff through the focused ABA program for children as young as 3 years old to adolescent/young adults in high school. During his free time when school or work is not the focus, he likes to go on hikes around the Lubbock area and doing practically anything outdoors. He has love and support for the Red Raider family and welcomes a good challenge. "Strive for honor evermore. Long live the Matadors!"
Kelly Golden has worked with Dr. DeAnn Lechtenberger as the Project Coordinator of Research Grants since September, 2011. Prior to working with Dr. Lechtenberger, Kelly was an administrative assistant at the Texas Tech University College of Education Virginia Murray Sowell Center for Sensory Impairments, working with the Deaf/Hard of Hearing program. Kelly has been employed at Texas Tech University College of Education for over six years. Kelly received an Associate's degree of Science in Respiratory Therapy in 1993, from South Plains College. Kelly worked for a short time as a respiratory therapist, then became a stay-at-home single mother raising four children. She is the grandmother to five grandchildren and enjoys spending time with her family and friends and also enjoys sewing.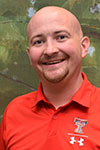 Jared Burgoon received a BA in Music and Psychology from Texas Tech University in 2011. During his time at Tech, Jared was a member of the Goin' Band and was active with his church. He enjoys any and all Tech sporting events, as well as rooting for Everton and U.S. Soccer. Above all, he values time with his family, friends, and his pug named O'Brien.
Amy Prause received B.S. in Exercise and Sports Science and Secondary Education/Teacher Education and English from Texas Tech University in 2012. Upon graduation with her undergraduate degree, Amy accepted a position at Smyer ISD as a high school English Language Arts teacher and girls' athletics coach and later continued her teaching career at Frenship ISD. Amy spent six years teaching English to junior high and high school students and coaching basketball, track, and cross country. In 2018, Amy returned to Texas Tech University to begin pursuing her graduate degree in Interdisciplinary Studies with concentrations in Sport and Exercise Psychology, Cross-Cultural Studies, and Special Education. Amy has worked as an academic advisor in University Advising – eXplore, where she worked with students who are exploring future or new majors and minors and with students who are working to improve their GPA. Amy joined CASE in 2019 and attributes her K-12 teaching experience and passion for teaching, mentoring and guiding students as the main elements that assist her in her position as a CASE Learning Specialist. Amy spends her personal time with her partner and their two dogs, Rue and Blizzard – Labrador and Siberian Husky – and you might even see her running around the Tech campus as she trains for the next marathon or half-marathon.
Haleigh Riza is West Texas native, originally from Dalhart, TX, who earned her Bachelor of Science in Human Development and Family Studies and Community, Family and Addiction Services (2017) at Texas Tech University. Haleigh is currently working toward her Master of Education in Counselor Education – Clinical Mental Health Counseling and will graduate May of 2020. Haleigh's background in Human Development and her graduate program peaked her interest in working with students. Haleigh also enjoys spending time with her husband, Bobby. Haleigh and Bobby are both avid sports fans and dog lovers. They spend most of their time with their dogs Maverick, Charli, and Josie.