Recent Events
CMLL
Dr. Erin Collopy Named Chairperson of CMLL
On September 10, 2014, Dean W. Brent Lindquist announced his appointment of Dr. Collopy as chair of the department. Dean Lindquist shared, "I believe it is important to emphasize that the quality of a department, its future development, its vision and its ability to rise "to the next level of excellence" lies not with a single leader - the chair - but with all faculty working to find a common ground, common vision and shared goals. Leadership lies with the chair and the more senior faculty, talent, energy and vision are imbued through the efforts of all faculty. A single leader, whether chosen internally or externally, cannot match the performance of a faculty working towards shared goals."
He emphasized the importance of having a chair that is an enabler which he believes Dr. Collopy has proven through her service as associate and interim chair and that she possesses the qualities to be so. His confidence in appointing her as chair was strengthened by the fact that she had already demonstrated to him that she can mediate conflict and make tough decisions, and that she is transparent in decision-making which is crucial in effective leadership.
CMLL Fire Preparedness – A Success
On September 17th, fire alarms sounded in the Foreign Languages building and to everyone's surprise it was not a typical fire drill. The trained staff put on their bright vests, secured the fire doors and directed all students, faculty, and staff to safely exit the building.
Once the fire marshal confirmed the absence of fire in the building, everyone returned to a routine afternoon in CMLL. CMLL staff's fire preparedness proved to be a success in the event of a possible fire.
CMLL Shows School Spirit for TTU Homecoming 2014
October 13-18, the CMLL Administration boosted school spirit by decorating the main offices in the respective TTU homecoming theme, "Tech Goes Hollywood, Coming to a Screen near You". Lloyd Allred, Theresa Madrid, Stephanie Santos, and the student assistants worked creatively to bring the homecoming excitement to the Foreign Languages building. CMLL participated in the Door Decoration Contest during Homecoming week and submitted the photos on social media for bragging rights.
Rolando Diaz Wins CMLL T-shirt Design Contest
CMLL announced the winner of the first t-shirt design contest for a $50.00 scholarship going to a graduate student with the best slogan. Rolando Diaz, Spanish PhD. Mr. Diaz's entry, "World Languages, Global Perspectives" was incorporated into the new CMLL t-shirt designed for the department. Guns up!
Proceeds from the sale of the t-shirts will benefit various projects within the department.
CMLL Round Table Discussion
On November 17th, Drs. Connie Scarborough, Spanish; Starra Priestaf, French; and Allison Cattell, German, led a roundtable discussion entitled, "Monsters, Marvels, and Miracles Reading the Disabled Body". The discussion focused on analyzing cultural representations of disability in the humanities.
CMLL Annual Holiday Luncheon
On December 4th, CMLL hosted its annual holiday luncheon under the organization of Theresa Madrid, Administrative Assistant. Bringing the semester to a close, faculty and staff enjoyed a traditional holiday feast of turkey & dressing and all the fixings catered by TTU Top Tier Catering.
Arabic
The Arabic Club met on Wednesdays throughout the semester at Barnes & Noble bookstore in the Student Union Building. Discussions on various cultural topics with interested students and people from the community provided excellent opportunities to practice communication skills.
Arabic Participates in the Céfiro International Cultural Day
On October 24th, the Arabic program participated in the International Cultural Day with a beautiful display of Middle Eastern and Tunisian artifacts and food. Students were introduced to the smells, tastes, and culture of the Arabic speaking.
It's Greek to Me – End of Semester Dinner
On November 11th, the Arabic Club shared a "end of the semester" meal at It's Greek to Me, a local restaurant. Approximately 90 students from the Arabic sections attended. Some students brought guests with them to enjoy a variety of Middle Eastern cuisine.
Arabic Classes Enriched by Culture in the Classroom
Learners of Arabic not only work on language skills during class but they have the opportunity for hands-on learning about Arabic culture through games, food, traditional dress, and dance.
On December 5th, Kaily Hultman, a student in Arabic, recorded an Arabic script introducing herself and the Arabic language to be broadcast several times on KTXT radio. She provided a general overview of the history of the Arabic language. Guns up to the Arabic program at TTU!
American Sign Language
The Silent Raiders kicked off the fall semester on September 17 with guest speaker, Jenee Richardson, Gallaudet University Alumna and Deaf Communications Coordinator at the LIFE/RUN Center for Independent Living in Lubbock.
Stern Shares Experiences with Silent Raiders
On October 15th, George Stern, a TTU student and teammate on the TTU Judo team, shared his experiences from his work serving as an officer with the Deaf Blind Citizens in Action and his involvement with Deaf Blind Young Adults in Action.
4th Annual Trunk or Treat
On October 31, the Silent Raiders co-sponsored the 4th annual Trunk or Treat event with LIFE/RUN. CSID drew names from the Trunk or Treat volunteers to win tickets for the film, No Ordinary Hero. Congratulations to Stephanie Phy, Rebbekah Lambert, Derek Udeh, Kenneth Brown and Johnathan Tripp. A hearty thanks to everyone who volunteered.
ASL Sponsors LIFE/RUN Community Services for Students with Hearing Loss
The Silent Raiders sponsored the LIFE/RUN Community Services for Students with Hearing Loss event on November 20th in the Qualia Room. Presenters: Mary E. Dickson, LIFE/RUN Deafness Resource Specialist; Edith Tillery, LIFE/RUN Hearing Loss Resource Specialist; Jenee Richardson, LIFE/RUN Deaf Communications Coordinator; Mercedez Lemons, DARS Vocational Rehabilitation Counselor explained, gave samples, and demonstrated how their services can assist students with difficulty communication situations, with communication strategies, technologies, and self-advocacy. Funding for the event was provided by DARS and the Office for Deaf and Hard of Hearing Services.
Silent Raiders Fundraiser
On October 15th, the Silent Raiders met at the Blue Oasis Italian Ice and Homemade Ice Cream located at 5217 82nd Street for a fundraising event and meeting. A portion of each purchase on October 15 was donated to the TTU Silent Raiders Club which supports the club's organization of future meetings and awesome events.
ASL Participates in Céfiro International Cultural Day
ASL Instructors Heighten Awareness in the American Sign Language program at the Céfiro International Cultural Day on October 24th. Video, posters and live signing by the instructors increased students' understanding that ASL is a "foreign language".
A Charlie Brown Thanksgiving
On November 21st, the Silent Raiders celebrated Thanksgiving in Charlie Brown style with a movie and potluck in the FL Qualia Room.
Silent Raiders Sign for the 56th Texas Tech Annual Carol of Lights
On December 2nd, the Silent Raiders signed for the music at the 56th Texas Tech Carol of Lights.
Applied Linguistics
The International Teaching Assistant/English as a Second Language Research Group had recommenced weekly meetings. This year brings together a record nine ESL teaching assistants (also M.A. candidates in applied linguistics), faculty members, instructors, and international visiting scholars from China. The meetings are used to plan lessons, create curricula and assessments, exchange ideas, and provide a platform for professional growth for early-career ESL teachers. In the meeting pictured here, the research group members are discussing their proposals for the upcoming International Society of Language Studies to take place in June, 2015.
International Teaching Assistant Program
From July 18 to August 8, CMLL hosted the 2014 International Teaching Assistant (ITA) Summer Workshop. A record number of 147 ITA candidates participated. They represented 26 countries, including Sri Lanka, China, Nepal, Iran, and India. They also represented 24 different academic departments in Texas Tech, including mathematics, statistics, petroleum engineering, economics, computer science, languages, and chemistry.
For three weeks the participants engaged in intensive speaking and presentation practice, with an emphasis on interactive teaching, developing rapport with students, professional teacher networking, and presenting content.
The workshop staff (six instructors, 3 teaching assistants, and one data specialist) participated in a two day orientation in which they discussed program goals, lesson plans, and ways to approach reliable and valid ITA assessment.
The instructors were: Tom Leverett, Amanda Harris, Bettina Christner, Hasan Almekdash, Dustin Florence, and Tim Turner. The teaching assistants were: Jordan Powell, Jared Travis, and Bryce Berta. The data specialist was Serena Mangano. The ITA Workshop was under the direction of Dr. Greta Gorsuch and the coordination of Carla Burrus.
Chinese

Chinese Language & Culture Club
On September 18th, the first meeting of Chinese Language and Culture Club was held in the Foreign Languages building. More than twenty Chinese language learners and Chinese native speakers attended this meeting during which they learned of upcoming club events during the fall semester, watched a Chinese video and shared some Chinese food.
Chinese Culture Presentations
On September 8th and October 2nd, students in CHIN 1501 gave presentations on the topics of Chinese culture, such as Chinese Buddhism, Double 9th Festival, Chinese Communist Party, Chinese Zodiac, Taiwan, and Chinese Middle Autumn Festival.
Chinese Club Participates in University Day
On Oct. 13th, the Chinese Language and Culture Associate presented a table to introduce the Chinese language program and Chinese Club at the University Day in the United Spirit Arena. Area high school students and parents showed interest in Chinese language and culture.
Chinese Participates in the Céfiro International Cultural Day October 24
The Chinese program shared culture and customs with participants through tastings of tea, trying their hands at chopsticks and learning about Chinese birth animal signs.
Classics
On September 18th, Dr. Caroline Winterer gave the 2014-2015 inaugural lecture of Texas Tech's Institute for the Study of Western Civilization entitled, "Are We Rome or Greece? America's Infatuation with Classical Antiquity" in the Escondido Theater. Dr. Winterer is Director of the Stanford Humanities Center, Anthony P. Meier Family Professorship in the Humanities, Professor of History and, by courtesy, Professor of Classics, Stanford University.
TTU Classics Society Participate in the AIA Society's Fall Lecture Series
On October 9th , The AIA Lubbock Society hosted the first of the fall lecture series titled, "Characterizing a Middle Bronze Palatial Wine Cellar from Tel Kabri, Israel" with lecturer, Andrew Koh, Department of Classical Studies, Brandeis University. Dr. Koh is an assistant professor of Classical Studies at Brandeis University. His specialties include Greek art & archaeology, Aegean prehistory, Bronze & Iron Age Mediterranean, archaeological & conservation science, GIS, cultural heritage & ethnoarchaeology of Crete, Silk Road, ancient craftsmanship & commodities, and cultural hybridity. He is director of the Archaeochemistry Research in the Eastern Mediterranean (ARCHEM) Project and Associate Director of the Kabri Archaeological Project.
The 2nd lecture, entitled, "The End of Eden: The long-term impact of metallurgical pollution at Faynan in Jordan" was given by Russell Adams, Department of Anthropology, University of Waterloo on October 23rd. Russell Adams is an anthropological archaeologist with primary research interests in the emergence of complex societies and early states and the interface between the development of social complexity and the adoption and development of industrial processes and technology during prehistory. His current research in the Faynan Jordan focuses upon early metal producing communities and understanding how the growth and spread of metal production impacted upon social organization, regional interaction and the environment.
On November 20, the AIA fall lecture series concluded with a presentation entitled, "History of the National Ranching Heritage Center" given Dr. Scott White, Special Projects Manager and Curator of Art, NRHC.
Classics Participates in the Céfiro International Cultural Day October 24
Students had the opportunity to learn about the role that olives, grapes, wine, and bread play in Classics.
French
On August 28th, The French Club kicked off the semester with its first meeting at J&B Coffee located at 26th Street & Boston Avenue which continued throughout the semester, providing learners of French conversation opportunities..
French Film Night
Screenings were held twice a month in the Qualia room provided opportunities to enrich cultural knowledge while improving listening comprehension skills. On November 5 and November 19 two screeninngs of La Guerre des boutons (Director, Yves Robert) and La Bataille d'Alger (Director Gillo Pontecorvo) were free and open to the public.
French Club Photo Scavenger Hunt
The first TTU French Club photo scavenger hunt was held on Thursday, October 2nd on the Texas Tech campus. Twenty-one students, both graduate and undergraduate participated in this event. A group effort was given in preparing the clues for the 2 competing teams. Each team had 5 clues written in French that led them to a place around campus, where they had to take a group photo as proof.
Annual Fall French Club Picnic
On October 16th, the French Club hosted a fall picnic at Wagoner Park. Games and delicious French foods were shared by all in attendance.
French Participates in Céfiro International Cultural Day October 24
German
Stammtisch
On September 4th, the German Club started the fall semester's activities with its weekly Stammtisch at Crickets. The club met weekly throughout the semester to practice German language skills and to forge friendships.
Oktoberfest
From October 3-5 the German Club embarked on an exciting discovery of German culture at Oktoberfest in Fredericksburg, TX. Fifteen students and professors spent two days sampling German food, soaking in traditional "oompa music," browsing in the small antique stores, and taking in the atmosphere of the town which still emanates German culture over 150 years after it was first settled by German immigrants. The cultural trip was fun and informative and plans are already underway for a repeat trip next year.
German Presence at the Céfiro International Cultural Day October 24
While students sampled German treats, they learned interesting facts about German culture at the table hosted by the German Club. Students were directed to the Qualia Room where they could try their knowledge of German history & geography, food, and culture playing German Jeopardy.
4th Annual German Top Chef Contest
On November 4th, German Club hosted its fourth German Top Chef contest. The bi-annual event is held in the Foreign Language Building and invites German-language students to make traditional German cuisine for visitors to sample. Students from nine German courses made outstanding culinary fare from delectable desserts such as a homemade German black forest cake, strudel and truffles, to mouthwatering main fare such as sausage, schnitzel, stew, and meatballs. The food was served on tables decorated with German flags, soccer regalia and other traditional objects, which enhanced the cultural experience. More than 75 visitors, including high school German AP students visiting from Roswell, N.M., sampled the cultural treats and voted on their favorite dishes.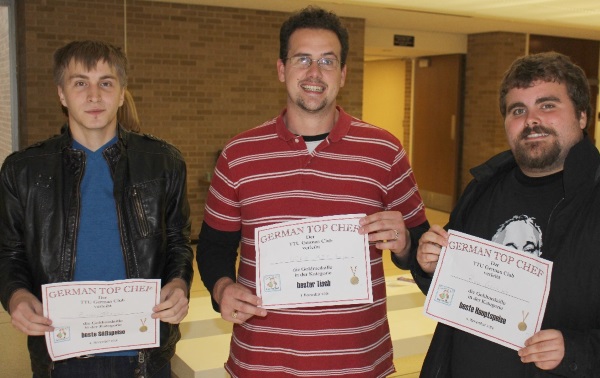 First-place prizes went to Marcel Kroschk for his juicy Wienerschnitzel, Zack O'Connor for his delectable German black forest cake, and Rico Gonzales for his outstanding potato soup.
Jeremy Hogan's beginning 1507 German class won for best table design. The Top Chef event helped showcase Germany's rich food culture and enhance students' experience with other cultures through their cuisine.
German Christmas Specialties
During the morning of December 1st, the German Club sold German Christmas goodies and coffee including chocolate covered gingerbread, Spekulatius, stollen bites with marzipan, and Pfeffernüsse in the main lobby of the Foreign Languages building on December.
Weihnachtsfest – Elementary Children Discover German Holiday Traditions
The German program hosted Weihnachtsfest on Dec 5-6 at the International Cultural Center during which time local elementary school children discovered the wonders of German holiday traditions. Faculty and graduate students volunteered their time to bring German crafts, cultural information through artifacts and watching a clip of a film in German.
A welcome visit from St. Nicholas and his helpers from Fredericksburg added a special touch to this year's Weihnachtsfest.
Italian
Screening of The Conformist
On September 18th, the Alamo Draft House Cinema and the IFS International Film Series presented the 35mm screening of The Conformist with CMLL Dr. Victoria Surliuga as host.
Director: Bernardo Bertolucci
Year: 1970
Starring: Jean-Louis Trintignant, Stefania Sandrelli, Gastone Moschin
Italian Participates at the Céfiro International Cultural Day October 24
The Italian program made its annual presence at the Céfiro International Cultural Day with delicious samplings of Italian pasta served by eager students.
Italian Musicians Entertain Learners of Italian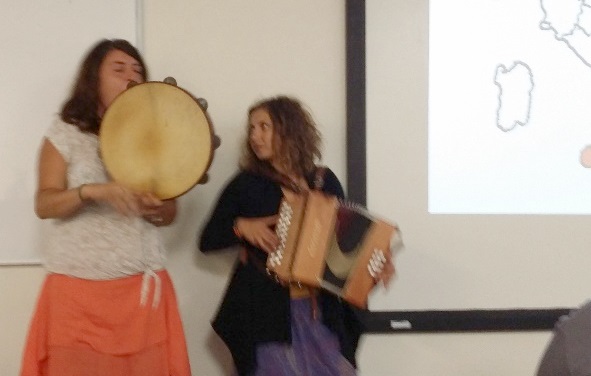 Maria Foglietto and Viviana Natale, 2 visiting musicians, entertained students and added cultural enrichment to CMLL 2305 and ITAL 1501 with their traditional Italian music. Dr. Thomas Cimarusti, Texas Tech School of Music, brought them here on a grant to produce a CD of traditional Italian music and to give concerts.
Japanese
Japanese Participates in Céfiro International Cultural Day October 24
Russian
The Russian Club kicked off the fall semester with its first meeting on September 3.
On October 2nd, the Russian Club hosted Russian Movie Night in the FL Qualia Room. Periodically throughout the semester Russian Club showed Russian films.
Picnic in the Park
On October 4th, the Russian Club gathered together to enjoy a picnic on a gorgeous fall day at Wagoner Park. Everyone enjoyed a Russian style BBQ (шашлыки), hanging out with friends while making new friends, and playing in the park. After experiencing such a wonderful picnic the Russian Club met for a second one on October 25 at the same location.
Russian Presence at the Céfiro International Cultural Day on October 24th
Russian Culture Week – October 27-31
Rodolphe Baudin Lecture
Rodolphe Baudin presented a lecture titled "Shaping cultural identities and politics: French and British foodways in Karamzin's Letters of a Russian Traveler" in the Qualia Room on October 27th in the Qualia Room. Dr. Baudin is one of the world's leading scholars on the works of Nikolai Karamzin.
Documentary -Blood
On October 29th, the Department of Classical & Modern Languages & Literatures, the TTU Russian Club, the Department of History, the Office of International Affairs, and the CH Foundation presented the documentary, Blood, Director, Alina Rudnitskaya at the International Cultural Center. The black-and-white film captures the daily events at a Russian blood bank which being a means to live healthily is also an important source of income – sometimes the only source.
Myths and Monsters of the Slavic Pagan World Lecture: "Who Spat in your Bucket?"
Russian Culture Week concluded on October 31, with Instructor Irina Drigalenko who presented a lecture entitled, "Who Spat in your Bucket?" to learners of Russian. Students discovered some of the myths and monsters of the Slavic pagan world.
Veronique Jobert Lectures on a Russian Family
On November 13th, the Department of CMLL and the Russian Club in collaboration with The CH Foundation, Office of International Affairs, Department of History, Institute for the Study of Western Civilization sponsored a talk open to the Texas Tech community and to the general public held at the International Cultural Center. Veronique Jobert, Professeur des Universités, Paris -4 Sorbonne, France gave a talk entitled, "Retrieving Lost Lives in the Archives: A Russian Family in the Maelstrom of History".
Jobert, being the daughter of a French officer and a Russian émigré from Harin, Manchuria was brought up in French colonial North Africa, West German and Paris. She completed her studies, including her PhD, in Russian and History at the University of Paris-Sorbonne where she now serves as Chair in Russian History. Jobert is one of France's leading experts on twentieth-century and contemporary Russia. She is the editor of La revue russe and lives in Paris. Perhaps her most valuable work to date comprises the publication and extensive annotation of the archived correspondence from Leningrad of Olga Voyeikova in the 1920 and 1030s to her family who fled to China from the Bolsheviks.
The Russian Club drew the semester to a close at a Russian Club Holiday party on November 22nd. Students and faculty exchanged white elephant gifts during a game, enjoyed a real Texas BBQ and potluck dinner with a bonfire.
Spanish
Spanish Club
The Spanish club met weekly throughout the fall semester for Conversation Hour on Mondays at 1pm, Tuesdays, at 3:30, pm, Wednesdays at 2 pm, Thursdays at 4:30, pm, Fridays, at 12 pm in the FL Qualia Room. Films in Spanish were shown each Monday in the Qualia Room at 5:00 p.m.
Spanish Club Officers for 2014-2015
President: Juan Morilla
Vice President: Armando Arroyo-Ramos
Secretary: Isabel Ojeda
Treasurer: Hayden Bergman
Promotion: Nicole Triviño
Activities Coordinator: Irina Mouzilova
Céfiro
Céfiro held its first meeting of the 2014-2015 academic year on September 12th during which time election of officers took place.
Céfiro Officers 2014-2015
Faculty Advisor - Dr. Jorge Zamora
President - Irina Mozuliova
Vice President / Editor - Dora Aranda
Editor - Yuriko Ikeda
Treasurer - Juan Morilla
Web master - Alberto Pérez
Editor - Ricardo Schmidt
Camelia Nunez, University of Waterloo Presents in CMLL
On October 13th, Camelia Nunez, Co-founder and CEO of Milao Language and language instructor at the University of Waterloo (Canada), gave a presentation titled, "Providing On-demand Conversation Opportunities for Language Learners" to Spanish faculty and graduate students.
Nunez addressed the fact that learning a foreign language is not an easy task and comes with many challenges along the way and anyone who teaches a foreign language witnesses firsthand the challenges learners face, and would most likely agree that perhaps the greatest challenge of all is achieving communicative skills or the ability to communicate in real-life setting. It is the case that more often than not, learners fail to achieve their ultimate goal of successfully communicating in a foreign language, in great part, due to the lack of opportunities for consistent and meaningful interaction.
Nunez's presentation showcased an existing solution to this issue – an online chatting tool that provides learners on-demand opportunities to engage in conversation with a technology that re-enacts interaction with another human. Discussion of the results of a group of beginner Spanish students at a Canadian post-secondary institution that engaged with the tool over the course of one term followed the presentation. Nunez explained how the language instructors accessed to their students' data and played an active role in their progress.
Spanish Club Cheers on Various Sports Teams
On October 24th the Spanish Club met at Ruby Tequila's to watch the Real Madrid vs. FC Barcelona soccer match.
On November 22nd, the Spanish Club went to the United Supermarkets Arena to cheer on the Red Raiders in the TTU vs. Missouri State basketball game. Vamos Red Raiders!!!
Céfiro International Cultural Day – Record Number of Visitors
On October 24th, from 9 am to 2 pm Céfiro hosted the 2014 International Cultural Day in the Foreign Languages Building which was spearheaded by Irina Mozuliova, President. This event was sponsored by the CMLL department and managed by Céfiro: Enlace hispano cultural y literario.
There were 15 expositions which represented Arabic-speaking countries, Brazil, China, Classics, Costa Rica, France, Germany, Greece, Italy, Japan, Kyrgyzstan, Mexico, Russia, and Spain.
Three student organizations outside CMLL were invited to join our Cultural Day. They prepared an informational table about the Day of the Dead (Unidos por un Mismo Idioma), Ethnic Minorities in Latin America (Sigma Delta Pi), and Indonesia (Permias: Indonesian students and scholars). Céfiro made a table with refreshments offering coffee and cookies to the participants who were in charge of their informational tables.
Approximately 550 people participated in the Cultural Day, including some 250 high-school students. The cultural performances of this year – a demonstration of Kendo, a presentation of Brazilian Jiu-Jitsu, Jeopardy by the German Club, and a musical presentation by a student of Japanese – gathered so many spectators that at times Qualia was absolutely full with little standing room left. Thanks to the creativity and energy of all of the participants, the International Cultural Day was spectacular, educational, and exciting.
Kendo (Japanese martial art)
Brazilian Jiu-Jitsu – Pittman Jiu-Jitsu Academy: Kory Peterson, Hunter Cargill, and Kelsey Rhoads
Jeopardy by the German Club led by Allison Burrell and Bettina Christner
Japanese Music Performance by student of Japanese Jared Inting
Classical & Modern Languages & Literatures