Meet the Admin Team
Bottom left to right: Lloyd Allred, Alec Cattell, Geazul Hernandez, James Lemon, David Villarreal
Middle L to R: Shelly Whitelonis, Theresa Madrid, Liz Hildebrand, Dr. Carmen Pereira-Muro, Associate Chair, Dr. Erin Collopy, Chair
Upper L to R: Stephanie Santos, Carla Burrus
Shelly Whitelonis
Academic Advisor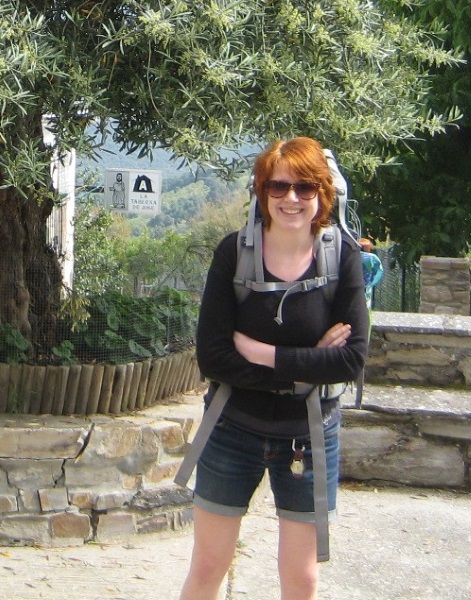 Hola! Soy Shelly Whitelonis, the new CMLL Academic Advisor. My areas of advising include: Spanish, Arabic, Japanese and Chinese.
I'm from the Houston area, but my heart lives in Austin and Madrid. UT drew me to ATX where I completed a BA in Hispanic Studies with a minor in Government. Knowing one semester wouldn't suffice, I never studied abroad during my college career. Instead, I waited until graduating so I could live in a Spanish speaking country for a much longer time.
I participated in the Spanish Ministry of Education's Auxiliar de conversación program, working as an English Teaching Assistant for three years. First, I taught in Zaragoza at a secondary school followed by two years in Madrid at a bilingual primary school. Needless to say, those three years were replete with discovery, most notably of my passion for education. My hobbies include travel, cooking, fitness, Spanish (claro), and challenging myself with new experiences (like moving to places I've never been to before – Lubbock included). Thus far, I'm having a ball and I am honored and proud to become a Red Raider!
Carla Burrus
Senior Academic Advisor
Carla Burrus Promoted to Senior Academic Advisor
Burrus, a native of Lubbock, earned a B.S. in Education, McMurry University, Abilene; and a M.A. in Romance Languages, French, Texas Tech University, while working as graduate part-time instructor in French. She continued as an instructor of French until she accepted her position as an academic assistant advisor for French and for the Intensive English program in 2011 and later that same year she became an academic advisor. In January, 2016, Burrus was promoted to Senior Academic Advisor for CMLL.
Currently, her areas of advising at the undergraduate level include: AS, Classics, French, German, Italian, and Russian and at the graduate level include: Languages & Cultures: Applied Linguistics, Classics, and German & MA Romance Languages – French.
Advising undergraduate students provides Burrus the opportunity to heighten students' cultural awareness and to facilitate students in learning how language plays an important role in career choices in a global economy. Her years of experience living and working France provide enriching opportunities to serve TTU students.
Other departmental responsibilities include: Coordinator of the TTU International Teaching Assistant program and workshop, Editor of the CMLL Newsletter. She assists with departmental promotion and publicity and has worked on the development of and fundraises for the Lorum Stratton Study Abroad Scholarship Endowment. She appreciates the creative opportunities and collaboration with CMLL faculty, staff, students, and alumni that these responsibilities afford her.
Classical & Modern Languages & Literatures