Study Abroad
Arabic (in development)
Opening Doors to New Lands and Culture: Texas Tech Faculty-led Arabic Language and Culture in Morocco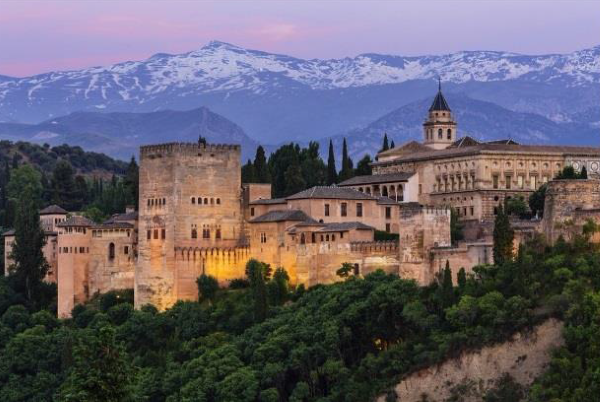 In 2018, the new Arabic faculty-led program will take place in Morocco. Texas Tech will collaborate with the Institute for the International Education of Students. Rula Al-Hmoud, program director, spent one week of discovery in Morocco experiencing what future students will experience in order to build the best program which will have the unique opportunity to explore the rich culture, history and language of Morocco. Students will enroll in one course which will focus on Arab Muslim civilization and Moroccan culture and one Arabic language course. The program will begin by exploring the Arabic influence in Spain before arriving in Rabat, Morocco. Homestays and excursions will provide opportunities to practice Arabic language skills.
Classics
Texas Tech Faculty-led Archaeology in Italy, July 1-31, 2017
Seven eager students will join Hannah Friedman, Ph.D. Classics on an archaeological excavation of a Roman town in Northern Italy located along an important trade route, Libarna. First settled in 6th BCE by the Liguri, an indigenous Gallic people in northern Italy, the settlement became a Roman colony in the 2nd century BCE, because of its strategic location along a major trade route. The visible remains of the Roman colony include a theatre, a bath complex, a forum, an amphitheater and urban blocks.
Being a multi-year project with plans for expansion in the future, the first season will involve geophysical survey of the site and the second will continue to survey and begin excavations of a domestic quarter. During the program, students will earn 6 hours of credit of Classical Field Archaeology.
French
Texas Tech Faculty-led Summer 1 in Reims, France, June 2-July 2, 2017
Enthusiasm fills the air as twenty-five Texas Tech students prepare to join program director, Carole Edwards, Ph.D. French in Reims, France for a month long study abroad program in the beautiful French university town. Students will be taking French classes at the intermediate and advanced level to earn 6 credit hours.
Excursions to Paris and other surrounding areas of interest make for new discoveries and adventures during the week-ends. An optional weekend in Deauville, Normandy is planned for a bird's eye view of World War II in the region. Lodging in the International Cultural Center on the university campus provides an inside look at campus life in France.
German
Texas Tech Faculty-led Summer 1 in Munich, Germany, June 6-July 8, 2017
Fourteen Texas Tech students will make their way to Munich, Germany immerse themselves in German during Summer 1 under the direction of Charles Grair, Ph.D. German. Studying abroad in a culturally-rich German city and living with host families affords students the best opportunity to learn and improve language skills. Students will earn 3 Texas Tech credit hours for a culture class and 3 credit hours for a language course at their respective levels from a foreign institution. Excursions will expand cultural knowledge of the land and its people.
Italy (in development)
Texas Tech Faculty-led in The Italian Alps
Dr. Francesca Mirti is developing a new concept of study abroad incorporating language and culture with the outdoors in the Alps. Students participating in this program will have the unique opportunity to explore the rich culture and history of Italy while learning about Italian language and the outdoors. This is an active learning study abroad where students will complete outdoor and sport activities in a world-class European outdoor paradise, the diverse region of Italy called Trentino, a province in the Italian Alps which includes rocky peaks and Mediterranean lakes. Students will earn 6 credit hours during the program of which 3 hours are devoted to language and 3 hours of regional culture and the outdoors in the Alps.
Mexico Field Course
Texas Tech Faculty-led Summer 1 Mexico Field Course, San Luis Potosí, June 6-July 8, 2017
The CMLL department is happy to announce that this summer we will again be taking students to Mexico for our Mexico Field Course study abroad program. This year we have 22 students who are already excited about having this fantastic immersion experience in San Luis Potosí with Professors Zamora and Corbett, the two directors. The students will be staying with our friendly host families, completing 6 hours of upper level Spanish with the professors, and taking excursions to Guanajuato, San Miguel de Allende, Playa del Carmen and the Mayan ruins of Chichen Itzá. And this year, with the very favorable rate of exchange, pesos to dollars, the program is even less expensive than it normally is."
Russian
The School of Russian and Asian Studies: The Cuban – Russian Connection, May 13-June 11, 2017
Anthony Qualin, PhD Russian will be one of the faculty leaders for The Cuban-Russian Connection study abroad program during summer in Havana and Saint Petersburg. The Cuban-Russian Connection will explore how identity formation in each of these fascinating countries is carried out via culture, language, history, and religion in an effort to shed light on the wars, revolutions, and communist forces each has experienced over the past. Both countries have played important and strategic roles in US foreign policy thus understanding both countries is essential to understanding US interests in today's changing geopolitical landscape.
The course will cover the Russian-American relationship from the 18th to the 20th century; the Soviet-Cuban relationship, including a comparison of the two revolutions (1917 and 1959); the cultural impact on the USSR and modern Russia. Class discussion will include the triangle of Russia/Cuba/USA evolving from the Cuban Missile Crisis to the present. Aspects of Russian culture and history will be included while in Russia. To learn more, click here.
Spanish

Giralda Tower
Texas Tech University is offering a unique opportunity for students to live, learn, travel and enjoy the life, culture, and Spanish language during long semesters, or during the summer program, in Seville. Spanish course credit may be earned at the lower-level (first and second year), upper level (third and fourth year), and at the 5000-level (or graduate). The program is directed and the courses taught by Texas Tech University Spanish professors.

Teaching Assistants, Spring 2017
Fifty-three students studied abroad during spring 2017 experienced Spanish culture and history first hand during the excursions planned by the TTU Center. Enriching field trips opened the eyes of students to see first-hand the history they had always read about in textbooks. The first excursions included visits to the tomb of Christopher Columbus, a climb up the Giralda tower, a tour of the world's largest Gothic construction. Survival Spanish session equipped students with some key tips for communicating in Spanish.
Facilitating growth in conversational speech through the use of Spanish tutoring served as conversation partners mostly. Fostering cultural awareness, students participated in Sevillanas dance class (a local dance from Sevilla) in the classroom.
Other excursions included: Reales Alcázares, the Basilica Macarena, the Patio de los Naranjoa, and the Basilica Macarena just to name a few.
Spanish Faculty-led Study Abroad 2017 in San José, Costa Rica
During the winter intersession in January 2017, thirteen Texas Tech engineering students traveled to San José, Costa Rica to participate in the faculty-led program under the direction of Spanish Instructor Katherine Brooke. Students took part in two weeks of complete immersion in the Spanish language and Costa Rican culture.
Students completed the course SPAN1310 Survival Spanish Language & Culture to complete their multicultural requirement and international experience requirement. While studying the Spanish language and Costa Rican culture in the classroom, students lived the language and culture through homestays with Costa Rican families, and through the participation in cultural events, excursions and talks by various guest lecturers.
Classical & Modern Languages & Literatures