The HUB: College Launches New Multimedia Source
by Courtney Coombes, photo by David Vaughn, screen captures from www.ttuhub.net
The College of Media & Communication launched a new innovative mass medium – the HUB@TTU. The HUB is created by college students and is produced for a student audience.

The college has moved and changed names in the past year. The next step is launching media to host student work. The HUB gives College of Media & Communication students the opportunity to publish their work on their website, at www.ttuhub.net.

Journalism professor Randy Reddick, Ph.D., said the seeds of the HUB have been around for a while.

"We first did experiments in the 2005-2006 academic year, and we did a little bit of research," Reddick said, "and it has been a kind of a thing several of us, particularly the faculty, have talked about over time."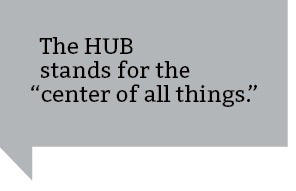 Reddick said during the process of hiring HUB staff members, the faculty members asked the students to communicate their visions and what they would want to do with the new idea.

"We envisioned coming out of this: video productions, a website that was going to be the home, and a place where students can point to and say, 'See what I did there!'" Reddick said.

The HUB stands for the "center of all things."

"In the long-term, it is our sense that our name is going to be out there in a way that it has not been before," Reddick said. "We will have new ways to call attention to what our students are doing, and as a result, that is going to bring attention and recognition to the university."


Media & Communication professor Pete Brewton, J.D., said the long-term goal of the HUB is to have every student in the college involved so they can take ownership of their work.

Brewton said he thinks students should know that the College of Media & Communication now has a good forum for students' work to be published so that everyone in the world can see it. Knowing the work is going to be made public is an incentive for students to do their best work.

"I think it's great publicity, primarily a way to show off our students' work not only to other students but to Lubbock and potential employers so students have a chance to build a portfolio of work," Brewton said. "I think it's unique right now because there is not anything like it."


GET IN TOUCH WITH THE STAFF
Chelsea Poe, public relations editor of the HUB, said the purpose of the HUB is to report stories of student and community interest while allowing students to get involved and publish and showcase their own work.
"I think that the college will benefit from the HUB because it will show how talented and creative the students from the college are," Poe said. "The Hub will also allow us to stand out from other university news sources."
Poe said some of the main goals of the HUB are to change the idea of a media outlet by giving the entire campus an opportunity to contribute, to report stories of student interest, to encourage students to submit original work to be published on the website, and to give students a chance to share their talents, creativity and opinions.
"We are really excited about the Hub so far and its potential in the future," Poe said. "We really want students to get involved and become active members in this process."
Katie Cook, a junior public relations major, said she thinks the HUB will be a great benefit to the college.
"I love the overall idea of students collaborating together to share opinions, ideas, and news stories," Cook said. "I think it is much more entertaining to get information from the HUB because its news pertains more specifically to my lifestyle and it's brought to me by my fellow peers."
Cook said she cannot wait to see how the HUB will benefit both the college and the students who submit their work.
For more information on how to submit work to the HUB, or editor contact information, visit
www.ttuhub.net
.mc
Courtney Coombes is a junior public relations major from Odessa, Texas.
David Vaughn is a junior university studies major from Spur, Texas.