Summer 2014 Course Fliers
Click each major to expand selection.
Last Updated Apr. 1, 2014
Electronic Media & Communications
Visual Communications
EMC 3308
Summer 1, 2 p.m.
CRN: 21732
TBD
Do you want to learn a more about photographic techniques? What about visual design and the use of images across different types of media?

This course is a "lecture" class where students learn about photographic techniques, visual design, and the use of images across different types of media. This is a core curriculum course.
---
Principles of Electronic Media
EMC 3310
Summer 1, Noon
CRN: 35283
TBD
This course is a "lecture" class where students learn about the history and industries of electronic media (radio, television, cable, film, Internet and new technologies.

This is a core curriculum course and our learning objections satisfy the Technology and Applied Science. It's a really fun and informative class.
---
International Electronic Media
EMC 3358
Summer 2, 8 a.m.
CRN: 68128
TBD
Global media. International film markets. Bollywood. Nollywood.

This course provides students with excellent opportunities to learn about the international flow of information and entertainment.
---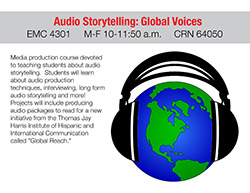 Audio Storytelling: Global Voices
EMC 4301
10 a.m.
CRN: 64050
TBD
Media production course devoted to teaching students about audio storytelling. Students will learn about audio production techniques, interviewing, long form audio storytelling and more! Projects will include producing audio packages to read for a new initative from the Thomas Jay Harris Institute of Hispanic and International Communication called "Global Reach."
---
Journalism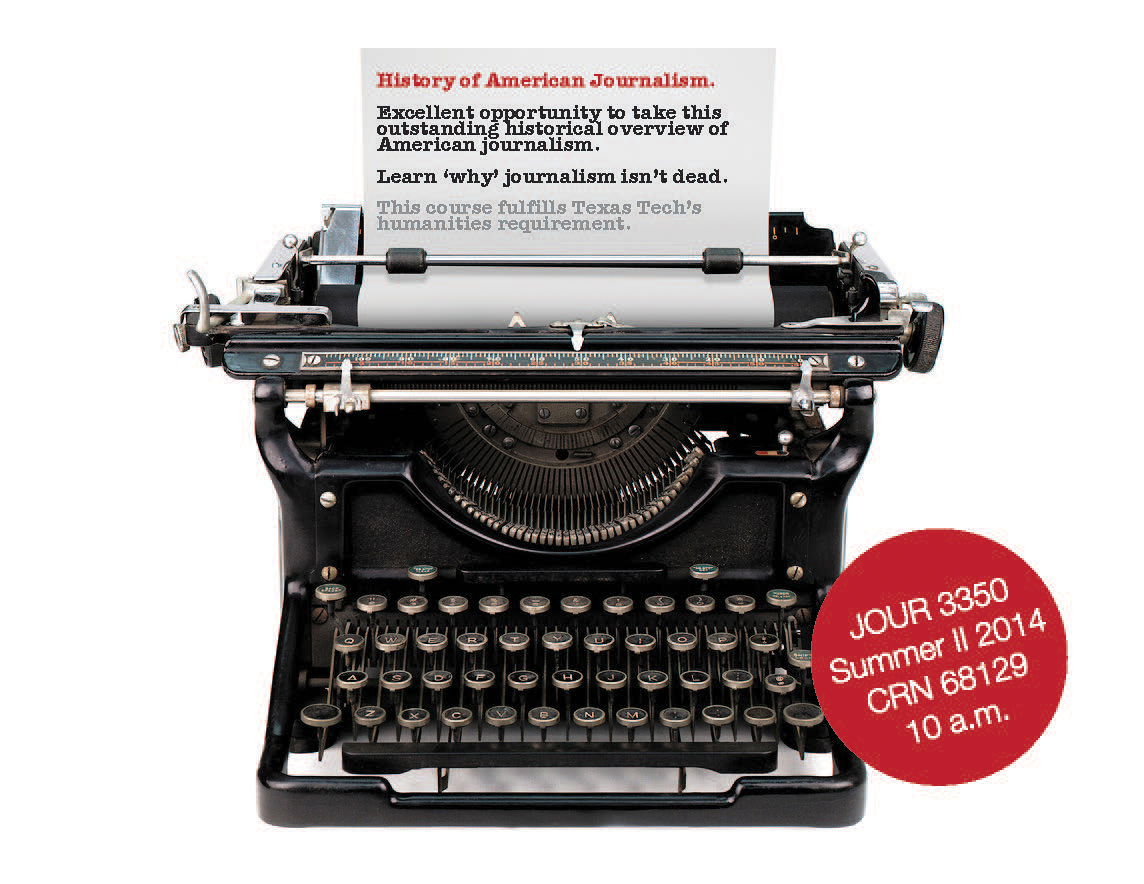 History of American Journalism
JOUR 3350
Summer 2, 10 a.m.
CRN: 68129
TBD
Excellent opportunity to take this outstanding historical overview of American journalism.

Learn 'why' journalism isn't dead.

This course fulfills Texas Tech's humanities requirement.
---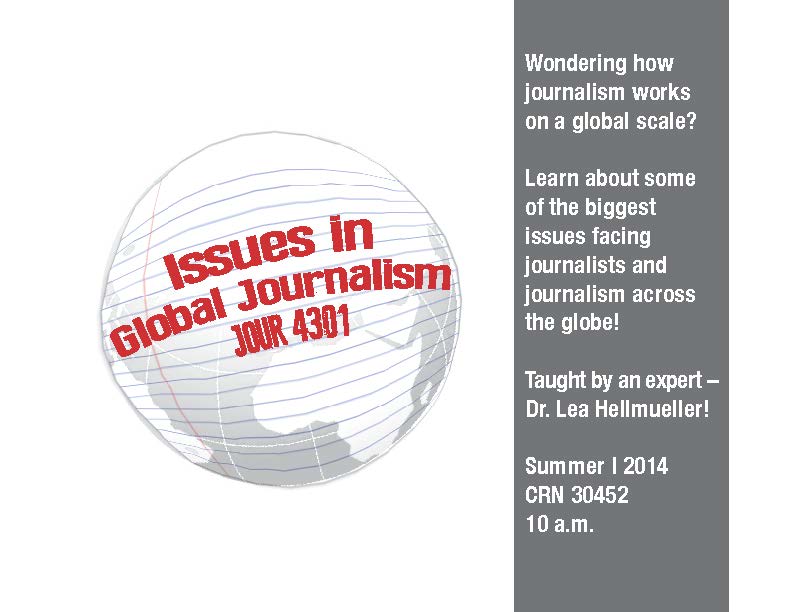 Issues in Global Journalism
JOUR 4301
Summer 1, 10 a.m.
Wondering how journalism works on a global scale?

Learn about some of the biggest issues facing journalists and journalism across the globe!

Taught by an expert - Dr. Lea Hellmueller!
---
Public Relations
Sports Public Relations
PR 3354
Summer 1, 10 - 11:50 a.m.
CRN: 35408
Learn about the exciting, challenging and fast-paced world of sports public relations from a seasoned professional. Mr. Cook is the managing director of communications & marketing at Texas Tech University. Previously, he worked for 11 years in the Texas Tech athletics department including nine years as an assistant athletic director. During that time he oversaw the media relations efforts for 17 sports programs, working closely with football and golf.
---
Event Management for Public Relations
PR 4301
Summer 2, 2 - 3:50 p.m.
CRN: 64060
This course in an in-depth study of the various roles that event management plays in an array of public relations programs and campaigns. Topics will include how to build awareness and company reputation by planning and implementing events for diverse venues and purposes ranging from fund-raisers to trade shows, entertainment premieres to sports arenas, annual conferences to one-of-a-kind extravaganzas. We will cover every stage of strategy, planning, production, marketing, logistics, finance, risk assessment and evaluation.
---
Fall 2014 Course Fliers
Click each major to expand selection.
Last Updated Jun. 30, 2014
Graduate
Social Issues Campaigns
ADV 6315
M 6 - 8:50 p.m.
CRN: 29319
Graduate students will learn the skills and techniques to create communication campaigns for pro-social purposes!
---
Advertising
Sports Advertising
ADV 4301.001
MWF, 2 - 2:50 p.m.
CRN: 22007
This course is an in-depth study of the various roles that advertising plays in the sports industry. The course will offer theoretical and practical information and advice flavored with shared experiences from those actually accomplishing these goals every day. It will explain precisely how to sell product and build brands, images and organizational recognition by utilizing sports partnerships as well as advertising for sports entities themselves. It also will cover special forms of sponsorship and emerging controversial issues in sports marketing.
---
The Advertising Pitch
ADV 4301.002
TR, 11 a.m. - 12:50 p.m.
CRN: 22008
The objective of this course is to offer students guidance and inspiration with respect to writing and delivering persuasive advertising pitches. Pitching ideas successfully in a competitive advertising climate is a skill that requires practice and passion. Students will learn to communicate their big ideas in a way that is compelling, entertaining, and strategic. Students will study techniques of persuasive communication that apply to a variety of advertising contexts. Topics to be covered include persuasive writing, oral presentation, elevator pitches, interview skills, and competitions for new business. Students will collaborate to prepare and deliver multiple pitch presentations as well as engage in peer critique.
---
Electronic Media & Communications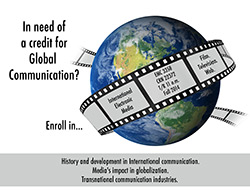 International Electronic Media
EMC 3358
TR, 11 a.m. - 12:20 p.m.
CRN: 22372
TBD
In need of a credit for Global Communication? Enroll in International Electronic Media.
Film. Television. Web.
History and development in International communication. Media's impact in globalization. Transnational communication industries.
---
Senior Projects: Double T Insider
EMC 4300-004
Thursdays, 5 - 8 p.m.
CRN: 12110
Chris Humphries, Producer, Texas Tech Athletics
This fall, Double T Insider will be airing on Fox Sports Southwest and Fox College Sports. In this class, you will be working with the award-winning Double T Insider on a production that will run on the regional sports network. Get the chance to earn course credit and be a part of Fox Sports Southwest and Fox College Sports!
---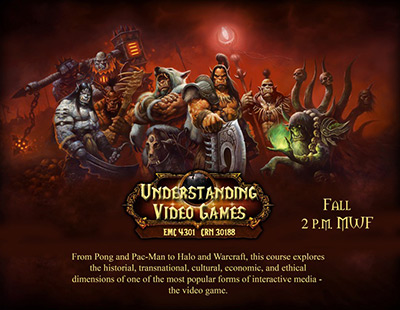 Understanding Video Games
EMC 4310
MWF, 2 - 3:50 p.m.
CRN: 30188
TBD
From Pong and Pac-Man to Halo and Warcraft, this course explores the historical, transational, cultural, economic, and ethical dimensions of one of the most popular forms of interactive media - the video game.
---
Journalism
Sports Reporting
JOUR 4301
MW, 4 p.m.
CRN: 31508
TBD
Break into the world of sports reporting.

History of sports reporting
Learn how to develop sources
Breaking sports stories
---
Public Relations
Applied Public Relations Research Methods
PR 3380
MWF, 11 - 11:50 a.m.
CRN: 31509
Modern public relations practice is data-driven and results-orientated. This course will offer an in-depth examination of the applied research function in public relations practice.

We'll discuss how to design and implement projects; analyze and interpret data; and how to pitch, package, and present research to clients.

Most of our focus will be on how to apply research to address real-world public relations problems, guide strategy development, and evaluate public relations program and campaign effectiveness.
Prerequisites: Sophomore standing. PR 3310 and MATH 2300 or 2345 with a grade of C or higher.
PR majors may use this course as a substitute for the MCOM 3380 core requirement.
---
Special Topics in Public Relations: Crisis Communication
PR 4301
TR, 3:30 - 4:50 p.m.
CRN: 27638
Students will learn how to prepare for and respond to corporate, nonprofit, and government sector crises from a public relations perspective. Through case studies and in-class activities the course emphasizes the practical application of crisis communication best practices, strategies and tactics when developing and implementing crisis communication plans.
---
International & Multicultural Public Relations
PR 4351
MWF, 1 - 1:50 p.m.
CRN: 31557
This course will examine the challenges and opportunities of practicing public relations in international, multicultural and cross-cultural contexts. We'll also look at how the public relations function is structured and practiced in other cultures.
Fulfills the global communications requirement for Media & Communication majors.
---