Spring 2014 Course Fliers
Click each major to expand selection.
Last Updated Oct. 21, 2013
One Week Short Course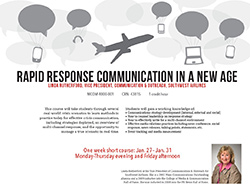 Rapid Response Communication in a New Age
MCOM 4000-001
One week short course: Jan. 27– Jan. 31
Monday-Thursday evening and Friday afternoon
CRN: 43815
Linda Rutherford, Vice President, Communication & Outreach, Southwest Airlines
This course will take students through several real-world crisis scenarios to learn methods in practice today for effective crisis communication, including strategies deployed, an overview of multi-channel response, and the opportunity to manage a true scenario in real time.

Students will gain a working knowledge of:

Communications strategy development (internal, external and social)
How to counsel leadership on response strategy
How to effectively write for a multi-channel environment
Effective media relations practices including news conference, social response, news releases, talking points, statements, etc.
Event tracking and media measurement
---
Advertising
Advertising Sales
ADV 4301
Tues., Thurs., 12:30 - 1:50 p.m.
CRN: 45603
TBD
The objective of this course is to acquaint you with the world of advertising media sales, including radio, television, newspapers, magazines and the Internet. As a media sales person it is critical to understand the importance of building customer service skills and relationship strategies to enhance the quality of service given. By delving into the many facets of media sales, customer service and career choices, this course will help you to define a future action plan.
---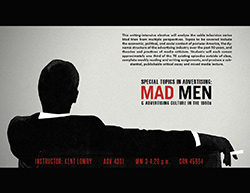 Mad Men & Advertising Culture in the 1960s
ADV 4301
Mon., Wed., 3 - 4:20 p.m.
CRN: 45804
This writing-intensive elective will analyze the cable television series Mad Men from multiple perspectives. Topics to be covered include the economic, political, and social context of postwar America, the dynamic structure of the advertising industry over the past 50 years, and theories and practices of media criticism. Students will each screen approximately one third of the 78 existing episodes outside of class, complete weekly reading and writing assignments, and produce a substantial, publishable critical essay and mixed media lecture.
---
International Advertising
ADV 4313
Tues., Thurs., 11 a.m. - 12:20 p.m.
CRN: 49242
TBD
This course will examine the rapidly changing global environment as it impacts advertising communication. Specific challenges and opportunities will be discussed as they relate to advertising research, strategy, media, and execution in a multicultural context.
---
Internet & New Media Advertising
ADV 3340.001
Tues., Thurs., 9:30 - 10:50 a.m.
CRN: 45605
TBD
The Internet & New Media Advertising course is an introductory look at interactive advertising with special emphasis on advertising via the Internet and other emerging media platforms. The course will cover consumer behavior, various social media, research, emerging media, and Google advertising.
---
Electronic Media & Communications
Rock & Roll Media
EMC 4301.001
Tues., Thurs., 2 - 3:20 p.m.
CRN: 39749
Do you want to learn a little more about the music industry? Do you need an elective? Are you interested in a course that you can really learn something new?

It's changed society; now learn how it's changed your life.

This course considers music and the music industry from a technology, economics, culture, social identity and globalization perspective. Don't miss this opportunity - especially if you appreciate music or want to know how music is used in every aspect of the media business.
---
Journalism
Storytelling by Smartphone
---
Future of Global Journalism
---
News Immersions - MCTV
---
Sports & Media
---
Public Relations
Online and Digital Public Relations
PR 3315
Mon., Wed., Fri., 2 - 2:50 p.m.
CRN: 48947
This course examines the strategic use of online, mobile and social media tools in public relations practice. We'll discuss topics such as how to plan and implement social media strategy, how to track and monitor issues, how to engage with stakeholders, how to cultivate and manage relationships using social media tools and how to plan for and respond to crises in a social media environment. Students will have the opportunity to conduct projects using the college's new social media command center.
Note: PR majors using the old catalog can apply this course toward their PR 4301 special topics requirement; not open to students who have taken PR 4301: Social Media & PR
Prerequisite: PR 3310 and PR 3311 with grade of C or higher.
---
Public Relations Content Development
PR 3345
Tues., Thurs., 9:30 - 10:50 a.m.
CRN: 49258
Students will learn how to develop, design, manage, and implement multimedia compelling, likeable, and shareable public relations content for organizational media. Strategies for organizational storytelling, content curation, user-generated content, and distribution across mobile, social and web-based channels will also be discussed.

What is content PR? PR Newswire defines it as "the extension of content marketing principles – the creation of compelling, relatable content – to the public relations practice to more effectively share an organization's story, increase awareness and build audience interaction… content PR relies on the distribution of informative, helpful and engaging content to establish and grow the relationship between an organization and its audience."
Note: PR majors using the old catalog can apply this course toward their PR 4301 special topics requirement.
Prerequisite: PR 3310 and PR 3311 with grade of C or higher.
---
Public Relations for Nonprofits
PR 4301.001
Mon., Wed., Fri., 1 - 1:50 p.m.
CRN: 40224
This course explores how public relations strategies and tactics are utilized to further the missions and goals of nonprofit organizations, focusing on ways that practitioners build and maintain relationships with communities, the media, the government and other key publics. The course will examine various approaches to nonprofit public relations, such as media advocacy, corporate social responsibility, crisis communication and emerging media, and also consider how nonprofits use strategic campaigns to drive knowledge, attitude and behavior change.
---
Politics and Public Relations
PR 4301.002
Tues., Thurs., 3:30 - 4:50 p.m.
CRN: 46052
The purpose of this course is to provide students with an introduction to the dynamic processes of political communication from a strategic communication perspective and to explore the crucial relationships between mass communication, public relations and politics.

An important goal will be to explore ways to allow media and strategic communication messages to contribute to a healthy and ethical political life rather than detract from it.

We will examine both the conceptual and practical implications of strategic political communication and public relations in democratic governance.
---
Global Perspectives on Strategic Sport Communication
PR 4301.003
Mon., Wed., 3 - 4:20 p.m.
CRN: 46052
Chris Cook
The FIFA World Cup in Rio De Janeiro. The Winter Olympic Games in Sochi, Russia. These and other major international sporting events in 2014 provide an opportunity for the examination of the global sport phenomenon and the role that strategic communication plays in the management and marketing of international sport.
Topics that the course will examine include:

How variation in economic, technological, social, cultural, and media systems influence global sport communication
Promotion of international sport leagues, teams, and events
How strategic communication is used in the promotion of US-based sport teams and leagues abroad.

Mr. Cook is the managing director of communications & marketing at Texas Tech University. Previously, he worked for 11 years in the Texas Tech athletics department including nine years as an assistant athletic director. During that time he oversaw the media relations efforts for 17 sport programs, working closely with football and golf.

This course counts toward fulfillment of the college's global communication requirement.
---