Three Minute Thesis (3MT®)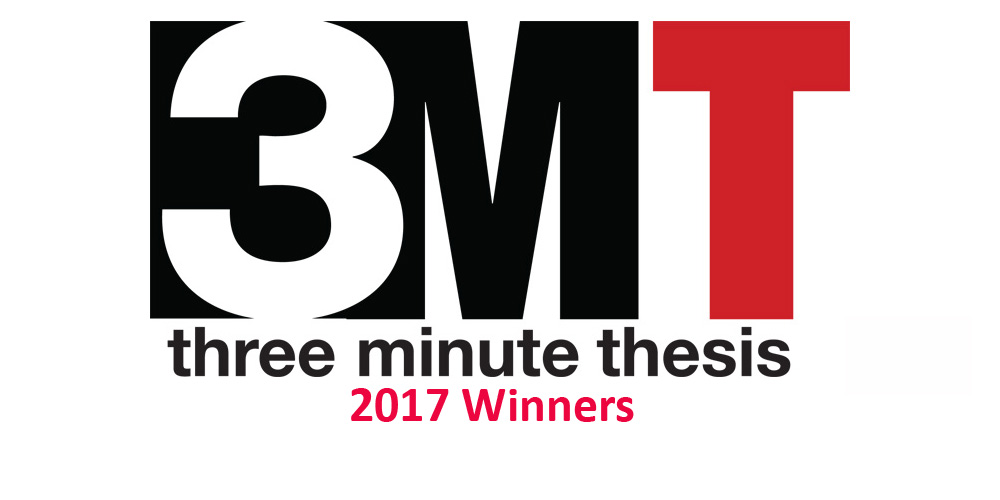 Three Minute Thesis (3MT®) celebrates the exciting research you are doing as a graduate student. Developed by The +University of Queensland (UQ) in 2008, this exercise cultivates your academic, presentation, and research communication skills. The competition supports the capacity to effectively explain your research in three minutes or less, in a language appropriate to a non-specialist audience while using just 1 static PowerPoint slide.
2017 Winners

⇨1st Place: Inosha Wijewardene - Doctoral Student – Biological Sciences Department
Co-overexpression of AVP1 and RCA to increase drought, salt and heat tolerance in Arabidopsis thaliana.

⇨2nd Place: Demi Gary – Master's Student – Natural Resources Management Department
Examining the southern Great Plains for hotspots of at-risk species and assessing efficacy of a decision support tool.

⇨3rd Place: Judy Rose – Doctoral Student – Curriculum & Instruction Department
African American Representation in Social Studies Texas Essential Knowledge and Skills (TEKS): A Mixed-Methods Examination of Diversity In Texas Curriculum and its Consumers.

⇨People's Choice: Patricia Ryan – Doctoral Candidate – Educational Psychology & Leadership Department
Women Leaders in Higher Education: Career Pathway Factors, Leadership Styles, Institutional Fit, and Attaining Legitimacy for Female University Presidents.
Three Minute Thesis 2017 Winner
Progression
The following chart* shows the progression of students through the local 3MT® competition. The winner of each morning heat will then compete in the final heat in the afternoon to determine the winner. Some winners may have the chance to advance to the final UQ 3MT® or Asia-Pacific 3MT® competitions.
*Chart is an example of heats. Number of heats and number of students per heat will depend on number of participants and may change.
Eligibility
Active doctoral degree or master's thesis students are eligible to participate in the 3MT® competition. Participants must be working on a dissertation or thesis and be able to share key results and research significance from their research. Previous graduates are not eligible to compete. Winners may advance past Texas Tech 3MT® competition.
Awards
First, second, and third prizes will be awarded to the top students in final heat of the competition. A People's Choice award will also be awarded. Prize may be used for travel or research purposes for the prize winner.
First Prize - $300
Second Prize - $200
Third Prize - $100
People's Choice Award - $100
Judging Criteria
Comprehension & Content
Did the presentation provide an understanding of the background to the research question being addressed and its significance?
Did the presentation clearly describe the key results of the research including conclusions and outcomes?
Did the presentation follow a clear and logical sequence?
Was the thesis topic, key results and research significance and outcomes communicated in language appropriate to a non-specialist audience?
Did the speaker avoid scientific jargon, explain terminology and provide adequate background information to illustrate points?
Did the presenter spend adequate time on each element of their presentation - or did they elaborate for too long on one aspect or was the presentation rushed?
Engagement & Communication
Did the oration make the audience want to know more?
Was the presenter careful not to trivialise or generalise their research?
Did the presenter convey enthusiasm for their research?
Did the presenter capture and maintain their audience's attention?
Did the speaker have sufficient stage presence, eye contact and vocal range; maintain a steady pace, and have a confident stance?
Did the PowerPoint slide enhance the presentation - was it clear, legible, and concise?
Rules
Students are eligible to compete in the 3MT® provided that they are currently enrolled in a thesis master's or doctoral degree program.
The topic of the presentation must be directly related to the student's thesis or dissertation research.
Presentations are to be spoken word and cannot consist solely of a poem, rap or song; however, a few lines of a poem, rap or song can be included in the presentation (if these are directly related to the research topic).
Reading the presentation from hardcopy notes or electronic devices is not permitted.
A single static PowerPoint slide is permitted (no slide transitions, animations or 'movement' of any description, the slide is to be presented from the beginning of the oration).
No additional electronic media (e.g. sound and video files) are permitted.
No additional props (e.g. laser pointers, costumes, musical instruments, laboratory equipment) are permitted.
Presentations are limited to 3 minutes maximum and competitors exceeding 3 minutes are disqualified.
Presentations are considered to have commenced when a presenter starts their presentation through movement or speech.
The decision of the adjudicating panel is final.
Making the Most of Your 3MT®
Please review the following resouces for 3MT® to make the most of your presentation.
Making the Most of Your Three Minutes by Simon Clews, University of Melbourne
Submitting Your 3MT® Abstract
Please click below to submit your PowerPoint slide, abstract, and three key words. Applications must be received by 12:00 Noon on October 16, 2017. Late applications will not be considered.
If you have any questions, please email cari.carter@ttu.edu