Three Minute Thesis (3MT®)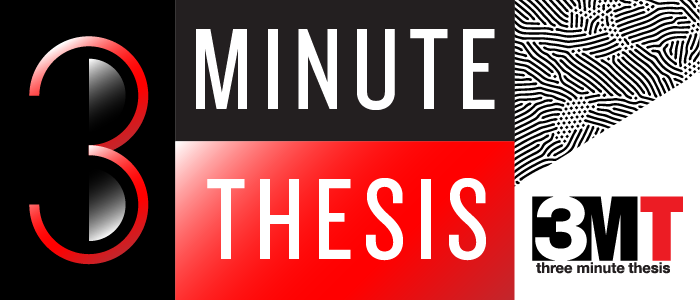 Three Minute Thesis (3MT®) celebrates the exciting research you are doing as a graduate student. Developed by The +University of Queensland (UQ) in 2008, this exercise cultivates your academic, presentation, and research communication skills. The competition supports the capacity to effectively explain your research in three minutes or less, in a language appropriate to a non-specialist audience while using just 1 static PowerPoint slide.
Call for Abstracts
The Graduate School invites any doctoral degree or master's thesis candidate to submit their one (1) PowerPoint slide (Widescreen (16:9)), 150-word abstract, and three keywords to the 2019 Three Minute Thesis competition. Slide, abstract and keywords must be submitted to our online application system no later than 11:59 PM on Friday, October 4, 2019, in order for you to participate. The competition will be held on October 29, 2019.
Competition Details
The Three Minute Thesis (3MT®) will be held on Tuesday, October 29, 2019, in the Student Union Building - Matador Room. Individual heats will be held that morning with check-in starting at 9:30 AM. The top winners in each morning heat will advance to the afternoon final which will start at 1:00 PM.
Awards
First, second, and third prizes will be awarded to the top students in the final heat of the competition. A People's Choice award will also be awarded. Prize may be used for travel or research purposes for the prize winner.
First Prize $300
Second Prize $200
Third Prize $100
People's Choice $100
Interested in Participating?
Three Minute Thesis Workshops will be offered through the Communication Training Center. Dates for these workshops are:

September 5th
September 26th
October 22nd
Click here to submit your application information.
Would you like to be a Judge or Moderator?
If you would like to judge or moderate one of the morning panels, please click here to register.
For more information please contact Cari Carter at cari.carter@ttu.edu
Graduate School
Address

Administration Building 328, Texas Tech University, 2625 Memorial Circle, Lubbock, TX 79409-1030

Phone

806.742.2787