Three Minute Thesis (3MT®)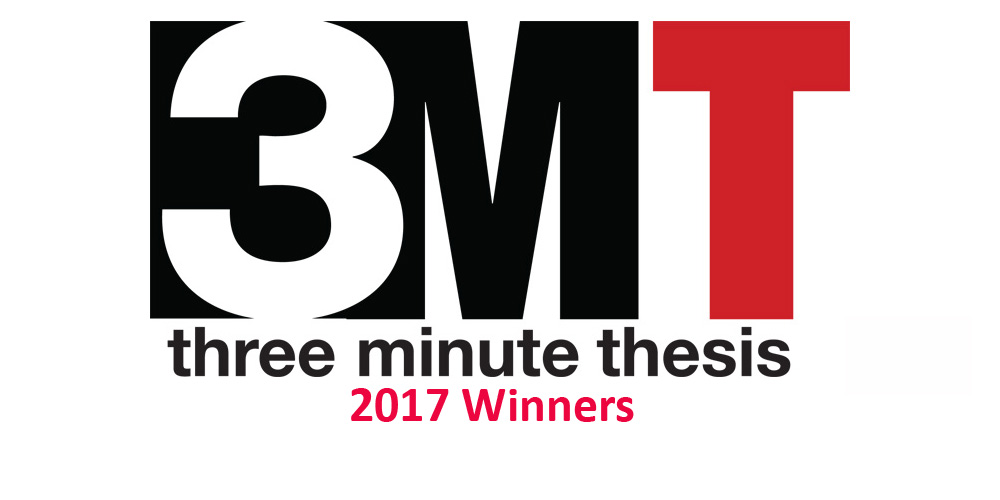 Three Minute Thesis (3MT®) celebrates the exciting research you are doing as a graduate student. Developed by The +University of Queensland (UQ) in 2008, this exercise cultivates your academic, presentation, and research communication skills. The competition supports the capacity to effectively explain your research in three minutes or less, in a language appropriate to a non-specialist audience while using just 1 static PowerPoint slide.
2017 Winners

⇨1st Place: Inosha Wijewardene - Doctoral Student – Biological Sciences Department
Co-overexpression of AVP1 and RCA to increase drought, salt and heat tolerance in Arabidopsis thaliana.

⇨2nd Place: Demi Gary – Master's Student – Natural Resources Management Department
Examining the southern Great Plains for hotspots of at-risk species and assessing efficacy of a decision support tool.

⇨3rd Place: Judy Rose – Doctoral Student – Curriculum & Instruction Department
African American Representation in Social Studies Texas Essential Knowledge and Skills (TEKS): A Mixed-Methods Examination of Diversity In Texas Curriculum and its Consumers.

⇨People's Choice: Patricia Ryan – Doctoral Candidate – Educational Psychology & Leadership Department
Women Leaders in Higher Education: Career Pathway Factors, Leadership Styles, Institutional Fit, and Attaining Legitimacy for Female University Presidents.