ATLC SUB
Student Union Building
This lab is open during Student Union hours. The area is equipped with microcomputers and a printer. All computers are connected to the Internet.
For more information, please call 742-1650.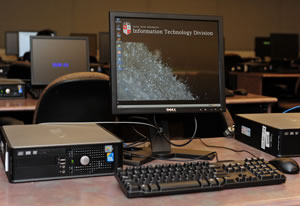 30 Dell Optiplex PCs
Features:
3.0 GHz Core 2 Duo Processor
3 GB RAM
DVD-RW drive
17" Flat Panel Monitor
Software available in the ATLC is available in the ATLC SUB. View the ATLC Software List.
To request that a software program be added, please submit your Software Suggestions.