Wallace Shoe Collection
The recent gift of L. Jean and Rebecca Wallace significantly moved forward the earliest date for shoes in the collection of the Museum from 1850 to 1750. In celebration of this donation of 101 pair of shoes, more than 50 from the collection have been selected for an exhibit August 25, 2017-January 7, 2018.
Shoes are rarely focused on in historic books and exhibits. This collection enables a fuller understanding of how footwear developed from 1750 through 1960. Many of the examples were worn by children and demonstrate the creativity and care that went into the making of children's shoes. Consider also the conditions under which the shoes were worn, often under gowns where they were largely unseen, but also worn to cross unpaved streets where they could easily get muddy. It is remarkable that these gems survive.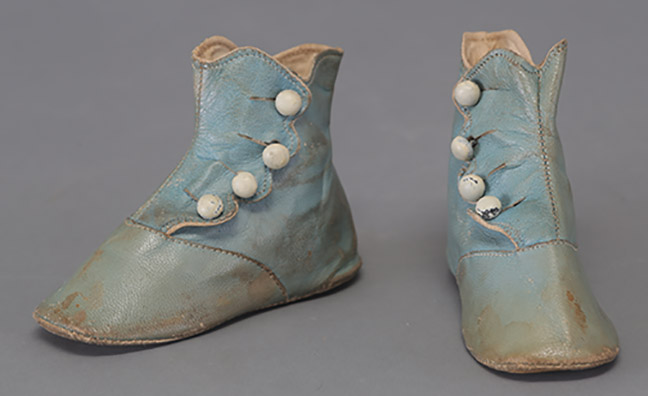 L. Jean Wallace who graduated from Texas Tech University and the Texas Tech School of Law and was admitted to the Texas State Bar in 1976 assembled the Collection. Jean was the first female President of the Phi Alpha Delta Law Fraternity - Justice 1975-1976. She began her career as the first woman prosecutor hired by the Midland County Attorney's Office. She later returned to Texas Tech as the Legal Advisor for students (1979-1990) and that experience prompted her to write "What Every 18 Year Old Needs to Know About Texas Law." She moved to Austin where she worked for the Texas Department of Family & Protective Services before retiring in 2010. She had a deep passion for protecting the safety, wellbeing and dignity of the elderly and people with disabilities. Her love of Irish Setters was likely only matched by her passion for collecting vintage footwear of the late 18th century through the beginning of the 20th of which superb examples are on exhibit here. It is through the generous gift of her estate that these shoes, which Jean collected with the intention that they come to Texas Tech, have made it into this exhibit for all to enjoy.
Museum of Texas Tech University