Bruce Munro: Ferryman's Crossing
Opening February 2017
British artist Bruce Munro transforms the Museum's environment with light. His manipulations of this medium create unexpected associations and transforms spaces. Perhaps best known for his work in open landscapes, he has crafted a newer installation, Bruce Munro: Ferryman's Crossing, in the more controlled environment of the Museum of Texas Tech University's gallery. Originally designed for the Scottsdale Museum of Contemporary Art, this work casts dappled light over undulating rows of compact discs to evoke the impression of sunlight reflecting off the surface of running water.
Bruce Munro: Ferryman's Crossing is a meditation on Herman Hesse's 1922 novel, Siddhartha, a narrative that features the life the Buddha and a journey that navigates across a river with the help of a ferryman. The crossing is symbolic of enlightenment as the ferryman provides to both the passenger and reader insights into the interdependence of all things. The water in the river serves as a metaphor for the continuous flow of time, melding the past, present, and future into a single, always-moving whole.
On top of this literary pursuit, pulses the language of Morse Code—a communication system of dashes and dots developed in 1844 by American artist and inventor Samuel F. B. Morse and his colleagues. The rhythms of the light mimic this language, which was primarily used by mariners to transmit messages across vast bodies of water. The light's pulsations spell out words but as the projected beams reflect off the compact discs each original message refashions itself into a poetic or abstract idiom.
Bruce Munro: Ferryman's Crossing is presented at the Museum in association with a new, untitled permanent installation by Munro that enhances the foyer of the new System's Building at Texas Tech University. Made with fiber optic lighting, acrylic and stainless steel rods, this public artwork consists of a series of helix-shaped forms suspended from above. This work can be seen in the Systems Building at the northwest corner of Knoxville and Texas Tech Parkway.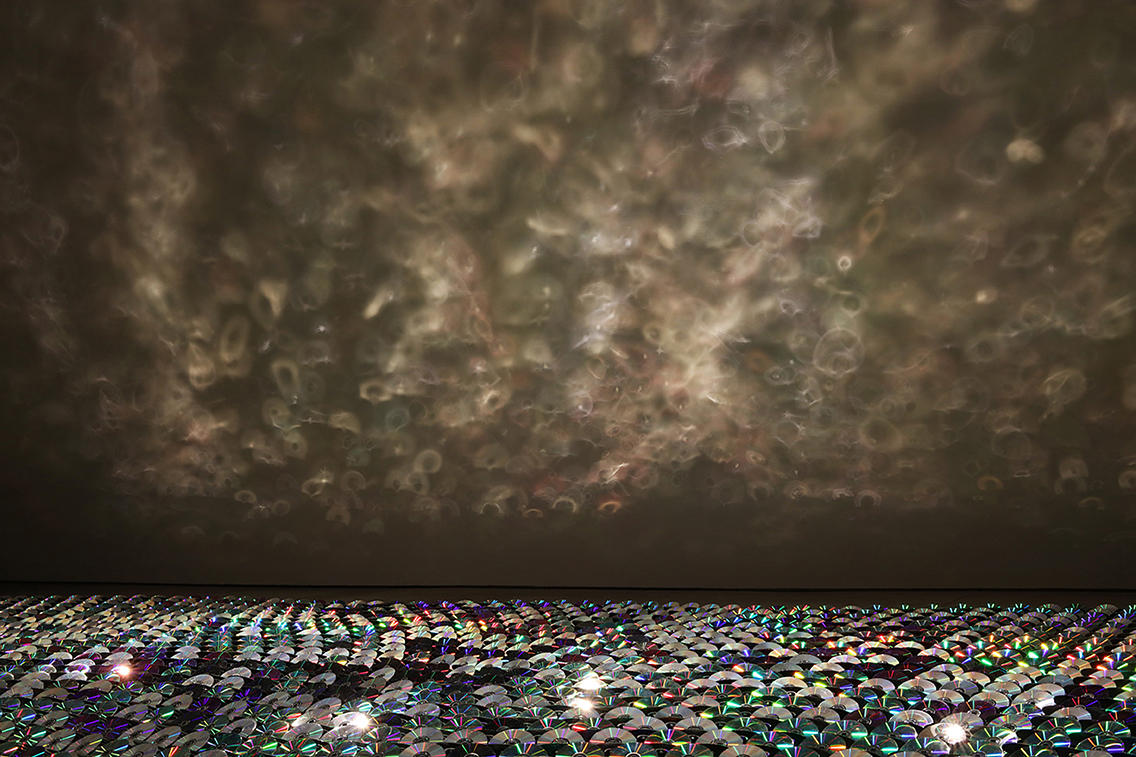 Peter S Briggs, Helen DeVitt Jones Curator of Art, with profound thanks to Sara Cochran, Director, Scottsdale Museum of Contemporary Art, Scottsdale, AZ
The press and public can be allowed to photograph the Exhibition provided the following is printed in conjunction with ticketing, on website and/or on paper or electronic tickets: Visitors are encouraged to take photographs of Bruce Munro's artwork, however any commercial use, reproduction or sale, directly or online, of any images is strictly prohibited. Your admission to this exhibition is conditional on your acceptance of these restrictions.
Museum of Texas Tech University