Thomas Hughes
Associate Professor of Music, Organ and Music Technology
Email: thomas.hughes@ttu.edu
Phone: (806) 834-8465
Office: School of Music, Room 250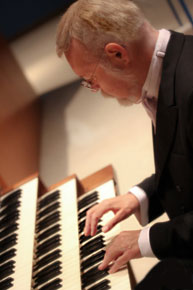 Thomas Hughes is Associate Professor of Music, Organ and Music Technology, and Coordinator of Music Technology for the School of Music. He earned the B.S. degree in Music Education from West Chester University in his home state of Pennsylvania, and the M.A. degree, with concentration in Organ Performance and Pedagogy, from Ohio State University. His D.M.A. degree was awarded by the University of Arizona in Music Education, concentration in Computer-Aided Instruction in Music.
Dr. Hughes has taught at the Sydney (Australia) Conservatorium of Music, the University of Arizona, the Pennsylvania State University, and has received awards for excellence in teaching at each institution. During his career he has worked in a variety of areas, including curriculum design, distance education, electronic music, organ pedagogy and performance, wind conducting, administration, and music education/music technology and computers. He has presented research papers and workshops on music technology internationally, including the Music Educators' National Conference conventions, the Australian Society for Music Education, the New Zealand Society for Music Education, the Apple University Fellows and the International Society for Music Education. Dr. Hughes was recognized as an Outstanding Alumni by the University of Arizona in 1995 and won the Lady Henley Grant for Teaching at the Sydney Conservatorium of Music.
Dr. Hughes is in demand as an Educational Technology consultant, and has an active workshop schedule throughout the United States and Internationally. A special topic of interest is cognitive function in musicians, and advanced teaching with distance education involving biofeedback. He has presented papers on utilizing the World Wide Web for delivery of educational content at the 2004 TI:ME/TMEA national conference in San Antonio, TX. Along with co-presenter Jane Ann Wilson, he presented a paper on "An Online Database for Piano Pedagogy." to the Texas Music Teachers Association, the Lubbock Texas Music Teachers Association, and the International Conference on Arts and Humanities in Hawaii. He has also presented this paper at the biennial conference of the Australian Society for Music Education in Melbourne, Australia. More recently, Dr. Hughes was invited to lecture by the Ministry of Education of the Republic of Taiwan. The topic was "Composition using Pre-Existing Content in Digital Media." His article "From Bytes to Beauty" was recently published in Southwest Musician magazine, the official voice of the Texas Music Educators Association.
Dr. Hughes is an active concert artist. He performs throughout the United States, and recently concluded a series of solo recitals throughout the West Texas region, including venues such as Midland First Presbyterian Church, and Amarillo St. Andrews church. As part of a community outreach program, Dr. Hughes has initiated a Town Hall Organ Recital Series combining Texas Tech Faculty and students with local and regional organists. This has become a highly anticipated annual spring event. Hughes organized the first event in conjunction with the American Guild of Organists
International Year of the Organ
.
This year marks the successful completion of the restoration of the Holtkamp pipe organ in Hemmle Hall. This huge project has been in planning since 2008. It has energized the entire School of Music in support.