Improve Your Game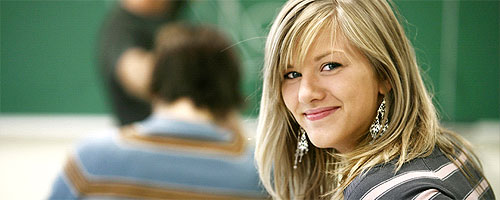 While college is certainly a time to have fun, make new friends and learn about yourself and the person you would like to become, we can't forget about the real reason for attending an institution of higher education — academics.
Now that you are a Texas Tech student, you may find that our educational system is a little different from your home. Many new students find they have to adjust how they prepare and study for their courses. We have provided the following tips to help you get good grades. Many of our first year students are excellent scholars and receive top marks each semester. You can be one of them!
Texas Tech University classes will challenge you and hold you to a high standard of academics. Professors will push you to explore new ideas and to create new knowledge.
Texas Tech University prides itself on being a major comprehensive research university that retains the sense of a smaller liberal arts institution. Although enrollment is over 35,000. Texas Tech students boast of one-on-one interaction with top faculty and an environment that stresses student accomplishment above all else. We're large enough to provide the best in facilities and academics, but small enough to focus on YOU.
Swing for the Fences
The first-year seminar is a way to get students used to the pressure of college life and the demanding nature of many classes. RaiderReady seminars are designed specifically to enhance the first-year experience, and a great way for new students to start their university career. RaiderReady seminars allow first-year students to interact in a smaller setting, connect with the instructor, and can become involved in a unique area of study. RaiderReady seminars are offered both fall and spring semesters.
IS 1100: RaiderReady is a one hour, first year seminar course designed for students to successfully manage the transition from high school to Texas Tech by unmasking the possibilities of college life.
IS 3100: RaiderReady is a one hour transfer-student seminar course designed for transfer students to successfully manage the transition to Texas Tech from their transferring institution.
Plan for Success
A good way to start off each semester is by setting an academic goal for yourself. Have you always wanted to make the dean's list? Do you want to raise your GPA by a few points? Make it happen! Don't just be a spectator in your college career. Explore tools and resources designed to help you succeed academically. Here are a few to get you started.
Curious about what your semester and cumulative GPA will look like? Fill out this chart to calculate your GPA.
At Texas Tech, you can choose from over 150 majors from 10 different colleges. Want to find out more? Attend the annual Majors & Minors Fair.
Find out important dates, like the first day of class, Spring Break, last day to drop a class, and more!
Academic Support Services
Find out what kind of studying works best for you. While there are some people for whom studying in groups works, it's not for everyone. Don't make the mistake of thinking that just because you're chatting with a group of classmates, you're studying for your upcoming exam. Studying is often best done alone, and in a quiet place. Your college library is just one of the many quiet study spaces you can make use of on campus.
But that doesn't mean you have to go it alone. The following offices and departments provide FREE tutoring and supplemental instruction for all students.
General tutoring and supplemental instruction.
Assistance in Math & Statistics
Writing assignments for all studies
Fee based program for students with learning disabilities.
Learning Communities provide you the opportunity to live and learn with other Red Raiders that are in similar academic programs as you.
First Year Raider Experience
Address

201 Student Union Building, Box 45014, Lubbock, TX 79409

Phone

806.742.2993