Diversity Week
March 20-25, 2017
A week dedicated to celebrating and understanding the importance of diversity throughout the community and Texas Tech University. Join student organizations and departments across campus to celebrate diversity all week long!
"Diversity is not about how we differ. Diversity is about embracing one another's uniqueness." - Ola Joseph
Thanks to all the groups that helped put together this year's Diversity Week!
Alpha Phi Alpha
Association of Students About Service
Black Graduate Student Organization
Center for Campus Life
Cross Cultural Advancement Center
Department of Psychological Sciences
Division of Institutional Diversity, Equity and Community Engagement Graduate Student Advisory Council
Hospitality Services
LGBTQIA
PFLAG
Red to Black
Residence Hall Association
Society for Technical Communication
Staff Senate
Student Counseling Center
Student Involvement
Tech Activities Board
TTU Gay-Straight Alliance
TTU Library
University Student Housing
Women's Studies
Skip To:
Monday | Tuesday | Wednesday | Thursday | Friday| Saturday
All Week
Display Your Differences Posters Display
Hosted by Student Involvement
Throughout the SUB
How do you display Your differences? Check out how some of the Student Organizations on campus display their differences by looking for the posters displayed throughout the SUB during Diversity week.
What Makes You Diverse Wall
Hosted by TAB
11:00 AM-2:00 PM;
Across from Barnes & Noble
Together we can learn what makes Texas Tech a diverse and inclusive campus for all by adding our stories to the What Makes You Diverse wall.
Monday, March 20
11:00-1:00 PM
Faculty/Staff Allies Training
Hosted by the Student Counseling Center
SUB Senate Room
Want to learn to become a more visible and supportive resource for the campus LGBTQ community? Come and join the TTU Student Counseling enter in allies training!
12:00-1:30 PM
Diversity Week Kick-Off
Hosted by the Division of Institutional Diversity, Equity and Community Engagement
SUB North Plaza
Join us for free food, entertainment, and resources from various multicultural student organizations on the Texas Tech Campus. Please join us as we engage in conversation and networking to kick-off Diversity Week. This event is free and open to all.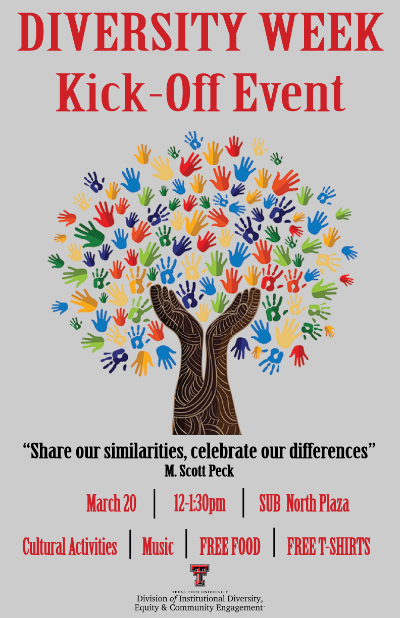 1:00-2:00 PM
Money Monday
Hosted by Red to Black
SUB CopyMail
Help us break down stereotypes by identifying & responding to different message about money. Stop by our booth in the SUB across from Copy Mail to participate and win some prizes!
5:00-6:00 PM
Controversial Topic & Coffee Roundtable
Hosted by Staff Senate
SUB Playa Room
Participants will enjoy coffee and cookies while engaging in small conversations to discuss areas which have traditionally been viewed as "controversial" in institutions of higher learning. Participants will discuss topics such as: affirmative action, work place discrimination, workplace relationships, gender inequality and double standards, and lack of diversity in the employment decision-making (just to name a few).
6:00-9:00 PM
Speed Friending
Hosted by Tech Activities Board
SUB Red Raider Ballroom
Want to make new friends? Join us for a chance to win a dinner-for-two gift card!
Tuesday, March 21
11:30 AM-12:30 PM
Panel
Hosted by Society for Technical Communication
SUB Mesa Room
5:15-6:45 PM
Difficult Discussions: Intersectionality
Hosted by the Black Graduate Student Organization in partnership with the Student Counseling Center
SUB Ballroom
Please join us to engage in discussions about intersectionality and the many ways in which our identities can be privileged and marginalized. The difficult discussion is designed to engage students, staff, and faculty from diverse backgrounds in dialogue to promote learning, growth, and understanding amongst our campus community. This event is free and open to all!
7:00 PM
In it Together
Hosted by Cross Cultural Advancement Center
SUB Red Raider Ballroom
"In It Together" is a 65-minute, 3 actor, multimedia theatrical production performed by the Los Angeles based production group, Will & Company. In It Together takes audiences on a journey through America's history on inclusion, multiculturalism, and diversity. Topics of the stories performed include race discrimination, the Civil Rights Act of 1964, diversity in the military, and Right of the Soil. Admission is free and open to the entire TTU and Lubbock community.
7:00 PM
Out of Order Film
Hosted by LGBTQIA
SUB Red Raider Lounge
In this groundbreaking feature documentary, the complex and painful struggles faced by lesbian, gay, bisexual, transgender and queer faith leaders take center stage as they confront entrenched bigotry and work to build loving support within their churches. "Absolutely riveting and deeply moving." - Elizabeth C. Jones, Emmy Award Winning Filmmaker
Wednesday, March 22
11:00 AM-1:00 PM
Inside/Out
Hosted by Association of Students About Service
SUB Courtyard
Participants will be provided white t-shirts and the materials to decorate them. The front of the shirt will represent what that person shows to the outside world. The back of the shirt will represent their true self.
11:00 AM-1:00 PM
Stomping Out Stereotypes
Hosted by Department of Psychological Sciences
SUB North Plaza
Come help us to stomp out some annoying stereotypes! We'll cover the SUB's North Plaza with stereotypes about different groups on-campus and top them with extra-large bubble wrap. You are invited to POP! POP! POP! those bubbles and speak out against your least favorite stereotype!!
11:30 AM-1:00 PM
Student Org Showcase
Hosted by Center for Campus Life
SUB Courtyard
2:00-4:00 PM
Student Ally Training
Hosted by the Student Counseling Center
SUB Playa Room
Want to learn to become a more visible and supportive resource for the campus LGBTQ community? Come and join the TTU Student Counseling enter in allies training!
3:00-5:00 PM
Extreme Makeover: TTU Edition-Campus Clean Up
Hosted by Alpha Phi Alpha
Memorial Circle
Similar to the show we will be attempting to give this campus a makeover by teaming up with Grounds Maintenance, and picking up trash throughout campus and emptying trash cans to make our campus cleaner.
8:00-10:30 PM (Doors open at 7:30)
Drag Show
Hosted by the Residence Hall Association, TTU Gay-Straight Alliance, the Cross Cultural Academic Advancement Center, and PFLAG
SUB Red Raider Ballroom
It's the 8th annual TTU Drag Show!Come see this amazing show as professional drag queens from Lubbock's own Club Pink perform live with TTU student amateur acts. This year's show will feature special guest performer, RuPaul Drag Race's Alyssa Edwards! The event is open to the TTU and Lubbock community. Gender-neutral restrooms will be available. VIP tickets can be purchased through RHA & GSA for $10—guaranteeing you a seat at the show, giveaways, and meet & greet with all queens post-show.
Thursday, March 23
11:00-2:00 PM
Diversity Art Exhibit
Hosted by TAB
SUB North Plaza
Stop by the Diversity Week art Exhibition! Come and see what your fellow Red Raiders have created as they aim to spread the message of inclusivity and the appreciation of diversity.
2:30-4:00 PM
Allies' Roundtable: Intersectionality of Faith and the LGBTQIA Community
Hosted by LGBTQIA
SUB Mesa Room
Have you ever wanted to know more about the intersectionality of faith and the LGBTQIA community? Does the boundaries of organized religion include space and affirmation of varying sexual orientations and/or gender identities? What roles does social justice have in religious organizations? If any of these questions interest you, please consider joining in this ally roundtable. Registration is required March 15; space is limited.
3:00-5:00 PM
Good Times-HY Block Party
Hosted by Alpha Phi Alpha
Urbanovsky Park
A social event giving the opportunity for more people to meet new friends with the enjoyment of barbecue and games such as basketball, volleyball, and football. Free food, games, and music will be provided.
5:00-6:00 PM
Expand Your Definition of Diversity Panel
Hosted by Staff Senate
Escondido Theatre
The definition of Diversity is different for each individual. Diversity is much more than race, ethnicity, and Gender. Participants will hear from a panel of Texas Tech Employees who have made it their life's mission of "expanding their definition of diversity." Panelist will provide alternative ways in which TTU students, faculty, and staff can define "diversity" such as: marital status, height/weight, working styles, and religious practices (just to name a few).
6:00-8:30 PM
Noche De Cuentos
Hosted by the TTU Library
SUB Matador Room
Join us for a speaker/storyteller showcase featuring individuals from our diverse faculty and the Lubbock community. Hear from Dr. René Saldaña, Dr. Julie Chang, and Mr. Eric Strong and headliner Kalpulli Yaocenoxtili/Indigenous Roots will be performing. This event is free to all.
7:00-8:00 PM
Diversity in the Dark
Hosted by University Student Housing
SUB Red Raider Lounge
Ever want to ask someone about diversity but felt like you couldn't? Come and engage in a conversation about all things Diversity and Social Justice. There will be a panel of diverse social justice advocates to answer any and all questions related to social justice in an anonymous and stress-free environment. Oh, did we forget to mention... it's all done in the dark!
10:00 PM
Thursday Night Movie: LION
Hosted by TAB and Hospitality Services
SUB Escondido Theatre
Come out and enjoy the movie Lion for free and get a free popcorn & drink voucher from Hospitality Services.
Friday, March 24
11:00-1:00 PM
>Faculty/Staff Allies Training
Hosted by the Student Counseling Center
SUB Soapsuds Room
12:00-1:20 PM
Bear Witness: When #SayHerName is Not Enough - Showcase Kimberle Crenshaw:The Urgency of Intersectionality, TED Talk (2016, TEDWomen)
Hosted by Women's Studies
Human Sciences Rm 173
Now more than ever, it's important to look boldly at the reality of race and gender bias — and understand how the two can combine to create even more harm. Kimberlé Crenshaw uses the term "intersectionality" to describe this phenomenon; as she says, if you're standing in the path of multiple forms of exclusion, you're likely to get hit by both. In this moving talk, she calls on us to bear witness to this reality and speak up for victims of prejudice.
5:00 – 7:00 PM
GSAC Diversity Event
Hosted by the Graduate Student Advisory Council
Graduate Center, Basement of West Administration Building
All graduate students are invited to the GSAC Diversity Event for Trivia games, Henna, International Food, International Music and prizes.
7:00-10:00 PM
Eta Upsilon's Best Dance Crew "Stroll Like An Alpha"
Hosted by Alpha Phi Alpha
Human Sciences 169
A stroll competition among women hosted by members of Alpha Phi Alpha. Women are coached by members to mimic the movements of the fraternity in 3 different segments of performance (intro, slow, and live). They will be judged based on how well they alter Alpha moves to make them their own and there will be a cash prize for the winner.
Saturday, March 25
6:00-10:00PM
2017 Miss Black & Gold Scholarship Pageant
Hosted by Alpha Phi Alpha
MCM Elegante Hotel (801 Ave. Q)
The Miss Black & Gold Scholarship Pageant recognizes and awards women who exemplify academic excellence, leadership, community service, talent, and personal wellness at Texas Tech University. There will also be a meal provided as a part of the pageant, and proceeds from the tickets will go to help support this scholarship program. Tickets are available at the following link 2017 Miss Black & Gold Scholarship Pageant Tickets or contact the President, Elonte Allen at (682)-559-5548
Questions or comments?
Kristin A. Miller
Unit Coordinator
806-742-4708
Student Union & Activities