Thomas Jefferson said that democracy demands an educated and informed electorate.
A Texas Tech graduate student is taking that to heart by creating an app geared to teach pre-voting-age Hispanic children about American politics in a fun and engaging manner that prepares them for the polls.
Noelle Vela, a master's student in the College of Media and Communication from Penitas, Texas, developed the Vozra app with the help of her brother and other Texas Tech students. The app's name combines the Spanish words for voice and now. If all goes well, she hopes the app will launch March 28.
"I headed the operation and came up with the app kind of like a quiz app-slash-trivia crack app, only tailored toward politics," Vela said. "The ideal audience would be young Hispanics. This will be a fun, interactive way to teach students, who are still in high school and almost voting age, about how the process works and who the people are. I know when I was in high school and I was a senior, politics were the last thing on my mind."
As Vela developed the idea, she enlisted the help of her brother, Juan, who is a graduate student in the Department of History at Texas Tech. As chief content creator, Juan had to write questions regarding the current presidential candidates, their background and proposed policies. He created questions ranging from general information to specifics on a candidate's policy proposals or background. The goal, he said, was for users to take the information they glean from the app, add it to their own research on candidates and apply it to deciding which candidate to support.
"One of the difficulties of my position is maintaining neutrality," Juan said. "As I wrote the questions for the app, I was mindful of the diction and syntax I use in them. For instance, if I wrote a question regarding the FBI investigation of Hilary Clinton, I could word it like this: "Why is the FBI now involved in the Hilary Clinton email scandal?" the use of the words "involvement" and "scandal" can invoke negative connotations in the readers, and possibly have an effect on the users' opinion of the candidate.
"So instead, I wrote 'The controversy surrounding the email server of candidate Hilary Clinton and the ensuing FBI investigation stems from what?' The word "controversy" implies that there is an issue and disagreement on the topic, but not that it is inherently negative. Thus there is less room for negative opinions to grow. If the app users research the subject, they will find the answer to the question and enough information to formulate their own opinions of the candidate – that is the ultimate objective of the app."
Hispanics support candidates based on their own convictions and information obtained through research, and not (as has statistically been the case in the past) block voting for one party, Juan said. He and others hope that young voting Hispanics will at least make an informed decision rather than a blind or bandwagon one.
Geoffrey Graybeal, an assistant professor of public relations, said that he had students in his media entrepreneurship class conduct research and brainstorm ideas and then flesh out the ideas with the student organization, Media Entrepreneurship and Innovation Group (MEIG).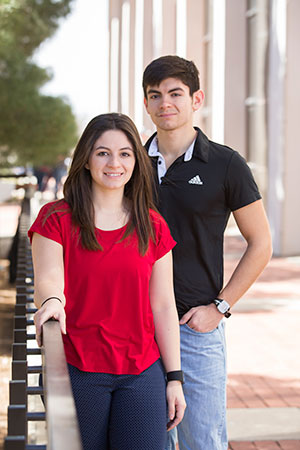 Vela's idea was submitted to Ohio University's Scripps International Innovators Cup challenge. 2015 was the first year the Ohio opened the challenge to other universities. Texas Tech was one of five universities to take part in the then-pilot program.
"We decided to tackle the challenge of how to engage high school students in the presidential election," Graybeal said. "Because of our location, our demographics and the ability to leverage our college's strengths (chiefly the Thomas Jay Harris Institute for Hispanic and International Communication) we decided to focus on Hispanics. Noelle, who was an officer with MEIG, took the lead on the project now called Vozra, and the result was our college's entry into Scripps. It was well received by two of the three judges."
Following the Scripps entry, Vela entered Vozra into the College of Media & Communication's first Student Startup Competition, and she received funding into the Texas Tech master's program as a result. She then took she took second place honors in the university-wide pitch competition funded by Lubbock Economic Development Alliance and organized through Doubletime (TTIME), a university-wide student entrepreneurship organization.
"Her work on Vozra earned her a prestigious Hispanic Heritage Foundation/ESA LOFT Fellowship, where she presented before members of Congress and the White House STEM team," Graybeal said. "The most recent accomplishment is Vozra's success in the nationwide digital media competition known as Student Startup Madness. Vozra has advanced as a semi-finalist to the Round of 32. We are the only university from the state of Texas to advance this far (and yes, that university in Austin was in the competition). This marks the second consecutive year that a Texas Tech team has made it to the semifinal Round of 32."
While Vela waits to find out if Vozra makes it into the top 8, which will mean a trip to Austin's South By Southwest Conferences and Festivals to pitch the idea there, she said she keeps growing the idea as well as learning what it means to be an entrepreneur.
"I recently read a book called 'The Entrepreneurship Roller Coaster,'" she said. "When I was reading that book, it really hit on some points on what it takes, the type of person that makes a good entrepreneur and not giving up. I'm learning how to build a business, marketing aspects of it and learning what goes on behind being a CEO as well as leading a team and the importance of a timeline. I've learned that some things may be around corner that you won't expect, but you should always have to be on your toes for it."
As far as Graybeal knows, there's nothing like what Vozra is doing in terms of educating young Hispanics on the election. And with a product in that "first" position and with Vela working to make the dream a reality, he said he wouldn't be surprised if the app becomes a huge success.
"Noelle is driven and determined to make Vozra a success, and perhaps more importantly eager to learn from the entrepreneurial experience of taking a concept from ideation to creation," he said. "She's sought out partners, learning and funding opportunities and carried through on an ambitious, but realistic, vision, proving that, 'From here, it's possible.' Noelle is a leader and I have no doubt that she'll go far in life."