Between Earth & Sky-Climate Change on the Last Frontier has digital release
By: Norman Martin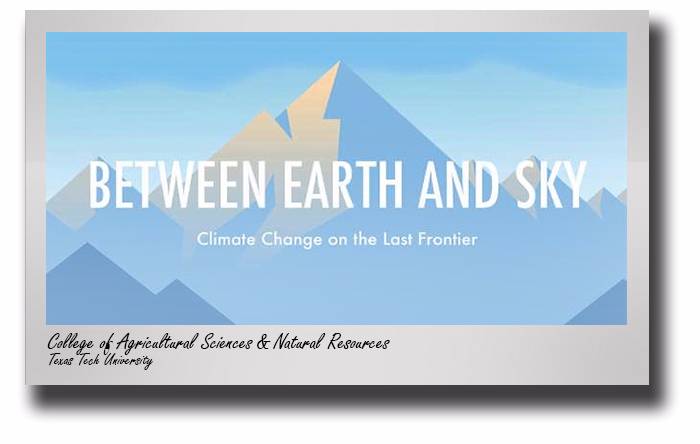 "Between Earth and Sky-Climate Change on the Last Frontier," a ground-breaking film produced by a Texas Tech College of Agricultural Sciences & Natural Resources research administrator, has been released by digital rental/purchase services including iTunes, Amazon and Google Play.
David Weindorf, CASNR's associate dean for research and the BL Allen Endowed Chair of Pedology in the Department of Plant and Soil Science, served as the executive producer for the documentary that explored global climate change through soil science, using footage of the Alaskan wilderness and coastline to illustrate the growing effects of climate change on the arctic soils and ecosystems of Alaska.
"Arctic soils play such an important role in global climate dynamics because of the carbon that's stored in those soils—it's an incredible amount," Weindorf said. "So, with this triangle idea of having soils, climate change and arctic ecosystems we created the three pillars that hold up the stool and that's really how the project kind of developed."
The idea for "Between Earth and Sky" came from Weindorf's desire to honor University of Alaska Fairbanks professor Chien Lu Ping, who has been leading a renowned arctic soil field tour for the past 20 years. The tour, which began in interior Alaska in the eighties, soon expanded to southeastern Alaska and eventually into the permafrost regions.
Through these tours, and his own research, Ping has helped to define the different features and variabilities of arctic soils. Not only that, Ping has influenced and inspired young scientists to pursue research of arctic soil, teaching over 500 during his time conducting his arctic soil field tour.
Weindorf began taking students on Ping's tour 10 years ago and was made a co-instructor after five years. After Ping announced his desire to retire in 2014, Weindorf was moved to capture Ping's last tour on film as a way to preserve Ping's dedication to arctic soils and the number of students and scientists in his field.
One of the goals of the documentary was to explain the importance of the Alaskan arctic soil and how the changes being experienced in Alaska could soon move across the globe. The film points out that these changes have caused Alaska to experience the largest regional warming of any U.S. state, its temperature increasing by 3.4 degrees Fahrenheit since 1949.
CONTACT: David Weindorf, Associate Dean for Research, College of Agricultural Sciences & Natural Resources, Texas Tech University at (806) 742-2808 or david.weindorf@ttu.edu
1208NM17 / Editor's Note: For more information on Between Earth and Sky—Climate Change on the Last Frontier, click here