CASNR students can add summer study abroad to their academic experience
By: Norman Martin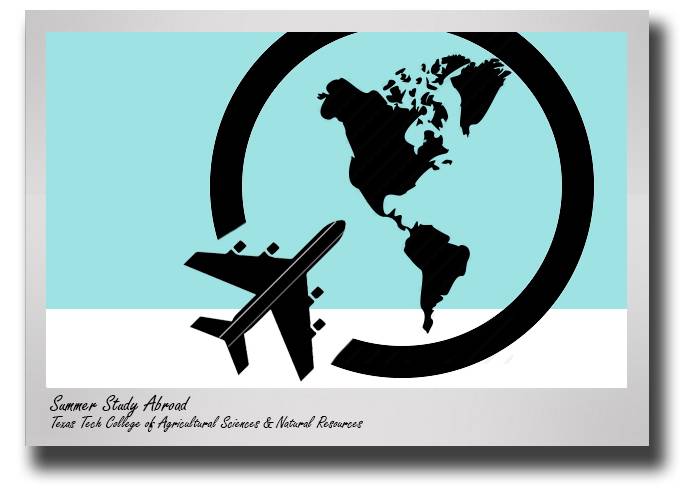 Studying in another country can provide transformative experiences, even make you a more informed global citizen. Plus, there's the opportunity for creating lifelong memories. If you are a student in Texas Tech's College of Agricultural Sciences & Natural Resources there's some innovative programs coming up at the end of the spring semester.
Among the CASNR programs coming up this summer are:
• Sevilla, Spain: The Horse in World Art (ANSC 2310); June 3-22, 2019
• Sevilla, Spain: Wine Production & Culture in Spain (PSS 4001) May 20-30, 2019
• Sevilla, Spain: College of Agriculture in Spain #1 / Commodities Futures Trading (AAEC 4317/5317) May 30 - June 29, 2019
• Sevilla, Spain: Futures & Options in Sevilla (AAEC 4317/5317) May 30 - June 29, 2019
• Shanghai, Beijing, Tianjin & Hong Kong, China: Economic Policy and Agribusiness in China / International Agribusiness & Policy (AAEC 4301) May 15-30, 2019
• Borneo, Malaysia: Agriculture Economics in Malaysia / Sustaining Global Ecology, Natural Resources and Economy (AAEC 4309) May 15 - June 4, 2019
• Bela Bela, South Africa: Wildlife & Veterinary Issues in Africa / Special Problems (ANSC 4001) August 1-16, 2019
Students enroll in catalog courses, pay Texas Tech tuition and fees, and an additional program fee to participate in these programs, said Cindy Akers, CASNR's Associate Dean for Academic and Student Programs. The program fee often covers room, board, excursions, and professor expenses; what the program fee includes depends on the program. Airfare is usually an additional cost, depending on the program.
CONTACT: Cindy Akers, Associate Dean for Academic and Student Programs, College of Agricultural Sciences and Natural Resources, Texas Tech University at (806) 742-2808 or cindy.akers@ttu.edu
1218NM18 / Editor's Note: For more information on the Texas Tech College of Agricultural Sciences and Natural Resources Study Abroad program in general, click here