CASNR set to launch new $1.5 million Don C. Dilley, Jr. Scholarship Fund
By: Norman Martin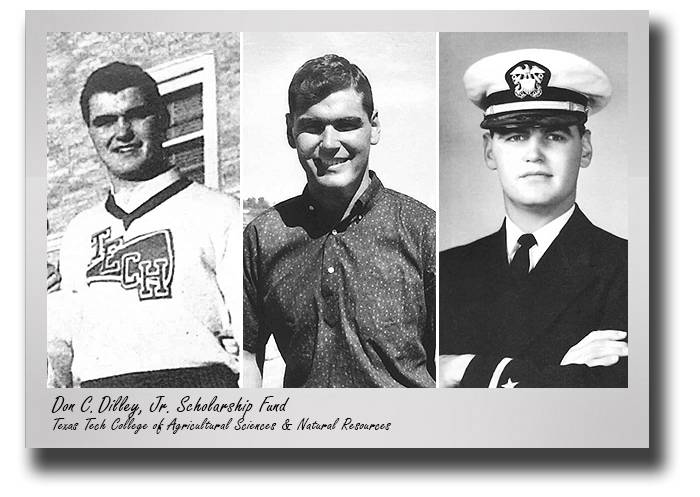 Texas Tech University's College of Agricultural Sciences and Natural Resources announced today (Feb. 20) a $1.5 million bequest from the estate of Don C. Dilley, Jr. The gift will be used to create the "Don C. Dilley, Jr. Scholarship Fund."
Dilley, who died in November of 2017 at the age of 81, was an outstanding, multi-talented 1956 graduate of Texas Technological College's agricultural economics program. The merit-based scholarship centers on full-time CASNR students who've shown leadership and service to the community.
"Generous gifts like this will have a lasting effect on CASNR," said CASNR Dean William Brown. "Many future Red Raiders will have the opportunity to attend college." The new scholarship fund will be administered through the Texas Tech Foundation.
While at Texas Tech, Dilley was an active participant beyond the agriculture classroom, serving as president and treasurer of the Kappa Sigma Fraternity, president of the Texas Tech Interfraternity Council, vice president of Tech's Student Government Association, vice president of the Agricultural Economics Club, as well as being a member of Texas Tech varsity cheerleader program.
"I felt so privileged to be able to meet Don and learn about his love for Texas Tech and the great memories he had," said Jane Piercy, CASNR's Senior Director of Development and External Relations. "I asked him about starting the scholarship while he was still alive so he could receive letters from the recipients, but he was determined to wait. His legacy will live on through the countless number of students he will help through this endowment."
Born in Dallas in 1936, Dilley was the only son of Borger's Donald and Carol Dilley. Dilley attended Borger High School for two years before going to Roswell, New Mexico to attend the New Mexico Military Institute. While at the institute, he was a member of the regimental swim, track and football teams. In addition, Dilley was honored by being named Captain of Cadets.
Following his graduation from Texas Tech, Dilley entered the U.S. Navy serving as an officer on the joint staff of the U. S. Pacific Fleet Commander-in-Chief, Admiral Herbert Hopwood. Following his military service, he attended the University of California-Davis, perusing a graduate level agricultural science program. He then worked for the Shell Chemical Company in San Francisco.
In 1963, Dilley returned to Borger to manage the family's farming and ranching operations. Borger is located some 50 miles northeast of Amarillo. He ran the Texas panhandle businesses from 1966 until his retirement in 1988. In addition, Dilley had various other business interests in Texas, New Mexico, California and Florida.
In 2001, Dilley moved to Pensacola in the Florida panhandle, where he lived for the remainder of his life. Known as a talented pilot, pianist and philanthropist, Dilley was active in both church and outdoor activities. He was an excellent singer, too, serving as a member of his church choir.
A close friend said Dilley "combined a gentleness with a wisdom about people that was unique in him."
CONTACT: Jane Piercy, Director of Development and External Relations, College of Agricultural Sciences and Natural Resources, Texas Tech University at (806)742-2802 or jane.piercy@ttu.edu
0220NM19