Perry, Weindorf receive honors at ICC's Global Vision Awards Program
By: Norman Martin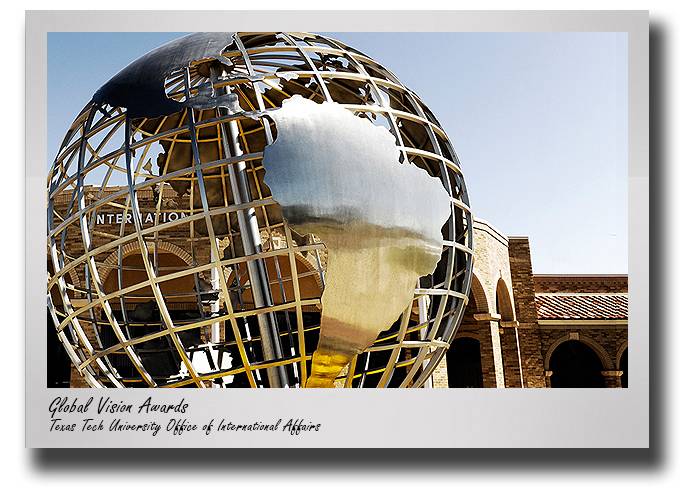 Two outstanding faculty members with Texas Tech's College of Agricultural Sciences and Natural Resources were recognized today (Apr. 4) at the university's Office of International Affairs annual Global Vision Awards ceremony, a program where faculty, staff and students are awarded for their efforts in helping Texas Tech to become a globally connected, higher education institution.
Gad Perry, a professor of conservation science in Tech's Department of Natural Resources Management, received the Faculty International Scholarship Award, an honor given to a tenure-track faculty member for excellence and sustained international scholarship.
Perry also serves as director of the International Center for Arid and Semi-Arid Land Studies and senior director of the Division of International Research and Development in the Office of International Affairs. His research centers on conservation biology, with particular emphasis on invasive and endangered species issues.
Perry is a member of the International Union for Conservation of Nature's invasive species and iguana specialist groups, and he has conducted field studies around the world. Some recent student projects have involved reptile ecology in Madagascar, biogeography in the Caribbean, iguana conservation in the Virgin Islands, sustainable civet use in Ethiopia and urban ecology of birds in Lubbock.
Perry was named one of only 14 individuals nationwide in 2017 for the Jefferson Science Fellowship Program, which builds science, technology and engineering expertise within the U.S. Department of State and the U.S. Agency for International Development. Perry received his doctorate from the University of Texas-Austin.
Separately, David Weindorf, a professor and BL Allen Endowed Chair of Pedology in Tech's Department of Plant and Soil Science, took home honorable mention honors in the Global Vision Lifetime Achievement Award category. The award is presented to an individual who has made extraordinary contributions to the internationalization of Texas Tech through his or her many years of leadership in promoting international scholarship and teaching.
Weindorf, who was appointed an Associate Vice President with Texas Tech's Office of Research and Innovation earlier this year, is an expert on the use of proximal sensors for pedological and environmental quality assessment, working overseas and particularly in Eastern Europe. His research focuses on the development and application of new technologies in field soil survey, land use management and planning, remote sensing, environmental quality assessment, compost science and international translational soil taxonomy.
Prior to being named to his new post, Weindorf served as Associate Dean of Research in Tech's College of Agricultural Sciences and Natural Resources for four years. Last October, he was recognized as a fellow by the Soil Science Society of America, the highest honor the organization bestows. He also received the SSSA's Presidential Award for influencing soil science so greatly that the impact of his efforts will be enduring on the future of soil science.
Recent honors for Weindorf include being named to the U.S. Composting Council Research & Education Foundation's Board of Trustees (2018); and Fulbright Specialist by the U.S. Department of State, Bureau of Educational and Cultural Affairs (2017). He received his bachelor's, master's and doctoral degrees from Texas Tech.
CASNR has strong history of international-related accomplishments. Last year the International Center for Food Industry Excellence was recognized as first runner-up for the Global Vision Award's Campus Internationalization Award. The year before Michael Farmer, an environmental and natural resource economist with Tech's Department of Natural Resources Management and Department of Agricultural and Applied Economics, was selected to receive a Faculty International Scholarship Award.
In 2016, CASNR itself was the winner of the Campus Internationalization Award. Program officials noted that the college's diversity has grown substantively in the last two decades, and at the time one of every five students in CASNR's graduate programs was from a foreign country.
CONTACT: William Brown, Dean, College of Agricultural Sciences and Natural Resources, Texas Tech University at (806) 742-2808 or william.f.brown@ttu.edu
0405NM19