Longtime CASNR professor honored with 2020 Ally of the Year Award
By: Amanda Castro-Crist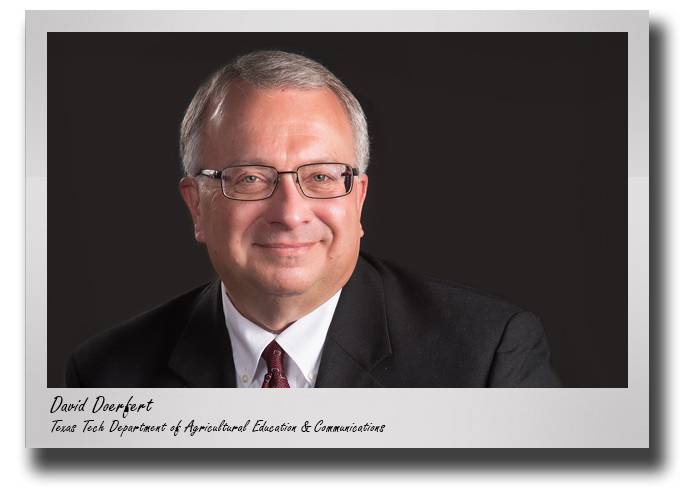 David Doerfert, a professor of agricultural education and communications and associate dean of the Texas Tech Graduate School, has been presented with a '2020 Ted Jim Dotts Jr. and Betty Shewbert Dotts Ally of the Year Award,' report officials with the university's Office of LGBTQIA Education & Engagement.
Doerfert exemplifies the standard set by the Dotts in their journey to recognize, learn and stand with the LGBTQIA community at Texas Tech and in Lubbock, said Jody Randall, director of the Office of LGBTQIA Education & Engagement.
The Rev. Ted Jim Dotts Jr. and Betty Shewbert Dotts, along with a small group of compassionate community leaders, co-founded the Lubbock Chapter of Parents, Families and Friends of Lesbians and Gays in 1993. Since then, the organization has served many people within the lesbian, gay, bisexual, transgender, queer, intersex and asexual (LGBTQIA) community.
Following the compassion and humility shown by the Dotts and others, the honor is given annually to one faculty and one staff member who work to increase awareness of issues affecting LGBTQIA individuals through education, organizing and advocacy at Texas Tech and in the City of Lubbock.
Since 2002, Doerfert has served in multiple roles within the Department of Agricultural Education & Communications in the College of Agricultural Sciences and Natural Resources before becoming associate dean of the Graduate School in 2016.
He said when initially informed that he would be receiving the Ally of the Year award, he was both stunned and humbled. Of his efforts at the university, Doerfert said he is most proud to have worked closely with Randall to realize Texas Tech's initial participation with the Cultivating Change Summit last year in Des Moines, Iowa.
"We presented a session titled 'Moving Beyond Complacency: Strengthening and Sustaining LGBTQIA Inclusivity' to a room that was standing-room only," Doerfert said. "I could not have been prouder of Texas Tech and grateful for the support of the Graduate School and CASNR for making our attendance possible. Beyond my desire to help all students grow and realize their dreams and career aspirations, I seek to create opportunities and remove barriers for all students.
"This is a tremendous honor and I will continue to do my best to be worthy of this recognition. I hope others will become active to support LGBTQIA programming and efforts, as well as help individuals find their voices and opportunities to succeed," he said.
CONTACT: William Brown, Dean, College of Agricultural Sciences and Natural Resources, Texas Tech University at (806) 742-2808 or william.f.brown@ttu.edu
0701NM20
Editor's Note: A new online, video-orientated Red Raider Orientation is now available for our Fall 2020 incoming students. The microsite features a 'Meet the Deans' introduction, six CASNR department videos, three 'How To' videos, four 'Helpful Links' and a FAQ section.