NRM alum, fourth-generation rancher outlines regenerative grazing in NYT
By: Blake Grisham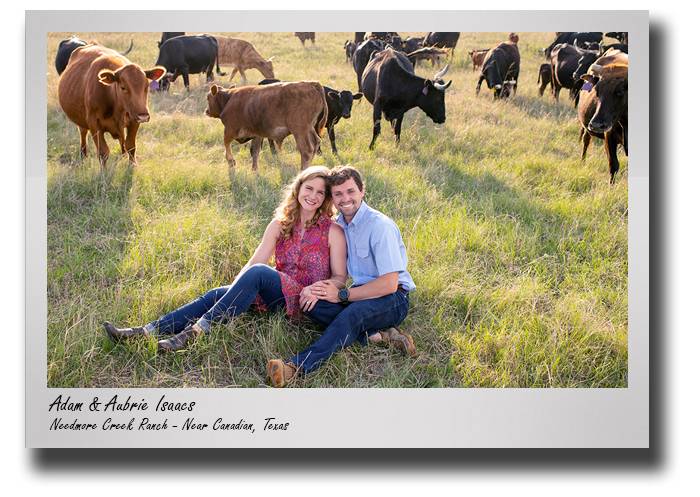 Recently, Adam Isaacs, a 2016 graduate of Texas Tech University's Department of Natural Resources Management, was in the spotlight in an expansive photography and news feature story written by the New York Times' Henry Fountain, who specializes in the science of climate change and its impacts. Here's part of the conversation of the coverage between Isaacs and NRM Associate Professor Blake Grisham.
Prior to starting his own cow-calf operation on the Needmore Creek Ranch near Canadian, Texas, Adam Isaacs was employed by the USDA's Natural Resources Conservation Service, where he learned about the practice of "regenerative grazing" via numerous outlets during his tenure with the organization.
He discussed the practice with his wife, Aubrie, at that time a home economics teacher (grades 7-12) in Vega, and they decided to start their own cattle operation and implement regenerative grazing on their family's ranch in 2019. The Needmore Creek Ranch has been owned by the Issacs' family since 1893.
"We are using cattle as a tool to restore the landscape, which is similar to Dr. Leopold's original teachings in Game Management (published in 1933)," he said. However, the practice of regenerative grazing is a bit more complex than the original writings of Leopold, and the Isaacs have worked diligently to use cattle as ecosystem engineers while maintaining a profit as full-time ranchers.
"We are making great strides in increasing our management, and pushing the envelope in rangeland improvement," Isaacs said. "We're also importing products and technology from Africa to Argentina to be more efficient in our operation, because we are decades behind most other countries unfortunately."
That effort demonstrates the constant struggle ranchers face to maintain and improve ranching operations in all capacities, while maximizing efficiency and effectiveness to reduce expenditures, which in turn, affects consumers, said Blake Grisham, an associate professor with Tech's Department of Natural Resources Management.
"We're proud of Adam and Aubrie," Grisham said. "We thank both for being excellent representatives of TTU, CASNR, Human Sciences, and NRM. Their hard work for the conservation and management of rangelands is appreciated, and we are honored to share your story with our other alumni and stakeholders."
Looking back at his time in Lubbock, Isaacs had several fond memories from his natural resources management coursework. "My favorite class was the capstone, Rangeland Analysis and Management Planning because we got to apply what we had learned through all the other courses into a real-world application," Isaacs said.
"My favorite memory from NRM was the trip getting to ride to Florida in a fire truck to put some fire on the ground through prescribed burning in the Kissimmee, Florida area," he said. "That opportunity has opened up several other doors in my career thus far."
CONTACT: Warren Conway, Bricker Endowed Chair in Wildlife Management and Chair, Department of Natural Resources Management, Texas Tech University at (806) 834-6579 or warren.conway@ttu.edu
0223NM21 / Editor's Note: for the full text version of the New York Times article, please click here