CASNR research featured in latest CASE District IV award presentations
By: Norman Martin
Media Relations Coordinator George Watson with Texas Tech's Office of Communications & Marketing received several awards covering writing and special events related to veterinary science and Tech's College of Agricultural Sciences and Natural Resources from the recently announced CASE District IV Awards.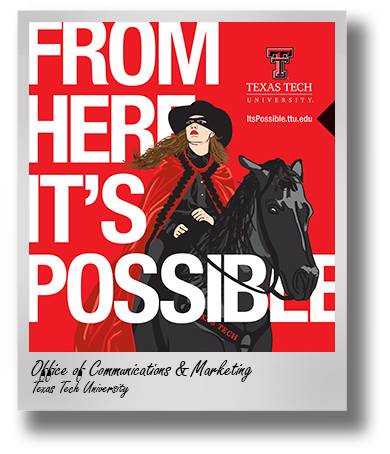 CASE – the Council for Advancement and Support of Education – is dedicated to the promotion of alumni relations, communications, development, marketing and advancement services to improve and enhance higher education that transforms lives and society.
Watson earned two silver awards in the 'Research-Medicine & Sciences News' category for features that highlighted mule deer research and the work done in the Fiber & Biopolymer Research Institute converting low-grade cotton into a reusable gel.
Grant Sorensen, who is currently in medical school at Texas Tech but earned his master's degree and doctoral degree from Tech's Department of Natural Resources Management, led a group of researchers in a study that examined habitat selection of mule deer around Raton, New Mexico, following vegetation-thinning treatments that took out pinyon pine and juniper trees. The idea behind the thinning was to improve forage conditions.
Through monitoring adult mule deer does after capturing and fitting them with tracking collars, Sorensen, along with NRM professors Phillip Gipson and Mark Wallace, NRM associate professor Robert Cox and New Mexico State University associate professor James Cain, were able to determine which of the treated areas does preferred over several years.
Meanwhile, an article highlighting a method to convert low-grade cotton into gel with variable use qualities featured Noureddine Abidi, the Leidigh Professor in the Department of Plant and Soil Science. Abidi developed a process that can break down low-grade cotton into pure cellulose, which then can be converted into a gel that can be used in 3D printing, for example, or other processes to create usable, biodegradable products.
Abidi's goal with the research is to be able to take the gel from low-grade cotton and use it to replace as many nonbiodegradable products, like plastic trash bags, as possible. "This process, I think, can open new applications for cotton as long as the application can tolerate it, like with high temperatures," Abidi said.
Another CASE bronze award was given to Watson in the 'General News' category for his story highlighting the groundbreaking ceremony for the Texas Tech University School of Veterinary Medicine in Amarillo. Administrators and officials gathered last September in an empty field just north of the Amarillo campus to break ground on the latest milestone that will bring about the state of Texas' first new school of veterinary medicine in more than 100 years.
The CASE Awards highlight the tremendous work being done by those at colleges and universities to help in that cause. District IV/Southwest represents work done by colleges and universities from Arkansas, Louisiana, New Mexico, Oklahoma and Texas.
CONTACT: Cindy Akers, Associate Dean for Academic and Student Programs, College of Agricultural Sciences and Natural Resources, Texas Tech University at (806) 742-2808 or cindy.akers@ttu.edu
0309NM21