AEC's Headrick set to launch Civic Leadership Academy with HJF support
By: Norman Martin
With the support of the Helen Jones Foundation, a Texas Tech University researcher is set to launch the Civic Leadership Academy, a new pilot project aimed at promoting civic leadership in Lubbock and the surrounding region through a multi-disciplinary service-learning approach for College of Agricultural Sciences & Natural Resources (CASNR) students.
"The Civic Leadership Academy has the capacity to change individual lives and have real community impact," said Jason Headrick, an assistant professor of leadership and community development with Tech's Department of Agricultural Education and Communications. "We want to help college students from the Plains region and beyond realize their potential to enact change and impact their communities, beginning with themselves."
Today, many college-aged students may not have prior exposure to civic engagement beyond experiences with mandatory volunteer work through a school or church setting. This new program will aid in developing students' understanding of their leadership potential and demonstrate the merits of civic leadership through community engagement and interaction with agriculture, entrepreneurship, nonprofits, government, community development, and community leaders and businesses.
The Civic Leadership Academy will engage students with leaders from across the Lubbock region and other Texas-based business and industry. Throughout the process, participants will participate in hands-on workshops and meetings to refine their own leadership style and engage through collaboration and learning with other leadership and communication styles. Collaboration partners include the Lubbock Mayor Dan Pope and City of Lubbock Government, Texas Tech Innovation Hub, the Lubbock Volunteer Center, and others still in the planning process.
As part of the program, students will undergo leadership training in values assessment, diversity and inclusion, community and needs assessment, entrepreneurship, and philanthropy. In addition, participants will receive training in adaptive leadership, conflict resolution, community and global engagement, and problem-solving strategies. The inaugural program will kick off in January 2022 and run the full calendar year.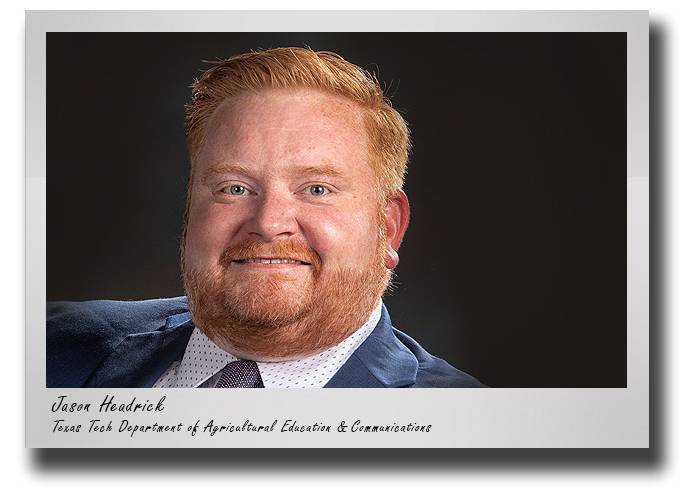 After the students complete their training, workshops and field experiences, the program will culminate in a capstone project that challenges the Academy members to identify community needs and gives them the opportunity to fund a limited number of projects within the community. This process will help students learn about community-based funding and help engage first-hand in the process of creating change in their community.
"The overall goal is to provide Tech and CASNR students with the opportunity to develop self-confidence in their own leadership skills, while making connections in the Lubbock region that allow them to see the power of community engagement and service," Headrick said.
CASNR students are eligible to apply to the program, with preference given to students from counties across the Plains Region. "TTU CASNR students have a unique perspective in how they engage agriculture and community development practices," he said. "This program will help us better understand how to engage citizens in community development and revitalization and instill a sense of pride in oneself and your community."
The Lubbock-based Helen Jones Foundation is a domestic non-profit corporation founded in 1984 by Helen Devitt. It gives primarily for charitable, scientific, and literary or educational purposes. Headrick, who joined Tech's College of Agricultural Sciences and Natural Resources in 2020, received his bachelor's degree and master's degree from the University of Kentucky. His doctorate in human sciences-leadership studies is from the University of Nebraska-Lincoln. Interested partners are encouraged to contact Headrick to learn more about the Academy.
CONTACT: Jason Headrick, Assistant Professor, Department of Agricultural Education and Communications, Texas Tech University, at (806) 834-5749 or Jason.Headrick@ttu.edu
1025NM21