SSC's Stephanie Legako proves it's never too late to be a Red Raider
By: Norman Martin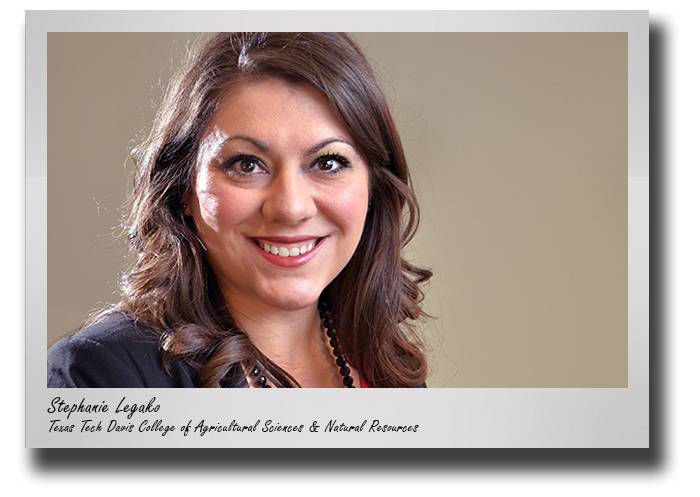 Recently, Newsweek magazine named Texas Tech University the No. 1 institution in the country to receive an online degree. Stephanie Legako, the unit manager for student retention within Texas Tech's Davis College of Agricultural Sciences & Natural Resources, is one of those online students.

"I'm not just getting an online degree," Legako said. "I'm getting a degree from Texas Tech University that happens to be online. It's no surprise that Texas Tech is on the top of this list. We're a Tier 1 research institution that produces world famous researchers, performers, leaders, scientists and entrepreneurs." She anticipates receiving her doctorate in educational leadership this year.
Going back to school after being out of the classroom for years was no easy task for Legako. Especially going back in an online format, which had not been an option before.
"Honestly, I do this because I can," Legako said. "I grew up in a Mexican home and my mother is first-generation American. In many ways that has impacted my dissertation, which is about acculturation stress in Latina undergraduate students."
Prior to joining the staff of Davis College's Dr. Bill Bennett Student Success Center in 2016, Legako spent the first 10 years of her career as a marriage and family therapist specializing in addiction and recovery. "I like to joke that I was in rehab for 10 years," Legako said. "But truly, it was a good career. At a certain point though, the hours were inhibiting me from seeing my own family."
Legako and her husband were living in Utah at the time and had just welcomed their first daughter, June. "I barely saw my own kid, and that was really hard," Legako said.
Around that time, her husband Jerrad Legako was offered a position in Texas Tech's Department of Animal & Food Sciences, and so it was on to Lubbock and an eventual posting for her in Davis College. Through her time working there, Legako fell in love with higher education. So, her decision to apply to Texas Tech's College of Education Educational Leadership Ed.D Program was an easy choice.
"The program has been an ideal fit for me," she said. "I did look at doctorate programs, but most of the programs required students to be full time. That just wasn't possible for me, since I work full time and have a family. The Ed.D program was offered online and just made sense."
Looking ahead, Legako said, "Whenever someone asks me where I got my doctorate, I'm proud to say Texas Tech."
Contributing Lucy Greenberg
CONTACT: Cindy Akers, Interim Dean, Davis College of Agricultural Sciences & Natural Resources, Texas Tech University at (806) 742-2808 or cindy.akers@ttu.edu
0124NM22