DE&I Spotlight: Taipin has a passion for livestock and the agriculture industry
By: Norman Martin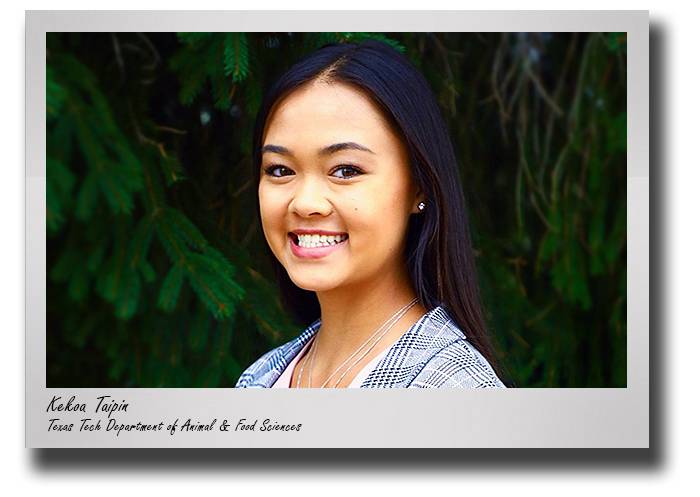 The Davis College of Agricultural Sciences & Natural Resources is committed to increasing its diversity and fostering a culture of true inclusion. Today, the Dr. Bill Bennett Student Success Center continues to develop its new platform for getting to better know some of our outstanding students.
Name: Kekoa Taipin; Major: Animal Science, Concentration in Animal Production; Classification: Junior; Hometown: Klamath Falls, Oregon
My Experience: I am currently a classified a junior this year at Texas Tech. I transferred to Texas Tech from a school in Northern California. I transferred for the wonderful opportunities Texas Tech offers to everyone. I have been involved in the agriculture industry for many years now. I have participated in FFA, 4-H mainly showing livestock across the nation. When I made the move to Lubbock I felt welcome with open arms. I immediately knew I wanted to join an organization with people with like interests. I was amazed at how many groups and organization Texas Tech and specifically Davis College offers. The diversity and inclusivity is unmatched. No matter what organization I was wanting to be a part of, I knew I was going to be welcomed in.
Why Davis College: I chose Davis College because of the opportunities within the animal science program. I am currently majoring in animal science, concentrating in Animal Production. I have always had a passion for the livestock and agriculture industry, and I knew Davis College would be the best fit for me. I want to eventually pursue a career in the agriculture industry, and I believe Davis College offers the most opportunities for both my education as well as my future career.
Piece of Advice: No matter where you are in life, you will always have hoops to jump through. Whether it be searching for colleges, applying for a job, or even trying to decide what you want to do in life, you will be faced with many challenges. Keep jumping through those hoops because once you stop, you will lose all the progress you have made.
Getting Connected: This past year I was fortunate enough to be a part of the Texas Tech Ambassadors for Agriculture. At first I was nervous to even interview, but every single member made it feel like a breeze. Unlike most students who had applied for this organization, I am not a Texas local. I was born and raised in a small town in Southern Oregon. Being one of the only people from Oregon, I was scared I was not going to have a place to fit in, but this organization made me feel like I was from Texas, and I am forever grateful for the opportunities Texas Tech has offered me.
I Promote DEI by: One way I promote DEI is by reminding people they always have a place no matter who they are. Texas Tech has offered me endless opportunities, regardless of who I am, where I am from, and what interest I have. The best way to promote DEI is to never let people change who you are and to continue to strive for the success you earn.
"Our Vision is to lead Davis College toward an equitable, inclusive, and diverse culture where everyone has a strong sense of belonging," said Sandra Addo, Davis College's Administrator for Diversity & Graduate Student Recruitment. "We envision an environment that catalyzes and sustains inclusion to enable all people to feel that the identity they hold belongs and authentically influences the culture, values, and future of the college."
CONTACT: Sandra Addo, DEI Committee Co-Chair and Program Manager for Diversity & Graduate Student Recruitment, Davis College of Agricultural Sciences & Natural Resources, Texas Tech University at (806) 742-2808 or sandra.addo@ttu.edu
0405NM22 / Editor's Note: For detailed information on Davis College DE&I programs, click here