Inaugural Davis College Graduate Research Poster Contest set to launch
By: Norman Martin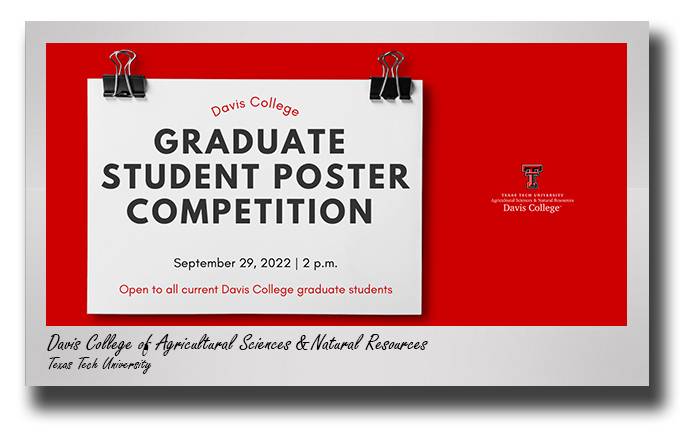 Texas Tech University's Davis College of Agricultural Sciences & Natural Resources is ready to roll out its inaugural Graduate Student Research Poster Competition from 2-5 p.m. on Thursday (Sept. 29). The program presentations will be located in the Texas Tech Dairy Barn.
"This year Davis College is hosting a Graduate Student Poster Competition for the first time college-wide," said Christy Bratcher, Davis College Associate Dean for Research. "This is a good internal networking event, and we will have judges that are industry, government and alumni from the Lubbock area."
The judges will include a panel of 18 Texas Tech alumni from a variety of agricultural backgrounds. Presentation of winners will be at 5 p.m. at the Dairy Barn Loft. Monica Hightower, Davis College's Lead Grant Writer, added that scholarships will be awarded to the top three student posters in each of five categories: Climate Resilience, Powering Our Future, Advancing One Health, Thrive! Rural America, and Borders & Belonging.
Sandra Addo, Program Manager for Diversity & Graduate Student Recruitment, provided a list of Davis College graduate students scheduled to present are:
Department of Agricultural & Applied Economics
Rachel Buck of Kingsville, Texas (Doctoral Candidate)
Bradi Harral of Encino, New Mexico (Master's Student)
Syed Fuad of Atlanta, Georgia (Doctoral Candidate)
Manuel Garcia of Oriente, Honduras (Doctoral Candidate)
Bailey Samper of Coarsegold, California (Doctoral Candidate)
Department of Agricultural Education & Communications
Gilbert Abura of Nairobi, Kenya (Doctoral Candidate)
Kylie Farmer of Chowcilla, California (Bachelor's Student)
Kylie Harlan of Sherman, Texas (Master's Student)
Joshue Lewis of Guayaquil, Ecuador (Master's Student)
Maci Loving of New Caney, Texas (Master's Student)
Ginger Orton of Buena Vista, Georgia (Doctoral Candidate)
Darcy Ryder of Warranwood, Australia (Doctoral Candidate)
Alexandra Salinas of Mission, Texas (Bachelor's Student)
Shelby Shank of Maineville, Ohio (Master's Student)
Ellora Vela of Penitas, Texas (Master's Student)
Shayne White of Monmouth, Oregon (Doctoral Candidate)
Department of Animal & Food Sciences
Taylor Smock of Carpenter, Wyoming (Doctoral Candidate)
Makenzie Flach of Sanger, California (Master's Student)
Lauryn Flores of El Paso, Texas (Bachelor's Student)
Kenley Frazier of Lubbock, Texas (Master's Student)
Luke Fuerniss of Loveland, Colorado (Doctoral Candidate)
Ashley Hoffman of Basehor, Kansas (Master's Student)
Qi Kang of Lanzhou, China (Doctoral Candidate)
Zach McDaniel of Tulia, Texas (Doctoral Candidate)
Paulo Menta of Carazinho, Brazil (Doctoral Candidate)
Kaliu Scaranto Silva of Pato Branco, Brazil (Master's Student)
Angelica Sanchez of Quito, Ecuador (Master's Student)
Department of Landscape Architecture
Nazia Afrin Trina of Dhaka, Bangladesh (Doctoral Candidate)
S Y Andalib of Dhaka, Bangladesh (Master's Student)
Andrew Castilleja of Lubbock, Texas (Master's Student)
Department of Plant & Soil Science
Oluwatola Adedeji of Ibadan, Nigeria (Doctoral Candidate)
Raavi Arora of Sri Ganganagar, India (Doctoral Candidate)
Preetaman Bajwa of Barnala, India (Master's Student)
Leonidas Dagostino of Lubbock, Texas (Master's Student)
Sarah Kane of Philadelphia, Pennsylvania (Doctoral Candidate)
Arjun Kafle of Greensboro, North Carolina (Doctoral Candidate)
Rupak Karn of Gaur, Nepal (Doctoral Candidate)
Arjun Ojha Kshetry of Taplejung, Nepal (Doctoral Candidate)
Jessica Kennedy of Windhoek, Namibia (Bachelor's Student)
Maliha Marzana of Khulna, Bangladesh (Master's Student)
Benjamin Perez Sanchez of Leon, Mexico (Doctoral Candidate)
Atinderpal Singh of Gurdaspur, India (Doctoral Candidate)
Shaida Sultana of Dhaka, Bangladesh (Doctoral Candidate)
Addisu Ferede Tesema of Bahir Dar, Ethiopia (Doctoral Candidate)
Alicia Thomas of Odonnell, Texas (Doctoral Candidate)
Matteo Tosoni of Vaeggio Sul Mincio, Vera, Italy (Doctoral Candidate)
Md Nur Uddin of Feni, Bangladesh (Master's Student)
AmandaJo Zimmerman of New Orleans, Louisiana (Master's Student)
Department of Natural Resources Management
Travis Ausec of Corinth, Texas (Master's Student)
Annie Braack of Pilot Point, Texas (Bachelor's Student)
Jacob Harvey of Holdrege, NE (Master's Student)
Steven Iida of Spring, Texas (Bachelor's Student)
Kaitlin Plate of Toledo, Ohio (Master's Student)
Sadie Roth of Riverview, Florida (Doctoral Candidate)
Department of Veterinary Sciences
Jean Franco Fiallo Diez of Pamplona, Colombia (Master's Student)
Alexandra Tegeler of Huntsville, Texas (Master's Student)
CONTACT: Christy Bratcher, Associate Dean for Research, Davis College of Agricultural Sciences & Natural Resources, Texas Tech University at (806) 742-2808 or christy.bratcher@ttu.edu
0921NM22