In Press: Can dogs catch a whiff of bovine respiratory disease?
By: Norman Martin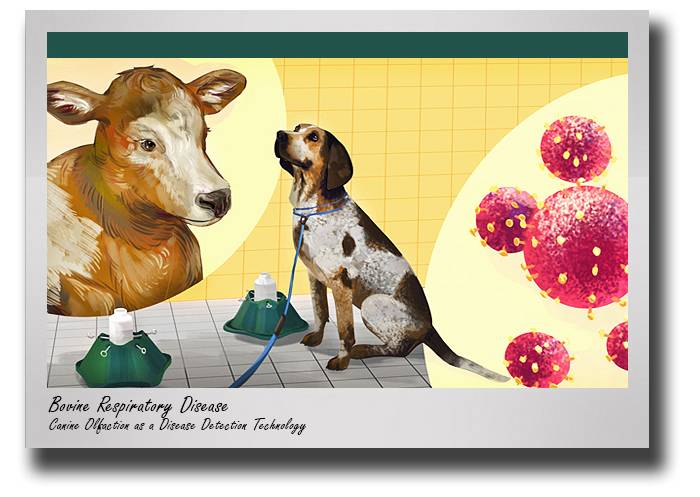 Nathan Hall, an associate professor of companion animal science in Texas Tech's Department of Animal & Food Sciences, is part of a multi-institutional research team taking a page out of human disease research to see if dogs might be able to sniff out bovine respiratory disease, BRD, one of the largest health challenges for the feedlot cattle industry.
Texas A&M Animal Welfare Specialist Courtney Daigle and her doctoral student, Aiden Juge, are beginning a second round of training to determine if dogs can routinely and accurately detect BRD in cattle. She'll continue to work with Hall, who is director of Tech's Canine Olfaction Research & Education Laboratory, and BRD expert John Richeson, an associate professor of animal science from West Texas A&M University-Canyon. Hall consulted with the canine training team and helped provide instruction for detection canine work.
Canine olfactory capacity has been successfully used to detect and diagnose human diseases, and this team is looking to expand that success. For BRD, Daigle said their pilot testing helped illuminate what training, equipment and other parameters are needed to increase the rate of accurate predictability.
The technology could revolutionize how antimicrobial treatment is applied in commercial beef production. Currently, cattle health is evaluated at the group level, resulting in mass administration of antimicrobials to an entire group, irrespective of individual animal health status. The research could catalyze a paradigm shift in how feed yards use antimicrobials. Producers will utilize the dogs' superior olfactory system for chute-side disease detection.
"A well-trained dog and handler positioned near the chute creates a scenario where the dog can quickly and calmly evaluate restrained cattle and signal a diagnostic decision to the handler," Daigle said. "Metaphylactic application would then transition from group application to implementation on an individual animal basis."
Treating only the animals that the dogs indicate truly need intervention would reduce drug cost and use compared to the current methods. Additionally, this will demonstrate that the livestock industry is demonstrating improved antimicrobial stewardship and promoting cattle welfare, while providing the global population with high-quality protein.
In the research team's pilot study, two dogs were trained in a series of stages over seven months to discriminate between nasal swabs collected upon arrival at the feedlot from cattle that developed signs of BRD within 20 days and swabs from cattle that did not develop BRD signs within three months at the feedlot.
CONTACT: Chance Brooks, Interim Chair and Professor, Department of Animal and Food Sciences, Texas Tech University at (806) 742-2808 or chance.brooks@ttu.edu
0111NM23 / ILLUSTRATION: Texas A&M AgriLIfe / Emma Simoni
Editor's Note: For a full-text version of Kay Ledbetter's original news article from Texas A&M AgriLife, please click here