A&S Diversity News
SUMMER 2022
Hutchins Receives Margaret C. Etter Early Career Award
Kristin Hutchins, an assistant professor in the Department of Chemistry & Biochemistry, has been awarded the 2023 Margaret C. Etter Early Career Award from the American Crystallographic Association (ACA). This national recognition is awarded to only one researcher per year, based on outstanding achievement and exceptional potential in crystallographic research demonstrated by a scientist at an early stage of their independent career. In addition to a plaque and $1,000, the award includes the opportunity for Hutchins to present a one-hour lecture at the 2023 ACA meeting scheduled for July 7-11 in Baltimore.
Raegan Higgins Appointed Assistant Vice Provost for Faculty Success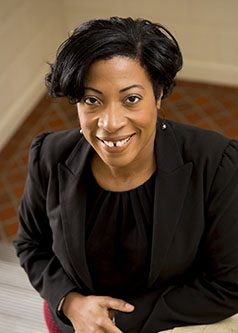 Raegan Higgins, an associate professor in the Department of Mathematics & Statistics, was appointed as one of two assistant vice provosts for faculty success. Announced by the Texas Tech University Provost Office July 11, Higgins' appointment recognizes the critical role that faculty members play in student success and programs. In this new position, Higgins will develop initiatives, programs and opportunities specific to inclusion and equity, mentorship, professional development, and help implement reviews of, and changes to, current policies and procedures that faculty have identified as barriers to advancement. Higgins currently is co-directing the EDGE 2022 Summer Program. Held this year at the University of Oxford July 10-Aug. 6, EDGE 2022 is a summer intensive program whose goal is to increase gender and racial diversity and equity in the mathematics community. More about Higgins at this link.
Latinx Voces Founder Paulina Sosa Gathers Stories About the Latinx COVID Experience
Paulina Sosa, founder of Latinx Voces, recently visited several Texas Tech University professors as part of a nationwide tour to collect COVID-19 stories and learning about the Hub City's Latin American culture. Latinx Voces is a non-profit organization working to amplify underrepresented voices and promote Latinx health, art, culture, history and small business. Because data from the Centers for Disease Control and Prevention (CDC) show that Latin Americans are among the racial and ethnic minority groups disproportionately impacted by COVID-19, Latinx Voces' health branch, the Latinx Task Force, has partnered with the U.S. Department of Health and Human Services' (HHS) Juntos Sí Podemos campaign to help bridge the health and information gap that negatively affects Hispanic communities. Among the professors Sosa consulted were Miguel Levario, an associate professor of Mexican American and Latina/o Studies (MALS) in the Department of History; Aliza Wong, a professor of history and interim dean of the Honors College; Carmen Pereira-Muro, a professor of Spanish and chair of the Department of Classical & Modern Languages & Literatures (CMLL); and Paola Guerrero Rodriguez, the director of CMLL's Spanish Language Heritage Program (SHP). Read the complete article at this link.
Megan Miner and Maria Sanchez Awarded Crossing Latinidades Mellon Humanities Fellowship
Megan Miner and Maria Sanchez, both doctoral students in the College of Arts & Sciences, have been awarded the Crossing Latinidades Mellon Humanities Fellowship for the 2022-23 academic year by the Crossing Latinidades Humanities Research Initiative. Miner, a doctoral student in the Department of History, has been assigned as junior peer and researcher for the "Race Laws in the U.S. Southwest: Research Working Group to Document Laws and their Impacts 1936-Present." Under the guidance of Richard Flores, a professor of Mexican-American cultural studies at the University of Texas at Austin, Miner will help build a comprehensive collection of race laws and city ordinances affecting Latinx and other racial and ethnic groups in Arizona, California, Colorado, New Mexico and Texas from 1836 until today. Sanchez, a doctoral student in the Department of Psychological Sciences, has been assigned to the "AfroChicanx Digital Humanities Project: Memories, Narratives, and Oppositional Consciousness of Black Diasporas." Working with Claudia Garcia-Louis, a professor of education leadership and policy studies at the University of Texas at San Antonio, Sanchez will help create a digital archive of the experiences and histories of Afro communities in Mexico and the U.S. Read the complete article at this link.
Megan Cuevas to Enter Physics Ph.D. Program with Two Coveted Scholarships
Megan Cuevas, who graduated in spring 2022 from Texas Tech with her bachelor's in physics, will enter TTU's astrophysics Ph.D. program this fall. She is a recipient of the four-year Helen DeVitt Jones Graduate Fellowship, backed by the Helen Jones Endowed Graduate Fellowship Fund through the College of Arts & Sciences. She also is a recipient of the 2022-2023 STEM Columbia Crew Memorial Scholarship from the Texas Space Grant Consortium. "My end goal in pursuing graduate studies is to further my knowledge to become proficient in astrophysics and a skilled researcher. I strive to challenge myself and learn constantly; thus, a Ph.D. program is a natural next step," Cuevas said. "These scholarships provide security and encouragement to progress to this next challenge in my academic career." Follow this link to read the full article about Megan Cuevas.
TTU Among Top Universities Forming Hispanic Opportunity Alliance
Texas Tech University is one of 20 top research universities that have formed the Alliance of Hispanic Serving Research Universities (HSRU). The alliance was announced June 9, 2022, and represents the 20 United States universities that have achieved both Carnegie Tier One status (R1, very high research activity) and designation as a Hispanic Serving Institution by the U.S. Department of Education. The HSRU Alliance aims to achieve two key goals by 2030:
double the number of Hispanic doctoral students enrolled at Alliance universities, and
increase by 20% the number of Hispanic professors in Alliance universities.
"At Texas Tech University, we work every day to produce exceptional research and scholarship while advancing intercultural relations and global competency," said Texas Tech President Lawrence Schovanec. "The HSRU Alliance will allow us to make a more significant impact by providing better support for Hispanic students, ultimately benefitting all students. We are proud to be among this group of distinguished institutions." For a detailed account, follow this link.
Sandip Pal Featured in Carbon Program Newsletter
Sandip Pal, an assistant professor of atmospheric science in the Department of Geosciences, was featured in the June 2022 newsletter of the North American Carbon Program (NACP). The NACP is a multi-agency, multidisciplinary scientific research program focused on carbon sources and sinks in North America and its adjacent oceans. Each edition of the newsletter includes a member spotlight that recognizes the work of a member—in this case, Pal—currently involved in research that addresses observational, experimental and modeling efforts regarding terrestrial, oceanic, atmospheric and human components of the carbon cycle. Pal was nominated for the article by Elisabeth K. Larson, Ph.D., of NASA's Goddard Space Flight Center in Greenbelt, Md.
Lubbock Celebrates Juneteenth 2022
General Order No. 3, issued by Maj. Gen. Gordon Granger, June 19, 1865. The order was written in a volume beginning on one page and continuing to the next. Image courtesy of National Archives.
On June 19, 1865, two-and-a-half years after President Abraham Lincoln's historic Emancipation Proclamation, U.S. Maj. Gen. Gordon Granger issued General Order No. 3, which informed the people of Texas that all enslaved people were now free. This day has come to be known as Juneteenth, a combination of June and 19th. It is also called Freedom Day or Emancipation Day, and it is the oldest known celebration commemorating the end of slavery in the United States. The College of Arts & Sciences applauds the local celebrations in Lubbock through this link.
Amelia Talley Welcomes Pride Month 2022
Amelia E. Talley, associate dean of Diversity, Equity & Inclusion for the College of Arts & Sciences.
Amelia Talley, an associate professor of experimental-social psychology and associate dean of Diversity, Equity & Inclusion for Texas Tech University's College of Arts & Sciences, welcomes the celebration of Pride Month 2022. In support of the LGBTQIA+ community, Arts & Sciences has compiled a directory of resources that includes relevant courses and research published by faculty and students. For more on Arts & Sciences' Pride Month 2022, follow this link.
For more Diversity News in Arts & Sciences, follow this link.
College of Arts & Sciences
Address

Texas Tech University, Box 41034, Lubbock, TX 79409-1034

Phone

806.742.3831