Distinguished Engineer Citations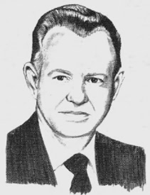 A. L. Kincheloe
Distinguished Engineer
1977
Degree
Civil Engineering – 1950

Citation
At Time of Nomination in 1977
Since his 1950 graduation from Texas Tech with a Bachelor of Science degree in Civil Engineering, A. L. Kincheloe has cast his lot with the steel industry. His career progression has been outstanding.
Mr. Kincheloe's initial position was with Campbell Steel Company, and in the 10 years from 1950 to 1960 he performed a variety of engineering, sales, and operating duties. These were done with such success that in 1958, he became vice president and was assigned plant manager duties at San Antonio.
Mosher Steel Company acquired Campbell Steel Company in 1960, and Mr. Kincheloe has been a key executive with Mosher since that time. He continued as San Antonio plant manager until 1967 when he was named vice president and contracting manager. In 1972, he was transferred to the corporate headquarters at Houston, and three years later was named vice president and general manager of the structural division. Since that time he has been elevated to his present position as vice president and general manager of operations.
A frequent visitor to Texas Tech, this Hamilton County native has twice each year for the past decade been an interviewer of student applicants for the James H. Murdough scholarship in the Department of Civil Engineering. In this task, he has interviewed more than 300 students.
Active in professional affairs, Mr. Kincheloe is chairman of the Southwest Texas Chapter of the Texas Manufacturers Association; is former president of the Builders Exchange of Texas; a member of the Texas Section of American Society of Civil Engineers, formerly the Section's technical vice president, and former vice president and director of the San Antonio branch. He is a Registered Professional Engineer in the State of Texas and is a member of the Texas Society of Professional Engineers, Tau Beta Pi, and Alpha Chi.
In the realm of civic endeavors, Mr. Kincheloe has also established a record of leadership. He has been director of the San Antonio Research and Planning Council, honorary director of the San Antonio Chamber of Commerce, a member of Baptist Memorial Hospital Advisory board, and a Rotarian. Active as a churchman, he is a former deacon and ruling elder in the Presbyterian Church.
In the rush of his career climb and the flurry of his other activities, Mr. Kincheloe has always had time to serve the needs of his alma mater, and now that institution, Texas Tech University, is pleased to recognize his accomplishments and declare A. L. Kincheloe: DISTINGUISHED ENGINEER.
Edward E. Whitacre Jr. College of Engineering