Distinguished Engineer Citations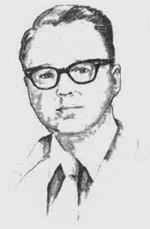 Evan E. Roberts, Jr.
Distinguished Engineer
1976
Degree
Architectural Engineering – 1948

Citation
At Time of Nomination in 1976
Many citizens have the opportunity to influence the character of a community, but few are they who are able to help in molding both its character and its face. One of these is Evan E. Roberts, Jr.
Mr. Roberts, born in Goree in Knox County, had his early study at Texas Tech interrupted by World War II. Upon his separation from active duty, he resumed his study towards a Bachelor of Science Degree in Architectural Engineering and was awarded the degree in 1948. Later, in 1952, he earned a Master of Science Degree in Meteorology from California Institute of Technology.
In 1954 Mr. Roberts became one of the original partners in the Lubbock architectural firm which is now Stiles, Roberts, Messersmith and Johnson and soon began to make his mark on the face of West Texas. He has won design awards for the Texas Tech Museum, Texas Tech's Wiggins Dormitory Complex, the First Presbyterian Church in Plainview and the M.S. Doss Scout Center in Seminole. Among other major individual or joint projects on which he has had a major influence are the new Midland Museum, the Memorial Hospital in Seminole, the Lubbock Auditorium and Coliseum, Nat Williams Elementary School, the Texas Tech Library, Lubbock's Medical Professional Building and the recent addition to Methodist Hospital. He is a Registered Professional Engineer in the State of Texas, a Registered Architect in the States of Texas and New Mexico, and is listed in Who's Who in Texas and Who's Who in the South and Southwest.
Mr. Roberts' professional accomplishments have been matched by civic contributions which include membership in the American Business Club and former membership on its Board of Directors; former presidency of the Board of Directors of the Lubbock YMCA; Chamber of Commerce membership and the former chairmanship of its Membership Committee; and, at Texas Tech, membership in the Red Raider Club and the Century Club. A Mason and a Shriner, he is also a deacon and an elder of Westminster Presbyterian Church and is presently Clerk of the Session as well as co–chairman of the adult education program.
Clearly, by his professional efforts and his civic involvement, he has made a major contribution to the molding of the character and the face of Texas Tech University, the City of Lubbock, and the West Texas region. We recognize the impressive accomplishments of Evan E. Roberts, Jr., and cite him as a DISTINGUISHED ARCHITECT.
Edward E. Whitacre Jr. College of Engineering