Distinguished Engineer Citations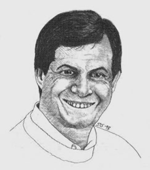 Garth Nash
Distinguished Engineer
1998
Degree
Electrical Engineering – 1963

Citation
At Time of Nomination in 1998
Garth Nash graduated from Texas Tech with a Bachelor of Science Degree in the Department of Electrical Engineering in 1963, and received his Master of Science Degree in Electrical Engineering from Southern Methodist University.
His first employer after graduation was Collins Radio Company. In 1969, he went to work for Motorola where he has held positions in design, marketing, field technical management and systems sales management. In 1985, he joined VISIC as a Regional Sales Manager, and in 1986 he moved to Thomson–Mostek/STM as the Vice President of Industry Marketing and Sales Director. In 1990, he returned to Motorola as the Vice President and Director of the Communication Segment in World Marketing. In 1993, his responsibilities were expanded to include the Consumer Segment and he was named a Sector Vice president. The Segment activities include worldwide sales, market development, and directing the research and development activities of the Phoenix Technology Center.
Due to the emergence and the expansion of multimedia applications for semiconductors, Garth Nash was named to direct the new Multimedia Segment of World Marketing in 1995. After this effort was successfully launched, he was promoted to Technology Director for World Marketing in 1996, to Marketing Director for Sector Technology in 1997, and then to his current position as Vice President and Director of Communications for the Networking and Computer Systems Group of Motorola's Semiconductor Products Sector.
Garth Nash is a Dan Noble Fellow, Motorola's highest technical recognition. He is also a Science Advisory Board Associate and holds twelve patents. He has also been recognized with a Motorola Distinguished Innovator Award. He frequently speaks at business and technical conferences and has had several technical and marketing publications. He is a new member of the Electrical Engineering Academy at Texas Tech.
He is an Elder in his church, and his hobbies include musical entertainment, tennis, golf, hunting, fishing, and woodworking. He and his wife, Zandra, have raised two sons, Brett and Brannon.
Texas Tech University is proud to name Garth Nash DISTINGUISHED ENGINEER.
Edward E. Whitacre Jr. College of Engineering