Distinguished Engineer Citations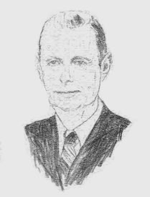 James W. Harrell
Distinguished Engineer
1973
Degree
Textile Engineering – 1935

Citation
At Time of Nomination in 1973
James W. Harrell, born in San Saba, Texas in 1911, received his B.S. in Textile Engineering from Texas Tech University in 1935. He then was employed by the Hartsville Print and Dye Works, in Hartsville, South Carolina, and in 1937 became associated with the Riegel Textile Company in Ware Shoals, South Carolina.
He joined J. P. Stevens and Company, Inc., in 1947, two years later becoming its vice president. After serving as chairman of the Manufacturing Advisory Committee of the company, in 1961 he was made a director, later was promoted to officer in charge of the Cotton Division– Manufacturing, a member of the Executive Committee, vice chairman of the Executive Committee, and finally executive vice president.
Mr. Harrell has served as a director, vice president and president of the South Carolina Textile Manufacturers Association. He is a director of the American Textile Manufacturers Institute.
He is a trustee of the J.E. Sirrine Foundation, funded by the textile industry; and a member of the General Board of Directors of the Citizens and Southern National Bank of South Carolina, on the Advisory Board of Directors of whose Greenville Branch he serves. He was a member of the South Carolina Ports Authority from 1964 to 1967.
Texas Tech University presents to James W. Harrell the award: DISTINGUISHED ENGINEER.
Edward E. Whitacre Jr. College of Engineering