Distinguished Engineer Citations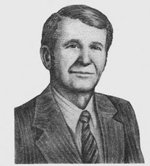 Troy Scott Hickman
Distinguished Engineer
1986
Degree
Petroleum Engineering – 1957

Citation
At Time of Nomination in 1986
The son of a Methodist preacher and a school teacher, Troy Scott Hickman has excelled as an oil industry consultant while maintaining a heritage of service to his church, his community and to higher education. His achievements demonstrate that success in business brings with it responsibility and that fair play is an axiom that works.
Hickman received a B.S. from Tech in Petroleum Engineering. He became a member of Tau Beta Pi, as well as President of Alpha Tau Omega and the Interfraternity Council. He also earned an M.S. from Louisiana Tech and did graduate work in Geology at U.T. Arlington. After eleven years with Texaco, Hickman came to Midland with the dream of being an independent operator. He became instead an early developer of computer software for petroleum applications and a trusted consultant whose firm of five engineers advises hundreds of clients about the feasibility of investing billions of dollars in oil and gas holdings. His evaluations are accepted by the financial community throughout the U.S., Canada and Great Britain. The earlier dream still finds expression in various energy–related joint ventures and through 50 percent ownership in Pecos Operators, which drills and operates shallow oil wells.
Given the fiscal responsibilities Mr. Hickman assumes and the number of people his decisions affect, it is no wonder that he has challenged other petroleum engineers to take seriously their professionalism. In a paper published in the Journal of Petroleum Technology, Hickman refers to the debt that engineers owe to society, "for the privilege of being educated and allowed to practice... All petroleum engineers have a responsibility for the public's health, safety and welfare."
Hickman is a registered Professional Engineer in Texas and Louisiana and has been a leader in professional societies and an invited lecturer at several universities. As the father of three and a leader in the Methodist Church, he has taken on the responsibilities of dealing with difficult civic work such as the Midland Crisis Intervention and Suicide Prevention program and youth–oriented volunteer activities such as the Presidency of the Campfire Girls, Inc. and top offices in the Junior Baseball Association. In his church, he is a licensed lay preacher, and among many other responsibilities, he has served as chairman of the administrative board. At Tech, he is a member of the Red Raider Club, the President's Council and the Dad's Association. He has served in every major office in the Ex–Student's Association, including the presidency.
A man from Texas Tech and for Texas Tech, Troy Scott Hickman is now proudly designated DISTINGUISHED ENGINEER.
Edward E. Whitacre Jr. College of Engineering