EndNote Web@ Texas Tech Library
Oct. 31, 2013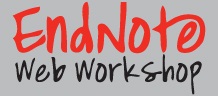 The Library will host a hands-on workshop, Introduction to EndNote Web, from 2 to 3 p.m. Monday, Nov. 11 in Library Instruction Lab 150.
In this hands on workshop, learn to:
manage citations, footnotes, endnotes and bibliographies
register for and set up an EndNote Web account
import citations from favorite resources into EndNote Web
create a bibliography using "Cite while you write" and the "capture new reference" option for websites
Open to all students and faculty; no RSVP required.
For more information, contact Personal Librarian Jon Hufford at jon.hufford@ttu.edu.
*** Broken a:105874 library: NewsLibrary_subnav ***