Oct 14 2019 – Oct 16 2019
Marla Baggetta Pastel Workshop
Registration Opens September 16
EVENT DETAILS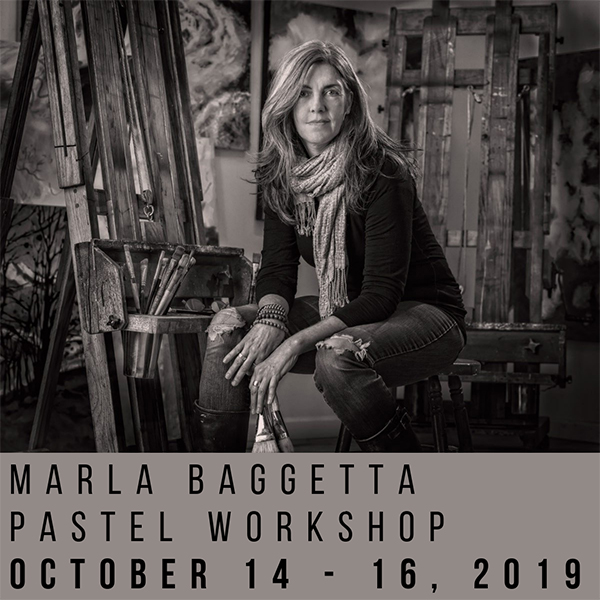 Click here to register. 



The Museum will be hosting a 3-day pastel workshop led by Marla Baggetta, October 14th - 16th.



A prolific painter and teacher, Marla's artwork and workshops are nationally sought after. Her work has been represented throughout the country for over 30 years. Contributing to many art publications such as Pastel Journal, she is a signature PSA member and an IAPS Master Circle Recipient.



Marla graduated from Art Center College of design in Pasadena, Ca. She worked as a commercial illustrator for 25 years. After moving to Oregon in 1993, she was inspired by the beauty of the Willamette Valley and began painting landscapes that blend realism and abstraction that convey a sense of calm and balance. Among her numerous awards and honors are Arts for the Parks Annual Juried Exhibition. She has been featured in the Pastel Journal and is included in Pure Color: The Best of Pastel and Sketchbook Confidential II. She is the author of Step by Step Pastel by Walter Foster Publishing. Her paintings can be found in numerous public and private collections throughout the country.



Registration for the workshop will open September 16th at 9 AM. Participants must bring their own supplies and must commit to all 3 days of the workshop to register. The workshop will run from 9 AM – 5 PM each day with an hour break for lunch. Call Caroline Reeves at 806-834-6221, if you have any questions!




Required Materials






There is no cost to the workshop but participants must provide their own supplies:







Pastels



Paper



Backing board



Glassine or tracing paper



Tape



Sketchbook or notebook



Drop cloth



Small set of watercolors (if you want to try underpainting)



Old bristle brush or brush you are willing to use on sanded paper



Wet wipes or rag



Apron



Easel set up; either tabletop or tripod (ask workshop chair about our room and what

is appropriate)



An apple for our first warm up



Reference photos
Pastels




Bring a reasonable set of pastels that you can manage and will have room for in our workshop. I highly recommend an organized box so you can see all of your sticks. If you can't see them, it's likely you won't use them! You do not need to bring everything you have. I travel with the backpack size Heilman box. I use a wide variety of brands including Terry Ludwig, Nu-Pastels, Mount Vision, Unison, Giraults, Blue Earth and others.



Please do not bring or buy Alphacolor or Prang pastels. No Oil Pastels. Both Sennelier and Unison offer a number of half stick sets from 20 sticks to 120 sticks I recommend the Sennelier Paris half stick set of 120 or the Unison 120 half stick set those who can invest in a good starter set and don't have many pastels. A great addition to either of those sets would be Terry Ludwig's set of Intense Darks II. I'm a big fan of Nu-pastels for the beginning stages of a piece!



Please prepare your pastels for working by taking off the wrappers, (before the workshop). Arrange them by color family and value. This will save you lots of time during the workshop.




Paper




At least 4 pieces of approx. 12 x 15in white or off white sanded paper, 3 pieces of 9 x12in white or off white sanded paper. It can be the brand of your choice such as Pastelmat, Uart (I like 400 and 500grit), or Wallis if you've got it. At least 1 piece of 9 x12in toned paper such as Colorfix, (something a bit darker such as Leaf Green or Burgundy). You can divide larger sheets to get equivalent amounts. Please don't cut your paper ahead of time. If you are a fast painter, bring more paper.




Reference Material




For this workshop your choice of reference material is very important. Most important; your photos should something you really want to paint! We will be repeating compositions quite a few times throughout the workshop. I recommend that you chose photos with 4 to 5 strong shapes and strong value differences. Bring more than you think you'll need. You ipad is great if you have one. I'll be glad to help you select or at least narrow your choices when we are together!
Explore
Exhibits & Collections
Museum of Texas Tech University