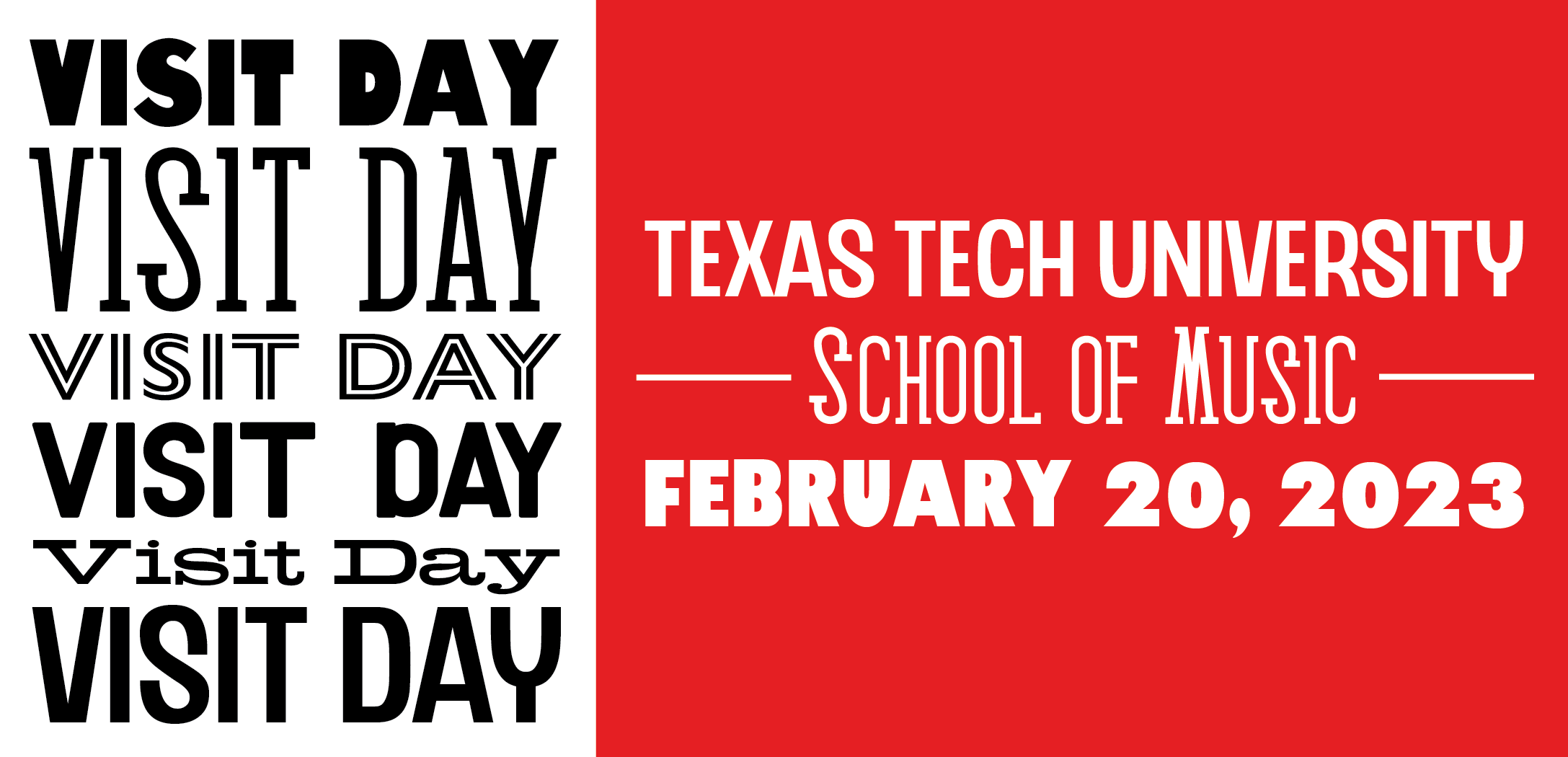 School of Music to host visit day for prospective undergraduate music majors on Monday, February 20, 2023.
All prospective undergraduate students are invited to join us for a visit day at the School of Music on Monday, February 20, 2023. At this event, future music students will have the chance to be immersed in the life of a music major at Texas Tech.
As part of this event, students will have the opportunity to attend classes, view ensemble rehearsals, meet students and faculty, and get a feel for what it's like to be a part of our vibrant music community.
This is a unique opportunity to explore the school, experience our programs, and for students to see if a music major is the right fit. Our faculty and current students are eager to share their passion for music and answer any questions you may have.
Registration is open now and will close on Wednesday, February 15th or when all available spaces are filled. Use the button below to register. For students and families traveling a distance from Lubbock, we have partnered with Staybridge Suites for discounted hotel rates.
Monday, February 20, 2023
School of Music
Visit Day Schedule of Events
2614 18th Street, Lubbock, TX 79409
(subject to change, attendees will receive a personalized schedule prior to their arrival)
7:30 AM - 8:15 AM
Registration and Continental Breakfast
8:15 AM - 8:45 AM
Welcome Presentation in Hemmle Recital Hall
9:00 AM - 11:00 AM
Attend Classes / Tour Campus
11:00 AM - 2:00 PM
Lunch and Drop in- Resource Fair
Open House Instrument / Voice Studios
2:00 PM - 4:00 PM
Ensemble Presentations
4:00 PM - 6:00 PM
Studio Classes / Open Rehearsals
7:30 PM
Optional Free Ticket to FILHARMONIE BRNO at the state-of-the-art Buddy Holly Hall