January 2019 Parent & Family eNewsletter
Volume 18, Issue 1

General News
Parents and Family Members of Incoming Students
Financial Tips/Info
Scholarships/Job Opportunities
Academic
Housing
Important Dates
Extracurricular Activities
Texas Tech Parent Association
LIKE US ON FACEBOOK!

Does your Red Raider have a younger sibling age 8-15? Enjoy a day filled with fun, educational, and spirited events sure to get siblings of Texas Tech students excited about college and share in the traditions of Raiderland. Sibling Saturday invites Texas Tech students to spend time with their brothers or sisters in a day filled with great activities just for them. Younger siblings between the ages of 8 and 15 are invited to attend. Mark your calendars for Saturday, February 16, 2019!
For more information and to register, click HERE.
---
Each month, Parent & Family Relations will conduct a Parent & Family Pulse Poll—a brief poll about Texas Tech parent and family experiences. We will share our poll results each month online. Here is the link to this month's poll about Contacting Texas Tech.
For past poll results visit Parent & Family Pulse Polls.
---
If your student still needs a bus ticket, tickets are still available. Ticket prices will increase on Thursday, January 31.
BreakShuttle makes it easy for students at Texas Tech University to save time and money and avoid the hassle of getting home by providing direct, safe and affordable transportation to and from Houston, Dallas, Austin, and San Antonio during academic breaks. Click here to see travel details and to purchase tickets.
BreakShuttle has a full-time staff dedicated to working with universities and coordinating travel arrangements for students around the country. We contract with fully insured and compliant charter companies to provide comfortable vehicles operated by responsible, courteous drivers.
For more information about bus trips, click HERE.
---
The semester has come to an end and your student faced unforeseen struggles in the classroom due to out-of-the-classroom events or habits. The result? Scholastic probation or suspension. While many react negatively initially, it is important to remember that there are ways to make it through this and come out as a stronger student for it.
Different academic colleges and majors within Texas Tech have varying grade point average (GPA) requirements for their students to maintain to be considered in "Good Academic Standing". Only students whose GPA's fall below the college specific cut off in their FIRST semester at Texas Tech are placed on scholastic probation and required to enroll in a major-specific course through our Programs for Academic Development & Retention (PADR) for the following semester. (PLEASE NOTE: some colleges may have exceptions to this rule). All students returning from academic suspension (who have not already taken and passed PADR) are required to enroll regardless of college. The coursework is carefully planned and implemented in a way that teaches students time management skills, better study habits, and habits for collegiate success. When a student's GPA falls below the requirement a second time, he or she is placed on scholastic suspension and will need to reapply to Texas Tech after at least one (or two-you will be notified) semester of suspension. The process is not as daunting as it sounds. Many students successfully complete the PADR course, continue to excel in their courses, and graduate.
So, what can you do to help your student with probation or suspension? First, take a deep breath. It is perfectly normal to feel overwhelmed and disappointed (your student is feeling these things as well). Sit down with your student and if you aren't sure what went wrong during his or her semester, ask and talk through it. Next, your student will need to refer to the scholastic probation/suspension notification letter from Texas Tech for the next steps. Make a checklist and familiarize yourself with the entire process and the coursework your student takes on during the following semester. If any offices on campus need paperwork filled out, they will reach out to your student. Above all, remember that your student is more than capable of overcoming this obstacle and Texas Tech wants to do everything we can to help your student get back on track. Even from here, it's possible.
PADR website: http://www.depts.ttu.edu/padr/index.php
2018-2019 Academic Catalog: http://catalog.ttu.edu/
---
Encourage your student to take the Universum Career Assessment. This assessment helps not only students, but recruiters, understand what upcoming and new graduates are looking for in a career.
Be part of this 15 min exercise to help yourself, help us, and help recruiters!
Your support costs time... and time is $$$$$...so Universum will be offering the following in return for time:
A complimentary soft skills report on what employers are expecting from recent grads (guaranteed upon completion)
A career profile analysis: your strengths, weaknesses, and recommended employers (guaranteed upon completion)
A chance to win e-gift cards (monthly contest)
A chance to donate to a charity of your choice (monthly contest)
A chance to win college swag! (monthly contest)
Students can take the survey HERE
---
Sending your student off to college isn't always easy. But you can rest assured knowing they have chosen an excellent university with a multitude of opportunities for them to succeed! The first opportunity is Red Raider Camp!
Red Raider Camp is a 3 day, 2 night program that takes place in Brownwood, TX completely led by current students. The cost is $225 and includes lodging, meals, 3 camp t-shirts, and more! Students who attend RRC have higher GPAs, take part in leadership development, make great connections before classes begin, and so much more! Spots are limited so sign up TODAY! Camp dates and registration can be done on our website www.redraidercamp.ttu.edu. Wreck Em!
---
Hospitality Services want your Red Raider to get the most out of their Dining Bucks, so we're providing them with numerous options when it comes to Dining Plans!
Need to make a change? On-campus Resident Dining Plan holders have the option to raise or lower their Dining Plan Level through the 20th class day of the spring 2019 semester. The 20th class day in the spring semester is February 13th, 2019 (Dining Plan Change Form or call 806.742.2661).
Do Dining Bucks rollover? Students can roll unused Dining Bucks to their next on-campus living contract. Dining Bucks do not roll to an off-campus/commuter Dining Plan and they are non-refundable and non-transferable.
For more information about on-campus dining options or Dining Plans visit hospitality.ttu.edu or call 806.742.1360. Follow us on Facebook, Twitter and Instagram @EatAtTexasTech
---
Do you know that you and your student can apply for a passport at the Texas Tech Passport Office? This service is open to the public during normal business hours and is located in the International Cultural Center at 601 Indiana Ave. For information on hours of operation, required documents and payments, please refer to our website at http://www.depts.ttu.edu/international/intlopr/passport.php
---
Grab one today at a SUB Information Desk or in the Student Activities office in the SUB West Basement. SAB is the student organization on campus that plans and implements over 60 FREE events exclusively for Texas Tech students. Calendars are free and all events are free with TTU Student ID. More details can be found on our website sab.ttu.edu and via social media @TexasTechSAB.
More information can be found at sub.ttu.edu. For questions, call 806-742-3636.
---
Student Legal Services is offering students a Power of Attorney workshop on Wednesday, January 16th, from 9:00 - Noon and Thursday, January 17th from 1:00 - 4:00. This service is only available to current TTU students. Please visit our table near the SUB information desk and the bookstore. We will try to complete the document the same day so students must bring their driver's license!
If your student completed the paperwork last August then they can stop by and pick it up. They must bring a driver's license.
---
Encourage your student to come back to campus in time to participate in Winter Raider Welcome from January 13-19. Raider Welcome is a series of FUN and FREE events designed to welcome new and returning students to the Texas Tech campus.
You can view the full schedule and see what events may be of interest to your student HERE.
---
Risk Intervention and Safety Education (RISE) provides resources for parents and family members to help them learn about campus safety and wellness policies, volience prevention and response, procedures, and resources available at Texas Tech. Visit their page HERE.
---
The Official Texas Tech Class Ring symbolizes a significant achievement in a student's academic career. Undergraduate students only need 75 hours to purchase a class ring, but they can begin saving money to purchase that ring as soon as their first day of class.
The Texas Tech Alumni Association has made it easy for students to save for their ring through the Ring Savings Program. Each semester students can set aside a refundable $75 (or more) through their tuition, which may then be applied toward the purchase of their Official Texas Tech Class Ring, upon eligibility.
To enroll and begin saving today, have your student visit Raiderlink.ttu.edu, click on the MyTech tab, and sign up in the Official Class Ring section under Optional Services.
For more information on the Official Texas Tech Class Ring, visit www.texastechalumni.org/ring. If you have any questions or would like to save more than $75 a semester, please contact Mandy Wiley at mandy.wiley@ttu.edu or (806) 834-4258.
---
The campus bookstore is your official destination for textbooks, school supplies, and official Texas Tech apparel & gifts.
Save 25% off one Texas Tech apparel item when you sign up for emails from the bookstore. Click here to sign up today.
Download the My College Bookstore app for a 25% off coupon, exclusive app offers and order & shipment updates.
Rent or Buy Textbooks – We Price Match Amazon, bn.com & local competitors. Visit our website or speak to a bookseller for details.
---
Alumni, parents and friends of Texas Tech University play an important role in identifying talented students to the university by exemplifying the impact that the Texas Tech experience has made on their life. We encourage you to refer outstanding prospective students to us. The Student Referral Program is easy and convenient. Simply provide us with basic student contact information using the form below and we'll take it from there. Undergraduate Admissions staff will follow up with the student you've referred and provide them with information about Texas Tech and applying for admission. We thank you for helping us attract the best and brightest students to Texas Tech University.
Click HERE for more information.
---
If you would like to sign up for TechAlert messages, your student needs to log in at www.ttu.edu/emergencyalert using their eRaider username and password. Your number can be added as an alternate phone number, but your student's number should be listed as the primary emergency alert contact number so he or she receives the text messages and calls first. Up to four phone numbers can be added, but your student's number should be the primary number for texting.
---
Keep up-to-date about everything Texas Tech by visiting Texas Tech Today, a complete news source for Texas Tech University.
---
Parents of TTU students as well as TTU Students are invited to come and tour our clinic. We are happy to talk with you about the services we provide, our billing process, and give you the opportunity to meet some of our outstanding nurses and providers. Call us today and schedule a tour or make an appointment with one of our providers. If you are interested in a tour or appointment, please contact us at 806.743.2848.
Talk to your student about using Student Health Services any time they feel sick or are needing a check-up while they are on campus. They can familiarize themselves with the Student Wellness Center and learn how to set up an appointment by watching this video.
---
Do you have a current high school student or know of one in your area? Encourage them to visit Texas Tech University this fall! Campus tours are offered Monday through Friday at 8:30 a.m. and at 1:00 p.m. and at 9:00 a.m. on Select Saturday mornings. The campus tour experience includes an admissions information session, a student-led walking tour and the option to visit with the student's academic area of interest. Once students see the campus, they'll understand why so many students choose to call Texas Tech their home away from home and why alumni have such fond memories.
Click HERE for more information.
---
If you have a student that would benefit from support in college through Student Disability Services, please have your student apply for services at http://www.depts.ttu.edu/sds/. Documentation can be uploaded along with the application, and any questions should be directed to sds@ttu.edu or 806-742-2405. If you have questions about the TECHniques Center program, please send an email to techniques.center@ttu.edu.
---
If you have any questions about paying your student's tuition bill, please contact Student Business Services at 806.742.3272 or email sbs@ttu.edu.
For more information, please visit Student Business Services at http://www.depts.ttu.edu/studentbusinessservices/
---
Students need to submit all "3 Keys" to determine their 2019-20 financial aid eligibility.
University Scholarship Application: with this 1 application, students will be considered for several thousand TTU scholarships.
FAFSA: the Free Application for Federal Student Aid determines a student's eligibility for grants, scholarships, earned assistance, and borrowed assistance at the Federal, State, and institutional levels.
Expected Enrollment: What are a student's enrollment plans for next year? Full-time or part-time? We must have the answer to this question to determine a student's financial aid eligibility.
Both parents and students can enter to win a monthly $100 scholarship! No essays, just check out the TTU financial aid and scholarship resources available to you at www.scholarships.ttu.edu/contest .
Please contact us if you have any questions. Our team of advisors would love to assist you!
Financial Aid 806-742-3681 and finaid.advisor@ttu.edu
Scholarships 806-742-3144 and scholarships@ttu.edu
---
Is your student studying abroad summer, fall, or academic year 2019? If so, they should apply for the Study Abroad Competitive Scholarship; applications are due February 15!
The Study Abroad Competitive Scholarship is funded by the $4 International Education Fee that all Texas Tech students pay each semester. The scholarship is competitive with approximately 70% of students who complete the application being awarded. TTU domestic and international degree-seeking students who will study abroad on Texas Tech approved programs, or international students seeking a degree at Texas Tech are eligible to apply. Students may apply and be awarded in more than one term. A committee of faculty and students makes the determination of who will receive a scholarship. Study Abroad staff have no input in the award decision. Students can start the Study Abroad Competitive Scholarship application from the Study Abroad website.
---
Is your student looking for a great summer job? Are they wanting to make an impact with the incoming first year students? Encourage them to join the RRO Crew!
As a Crew Member for RRO, they will interact with and guide new students through RRO, develop relationships with fellow Crew members and Tech faculty/staff, and have a lot of fun while showing their Red Raider pride! Benefits include:
Work Summer 1 or Summer 2
Earn money
Free food, summer housing, and Texas Tech apparel
Great job experience
To learn more about the position and to receive an application, your student must attend an information session! Those dates are available on our website at redraiderorientation.ttu.edu, or your student can email rusty.david@ttu.edu!
---
The Student Involvement unit of the Center for Campus Life is seeking to hire a new student assistant to work up to 20 hours a week. This position works with the staff in charge of student organizations, leadership development, and service engagement. We are looking for a highly sociable, cheerful student that can handle customer relations professionally. Knowledge and experience with student organizations and graphic design a must. Please have student review the announcement and fill out the application: https://ttu.campuslabs.com/engage/organization/center-for-campus-life/documents/view/1039735. Students are to turn in applications to the front desk of the Center for Campus Life in the SUB 201 or email them to keri.shiplet@ttu.edu
---
If your student is receiving scholarships from a source other than Texas Tech, for example, their high school, a civic organization, etc? Be sure they report them by going to http://www.depts.ttu.edu/scholarships/ and clicking on the trophy icon (report external awards).
Is your student receiving a scholarship for 2018-2019 from Texas Tech University? Please be sure to get those thank you letters in ASAP!
You can follow TTU Financial Aid on Facebook and Twitter to get reminders and external scholarship information –new posts daily!
For more information, visit the website HERE.
---
Is your transfer student looking for a job that will make them money AND provide them with leadership experience? Encourage them to apply to be a Transfer Ambassador!
As a Transfer Ambassador, your student will provide support to incoming transfer students throughout their first year on campus and share with them knowledge of the resources available to assist them in their transition to Texas Tech. Transfer Ambassadors contact incoming students prior to orientation, work orientations over the summer, and continue to provide support during the fall semester through campus activities and peer leadership.
To learn more about the position and to receive an application, your student must attend an information session! The dates are available on our website at www.transferconnection.ttu.edu, or your student can email transferconnection@ttu.edu.
---
Undergraduate students at Texas Tech attending the Spring 2018 semester can access a FREE service, Academic Coaching. With a new year and new semester, students can meet one-on-one with an Academic Coach to set goals for the new semester and gain some crucial time management strategies. Academic Coaches can cater to the student's needs and connect them to resources that will benefit their personal and academic career, including tutoring, department services, and various other on-campus resources for their success.
The Learning Center will be hosting an event during Winter Raider Welcome on Thursday, January 17 from 12pm-5pm. Students will be able to stop by for FREE Popcorn and Candy, while receiving information about the Learning Center in the Learning Center. This event is open for all undergraduate students to come and visit with SOAR staff as they begin their Spring 2018 semester.
To make a one-on-one appointment with an Academic Coach, visit http://www.depts.ttu.edu/soar/LC/AcademicCoaching.php
For additional information, contact us!
(806) 742-3664
Holden Hall Room 80
---
Is your student needing help with major exploration, connecting their major to jobs, or thinking of changing majors? Encourage them to stop by University Advising during their walk-in hours. Walk-in appointments are open to any student.
Where: University Advising, Holden Hall 079
For more information, visit advising.ttu.edu or call 806.742.2189.
---
If your student is graduating in May, congratulations! Below is the Fall Commencement schedule for Texas Tech University.
PLEASE NOTE: The colleges are listed below in alphabetical order and NOT necessarily in the order in which they will be recognized.
Friday, May 17, 2019

2:30 p.m.
College of Arts and Sciences
J.T. & Margaret Talkington College of Visual and Performing Arts
College of Education
7:30 p.m.
Graduate School
Saturday, May 18th , 2019
9:00 a.m.
Edward E. Whitacre Jr. College Engineering
Honors College
College of Human Sciences
University Programs
Wind Energy
1:30 p.m.
Jerry S. Rawls College of Business Administration
College of Agricultural Sciences and Natural Resources
College of Media and Communication
College of Architecture
Texas Tech has a Commencement web site, which is your one-stop-shop for all things related to Commencement, including the schedule for upcoming ceremonies, lists of hotels (which sell out quickly!), parking information, and information about ordering invitations and photos of the big day.
Bookmark this site for all of your Commencement needs: https://www.depts.ttu.edu/provost/commencement/
---
This summer, University Student Housing is offering 50% off summer sessions in the Honors Hall! That means each summer session is only $335! With features like study lounges, moveable furniture, the Honors Learning Community, a full-service Starbucks, and proximity to the Rawls College of Business, the Honors Hall is the perfect place to live! Sign-ups begin March 4th at 9 a.m. and can be accessed on our website at housing.ttu.edu. We hope to see you in Raiderland Summer 2019!
---
Who doesn't love getting a postcard, letter, or package from a loved one!? Below are several tips and suggestions on how to make sure your student gets all of their mail while they're on campus.
To locate your students on-campus mailing address, visit: http://www.depts.ttu.edu/housing/halls/mail.php
University Student Housing will start receiving mail for fall residents on August 7th. Please do not mail items to your students address before this time, or it may be returned to sender.
Mail
Just like at your home, Texas Tech residence hall students receive mail directly in their building. Mail is delivered twice daily Monday- Friday. Residence halls do not receive mail on weekends, holidays, or over university breaks.
When students receive a standard piece of mail, those items are placed in a mailbox that corresponds to their room number. Boxes are available to students 24/7 while the residence halls are in operation. Mail boxes are secured with a combination lock. Your student will receive their combination when they move-in.
While the boxes are secured, it is recommended that valuable items such as checks and plane tickets are mailed using registered mail. It is never recommended that you mail cash or other irreplaceable items.
Packages
When your student receives a package that's larger than their mailbox, the package will be received by the hall staff in the hall office. Packages are tagged and logged into a computer tracking system. After the package is logged, the EZTrackIt computer system will automatically generate an email notification to the student, letting them know they can come claim their package.
Packages are available from the students' residence hall office. They simply need to bring their student ID at the time of pickup.
Students who need to mail packages or items that need to be weighed on campus can take advantage of CopyMail, which serves as a mail center for the Texas Tech community. Students can visit CopyMail at the Student Union Building, room 100, near the Food Court.
---
Is your student living off campus or considering living off campus? Be sure to read Common Pitfalls when it comes to living off campus.
---
Most landlords do not require the tenant to have renters insurance. All landlords deny liability for any damages to your personal property caused by water, smoke, or fire. Student Legal Services highly recommends any student, living off campus or on-campus, to obtain renters insurance. Renters insurance is a cost effective way to replace damaged property. Speak with your insurance representative to discuss your options.
If you or your student has any other questions about renters insurance please call 806-742-3289 or visit www.depts.ttu.edu/sls/.
College Renters Insurance offers coverage starting at $5,000 with a $100 deductible. Coverage for your personal property starts as low as $12 per month.
Visit www.CollegeRentersPlan.com/ttu to see all of the coverage options available or call (866) 572-1617.
---
January 9, Wednesday
95% payment of mandatory tuition and fees or enrollment in a payment plan due for spring. Registrations after this date require immediate payment or enrollment in a payment plan.
January 13, Sunday
January 14, Monday
January 15, Tuesday
January 16, Wednesday
January 21, Monday
MLK Day. University holiday
January 22, Tuesday
Last day for student-initiated addition of a course on MyTech. Course may be added until February 1 with advisor permission.
Complete calendar information:
Texas Tech Academic Calendar
Texas Tech Events Calendar
---
January Late Night Movies
SUB Escondido Theatre
10:00pm

Thursday, January 17 and Friday, January 18: Venom
Thursday, January 24 and Friday, January 25: Robin Hood
Thursday, January 31 and Friday, February 1: The Crimes of Grindelwald
More information can be found at sub.ttu.edu. For questions, call 806-742-3636.
---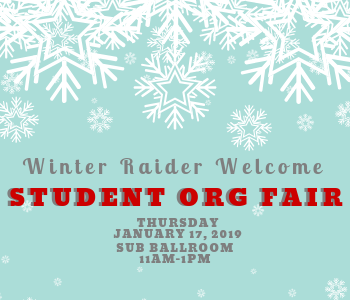 If your student is looking for a way to get involved on campus, encourage them to come by this event. They will have the opportunity to meet some of the best students at Texas Tech and find out how to get involved in any of the student organizations on campus. This fair will not be as big and overwhelming as the fairs during orientation or the fall semester. The student organization will be separated by categories making it easier to find what they are looking for. The categories include Advocacy/Activism, Cultural/International, Fraternity/Sorority, Hobby/Leisure/Recreation, Pre-Professional, Service/Philanthropy, Spiritual/Faith Based, and Sport Clubs.
If you have any questions, please reach out to us at studentorgs@ttu.edu.
Thursday, January 17, 2019
11:00 am – 1:00 pm
Student Union Building Red Raider Ballroom
---
Is your student involved in student organizations? If not, have him or her visit studentinvolvement.ttu.edu for a list of and contact information for all registered student organizations. It is especially important for students living on and off campus to get involved and stay connected to campus.
---
Is your student involved with the Military and Veterans Programs? If so, encourage him or her to view the Upcoming Events & Announcements on the MVP website!
---
Student Union and Activities always makes sure there is plenty for your Tech students to do! If your student complains that he or she can't find any fun activities or meet many people on campus, tell him or her about these exciting, FREE activities.
Click HERE for the complete Activities Calendar.
---
Texas Tech Parents Association (Tech Parents) is a nonprofit organization, founded in 1956 and provides a network for parents, student scholarships and achievement awards, faculty awards, and a variety of programs and services to help make your family's experience at Texas Tech memorable. Browse through our website for information and resources most important to parents. We hope you'll visit often, participate in family activities and events, and take advantage of our programs and services in your area.
Webinars: TTPA Webinars serve to provide information and valuable tips to parents in support of the success of their student. Each webinar focuses on a topic that will help parents effectively advise their student.
Parent Engagement Summit: TTPA is excited to offer the Parent Engagement Summit this February in which we will take an in-depth look at family engagement and parent connections within your hometown. If you are a TTPA chapter leader, committee member or parent ambassador, this summit is for you.

When: Friday, February 22nd - Saturday, February 23rd
Where: Texas Tech University International Cultural Center, 601 Indiana Avenue, Lubbock, TX 79409
How: For more information and registration, visit www.texastechparents.org

Chapters: Find a TTPA Chapter near you to connect with Red Raider parents in your community. Visit www.texastechparents.org to view a list of TTPA Chapters.
Scholarships: The Texas Tech Parents Association provides approximately $35,000 in scholarships annually. Applications for 2019-2020 scholarships will be available on the TTPA website mid-January, 2019.
Raider Roadshows: TTPA attends all of the Raider Roadshows. Encourage your friends to visit our booth!
---
---
Parent and Family Relations