Kent Wilkinson
2009 Texas Tech Integrated Scholar
Director of the Institute for Hispanic and International Communication; Regents Professor, Department of Electronic Media and Communications; College of Media and Communication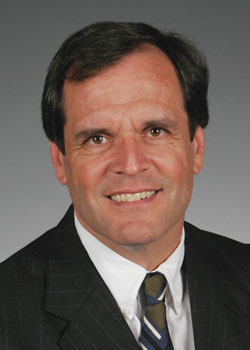 One of the things I find exciting about working in health communication is that it's an outlet, it's a way for those of us who are working on this in communication to apply our knowledge, our skills and our interest to have an impact on people's lives. It's not just research that's ending up in a journal or a book somewhere… but actually will have an impact on the quality of life for people in this country and in other countries as well.
What is your research objective/interest(s)?
My principal research areas are international communication and Hispanic-oriented media in the U.S. (You can imagine my excitement, in 2006, at the prospect of joining the Texas Tech faculty as Regents Professor in Hispanic and International Communication.) I am interested in how language and culture influence media industries and audiences within and across national boundaries. For example, it is difficult to fully understand U.S. Spanish-language media without knowledge of media and audiences in other Spanish-speaking countries, and media produced in Spanish here has influence abroad. Since arriving in Lubbock I have participated on grant-funded, interdisciplinary research projects including significant cultural and linguistic components. Those projects have focused on obesity/diabetes prevention, recruiting minority adolescents to health-related careers and effective marketing to Hispanic consumers.
How do you feel your research impacts the globe?
Language and culture are potent forces in the complex processes of media globalization. As it's hard to imagine the world "de-globalizing" in the foreseeable future, we need to know more. Because Hispanics/Latinos are the fastest growing population group in Texas and the United States, it's important to understand their values and preferences as well as the media that inform and entertain them. I hope that the health-related research I've participated in will inform health campaigns and have a positive impact on individuals and communities.
Where do you get your inspiration?
My inspiration comes mainly from three sources. Family first: my wife Carol, sons Davis and Shane, and my late father David T. Wilkinson who was an astrophysicist at Princeton University 1963-2002. Faculty and students in the College of Media and Communication, especially those affiliated with the Institute for Hispanic and International Communication, are a second source of inspiration. Last, but certainly not least, the many people across the globe who are willing to make personal sacrifices in order to improve the lives of others.
What type(s) of service projects do you enjoy doing?
I enjoy interacting with young people through programs such as Mentor Tech, Back-to-School Fiesta, the Native American Summer Bridge Institute and the Office of Community Engagement's "Reality Check" program for local middle school students. The Institute for Hispanic and International Communication enjoys close working relationships with organizations such as The Latino/Hispanic Faculty Staff Association, Raiders Rojos, Unido por un Mismo Idioma and especially the Cross-Cultural Academic Advancement Center.
What are you currently working on?
I am currently co-instructing a large-enrollment course, Rock and Roll Media, with Kent Lowry, a Ph.D. student in our college. I'm also working on papers for publication with two other graduate students. Patrick Merle and I are examining the benefits and pitfalls of mass communication scholars using secondary sources, trade journal and business press articles, in their research. With Nancy Garcia, I am writing about U.S. television companies' expansion into Latin American markets during in the 1980s and early 1990s. I am also preparing for our college's second study abroad program at the Texas Tech Seville Center in May 2011. Following that adventure I will work on a book project concerning U.S. Spanish-language television.
What advice do you have for new faculty members on balancing the components of an integrated scholar into their careers (academics, research and service)?
Try to find areas of overlap so that these do not become discreet activities. Integrate your research into courses where you can. Involve graduate students and advanced undergraduates who are interested in your research areas and/or be open to venturing into theirs. Present and publish work related to your teaching and service activities. Invite representatives of organizations you work with to visit your classes and/or participate in your research. These are not innate skills for most of us—I encourage new faculty to work at proactively balancing these demands as well as the all-important personal/family time.
Scholar Background
Prior to coming to Texas Tech, I taught at U.T. San Antonio for 10 years and at the Tecnologico de Monterrey in Monterrey, Mexico for two years. My Ph.D. is in Radio-Television-Film from U.T. Austin, and I have an M.A. in Latin American Studies from the University of California at Berkeley. During my program at Berkele,y my wife and I took a semester off to teach English in Cuzco, Peru. I was born in Ann Arbor, Michigan and grew up in Princeton, New Jersey.
Office of the Provost
Address

104 Administration Building, Box 42019, Lubbock, Texas 79409-2019

Phone

806.742.2184