Valerie Paton
2011 Texas Tech Integrated Scholar
Vice Provost for Planning & Assessment;
Interim Dean, University College;
Associate Professor, College of Education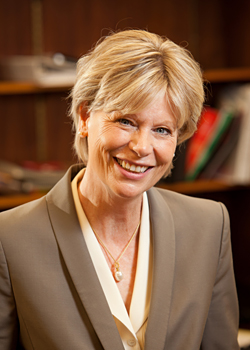 I see my administrative role as a service role. It is one of being responsive, and sometimes, being able to anticipate out several years, many years, or decades, where does this university need to be, and where does it need to be positioned.
- Valerie Paton
What is your research objective/interest(s)?
My work in higher education has always coupled the theoretical and applied. In my faculty and administrative roles, I seek meaning by examining the larger pictures of international, national, and state policy, and how it influences institutional behavior. In addition, I am interested in how students learn, and creating the right conditions for optimal learning gains. So while I am leading a research project on student learning, I am also leading implementation of valid findings.
How do you feel your research impacts the globe?
Over time, I have had the opportunity to work in the field of institutional engagement, observing the ways in which external partnerships and universities can enjoy symbiotic gains and improvement from their relationships. This perspective, that an institution must be in partnership with external communities, has offered opportunities to serve on national boards and is opening opportunities to international discourse.
Where do you get your inspiration?
I try to look up and out. Looking up relates to my personal faith and looking out relates to the incredible examples of brilliant and selfless leaders across our globe.
What type(s) of service projects do you enjoy doing?
My family and I have had a lifelong connection with the Salvation Army. Working together for a common purpose with a diverse community brings strength and joy.
What are you currently working on?
I am currently working on academic transition of a college, which was created for the purpose of fostering online learning. We are working together to identify the strengths and challenges in the organization, and to move quickly to a mission-centered operation.
What advice do you have for new faculty members on balancing the components of an integrated scholar into their careers (academics, research, and service)?
Be kind to yourself and know when to rest. Solitude is needed for re-creation.
Scholar Background
I was born in northern San Diego County, Escondido, California, long enough ago to have enjoyed growing up in a rural environment, participating in 4-H.
Doctor of Philosophy in Education, University of Southern California, 1988,
Dissertation: Intercollegiate athletic drug testing at the University of Southern California: Antecedents, rationale, and the law;
Master of Arts in Counseling Psychology, Santa Clara University, 1980;
Bachelor of Arts in American Studies, San Jose State University, 1976.
Office of the Provost
Address

104 Administration Building, Box 42019, Lubbock, Texas 79409-2019

Phone

806.742.2184