Faculty Books
Rosemary Cogan, Ph.D.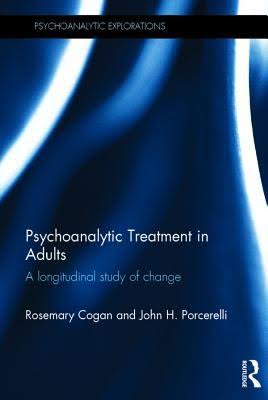 Psychoanalytic treatment in adults: A longitudinal study of change
Authors: Cogan, R., & Porcerelli, J. H.
Year: 2016
Publisher: New York: Routledge
Kelly Cukrowicz, Ph.D.
Simple Treatments for Complex Problems: A Flexible Cognitive Behavior Analysis System Approach To Psychotherapy
Authors: K.C. Cukrowicz, A.B. Burns, J. A. Minnix, L.R. Reitzel, & T.E. Joiner
Year: 2005
Publisher: Center Circle Press
Patricia R. DeLucia Ph.D.
Reviews of Human Factors and Ergonomics, Volume 7
Editor: Patricia R. DeLucia
Year: 2011
Publisher: Sage
Robert Morgan, Ph.D.
Life After Graduate School in Psychology: Insider's Advice from New Psychologists.
Editors: R. D. Morgan, T. L. Kuther, & C. Habben
Year: 2005
Publisher: Psychology Press
Careers in Psychology: Opportunities in a Changing World, 4th Ed.
Authors: Kuther, T. L., & Morgan, R. D.
Year: 2007
Publisher: Wadsworth/Thomas Learning
Clinician's Guide to Violence Risk Assessment
Authors: Jeremy F. Mills, Daryl G. Kroner, & Robert D. Morgan
Year: October 2010
Publisher: Guilford Press
Steven Richards, Ph.D.
The Oxford Handbook of Depression and Comorbidity
Editors: S. Richards & M.W. O'Hara
Year: 2014
Publisher: Oxford University Press
Overview:
"The Oxford Handbook of Depression and Comorbidity brings together scholarly contributions from world-class researchers to present a careful and empirically based review of depressive comorbidity."
Relapse Prevention for Depression
Editors: S. Richards & M.G. Perri
Year: 2010
Publisher: American Psychological Association
Sample endorsement from the book jacket:
"Simply excellent! At last, a superb blend of up-to-date research, theory, and clinical practice that addresses not only the treatment of depression but, most important, relapse prevention with evidence-based psychotherapies and 'how-to's.' A treasure trove for practitioners, researchers, trainers, and students alike. Bravo!"--Puncky Heppner, PhD, Curators Professor, University of Missouri--Columbia
Depression: A Primer for Practitioners
Authors: S. Richards & M.G. Perri
Year: 2002
Publisher: Sage Publications
Roman Taraban, Ph.D.
Creating Effective Undergraduate Research Programs in Science
Editors: Roman Taraban & Richard L. Blanton
Date: June 2008
Publisher: Teachers College Press
The Psychology of Learning and Motivation (Vol. 29): Categorization by Humans and Machines.
Editors: Glenn V. Nakamura, Roman Taraban, & Douglas L. Medin
Date: September 1993
Publisher: Academic Press
Psychological Sciences
Address

Texas Tech University, Department of Psychological Sciences, Box 42051 Lubbock, TX 79409-2051

Email

kay.hill@ttu.edu