August 24, 2012
Faculty led programs at the Rawls College of Business have given its students the opportunity to see the world since 1997.
With five different programs traveling around the world, students can visit Spain, Norway, Prague, Europe and Peru. Each program is designed to educate students on a global level while providing them the opportunity to see different parts of the world. The hard work and dedication of each faculty member involved keeps these programs successful.
Director of the International Business Education Resource Center Catherine Massengale strives to make the best fit for each student looking to study abroad. Massengale and her staff at IB Center incorporate a student's personal and academic goals into finding the right program. For many students, the faculty-led trips are the best fit academically.
The faculty-led program to Norway is led by Debra Laverie, Ph.D., along with Jeffery Harper, Dennis Arnett, Ph.D., and Dale Duhan, Ph.D., Rawls professors, who all three teach international marketing. International management is taught by L. Sigve Bore, a professor from Norway. The Norway program is the longest running faculty-led program, running for fifteen years. The class works with HIBU, a university in Honefoss, which is a small town approximately an hour and a half from Oslo.
Harper said this program is unique because it teaches Texas Tech and Norwegian students in the same class. He said he is challenged through this program to provide real world examples for students from different backgrounds.
"If I had to narrow down why this program is different," Harper said. "It would be that this is the only program which takes students and professors from different backgrounds, and forces them out of their comfort zones. It is really neat to see relationships form."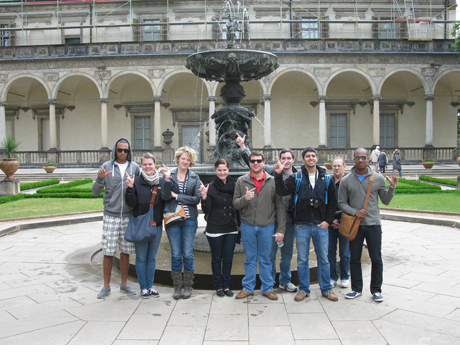 The program in Prague, Czech Republic is led by John Masselli, Ph.D., CPA and Bob McDonald, Ph.D. Masselli, a Rawls accounting professor, teaches a course in the area of marketing. Both professors teach graduate and undergraduate classes on this program.
Masselli has been teaching in the Prague program since May 2004. He has led study abroad programs since 2001. Masselli said he feels at home in Prague, and it is a great location for his class to take place because of the cultural and economic aspects, as well as the city's affordability.
The program works directly with the University of New York in Prague (UNYP), and this year a reciprocal agreement was made between the Rawls College of Business and UNYP, thanks in large part to the relationship developed through this faculty-led program. Students have the opportunity to study at UNYP while taking classes and receiving credit at Texas Tech.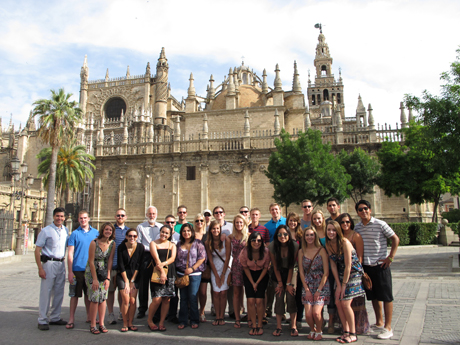 The program in Seville, Spain is taught by Francisco Delgadillo, Ph.D. Delgadillo, a Rawls professor in the Information Systems and Quantitative Sciences department, teaches introduction to production and operations management.
Delgadillo gives the students real world experience through company visits to places such as Portugal Telecom, the largest telecommunications service provider in Portugal, and Ybarra, a company based outside Seville that produces olive oil, mayonnaise and other sauces. Students also travel around Spain and Portugal with a great deal of history incorporated into many of the excursions.
Delgadillo said he tries to keep the program fun and exciting, while also making the coursework challenging. He said he enjoys teaching in Spain because of the exciting history of the area. He has participated in the study abroad program for six years with two years in Mexico and four years in Spain.
Terry McInturff, J.D. a Rawls professor of practice and area coordinator for energy commerce, teaches Global Energy Perspectives in Europe, and also leads the Energy Commerce World Energy Project (WEP) to Peru every summer.
The trip to Europe is based in London with stops in Paris, Amsterdam and Vienna. Each city along the program's route highlights an important part of the energy industry. McInturff said the students gain a great deal of world experience and knowledge in a short amount of time. He wants students to directly see how energy is vital to the world's developed economies and the challenges of meeting their energy demand.
The World Energy Project has Rawls students installing solar lighting systems in communities without electricity in isolated areas of Peru. This project is the counterbalance to Global Energy Perspectives in that it focuses on energy issues faced in developing economies. The WEP works directly with Light Up the World, a Canadian non-profit organization that serves as the technical and logistical partner.
One-third of the world's population lives without electricity, and this project brings sustainable energy to people while giving Rawls students internship credit and a more global perspective on energy issues. This year's World Energy Project installations were funded by a grant from The CH Foundation.
"The WEP is a physically, mentally and sometimes emotionally challenging experience that leaves students memories they will never forget," McInturff said.
All faculty-led programs through the International Business Education Resource Center offer different experiences to students in the Rawls College. These programs help shape a student's college experience and are made possible by a committed and enthusiastic faculty and staff.