Nia Pierce, a junior accounting major in the Rawls College of Business, was recently awarded the Farm Credit Annual Business Scholarship, a $5,000 annual scholarship sponsored by AgTexas Farm Credit Services in Lubbock and the Farm Credit Bank of Texas in Austin.
A native of Montgomery, Texas, Nia is currently involved in a variety of on-campus organizations.She is an Honors College student and a member of the Accounting Leadership Council. She has a 4.0 GPA and plans to obtain her bachelor's and master's degrees in five years through the 150-hour MSA program.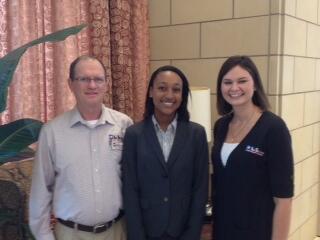 Nia is a member of the inaugural class of the Rawls Business Leadership Program; a dynamic learning experience designed to provide students with real-world knowledge and experiences to excel in leadership roles. Additionally, she is the Vice President of the Mentor Tech Student Organization, an Honors College ambassador, a multicultural-community service organization, as well as a Protégé Advisory Committee (PAC) Leader for Mentor Tech.
Over the course of the summer, Nia participated in several leadership conferences with accounting firms such as: Ernst & Young, KPMG, Deloitte, and Crowe Horwath; she was simultaneously working as a front desk receptionist at the Magnolia ISD Natatorium.
Pictured: Nia Pierce with Ag Texas representatives Alan Watson and Kayla Hopkins.