Written By: Kacie Phillips
Members of the Rawls Business Leadership Program had a recent opportunity to meet and eat lunch withAngela Braly, a successful and prominent Rawls College of Business alumna (1982).
Angela Braly formerly served as the Chair, President and Chief Executive Officer of WellPoint, Inc., serving over 34 million or 1 in 9 Americans. WellPoint's health insurance plans include Anthem Blue Cross and Blue Shield plans in 14 states as well as the Amerigroup, Caremore and 1800 Contacts.
Braly is currently a member of the Board of Directors for both Procter & Gamble and the Indiana Economic Development Corporation, and has held a multitude of positions in executive leadership throughout her career. She ranks No. 24 among "The World's Most Powerful Women" by Forbes magazine August 22, 2012. Read more about Angela Braly.
"We were so thrilled to have Angela back on campus to discuss her career and unique status as one of very few females to serve as CEO of a Fortune 50 firm. As Chancellor Hance loves to say, 'Dream No Little Dreams,' and Angela lived this by refusing to be mediocre in anything she did," said Lance Nail, dean of the Rawls College of Business at Texas Tech University.
"We expect our Rawls Business Leaders to rise to the top through their intellect, leadership, hard work, and ethical conduct. Angela has demonstrated the success of a Rawls Business Leader. From here, it's expected," Nail said.
Angela's message personified the creed of Texas Tech University and what the Rawls College of Business aspires for the future of our Rawls Business Leaders and student body as a whole.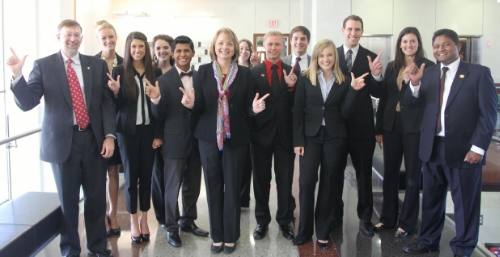 Angela spoke of making a conscious decision not to be mediocre and that the most important personal trait one can hold in business is honesty and integrity.
She encouraged the cohort of Rawls Business Leaders to share how they make a conscious effort each and every day to not to be mediocre. The group of students went around the table to share with their fellow students, faculty, and Angela Braly herself:
"I strive to stand out in the workplace to not just be another 'number'. Doing a job to the best of your ability and taking every opportunity possible is key to not be mediocre."
- Katie Peters; Accounting, MSA; Amarillo, TX
"I make an effort to not be mediocre by doing my best to see opportunity where others don't in terms of investment and enterprise. In the future I plan to work to develop countries that potentially be economic powers, especially countries within Africa."
- Surafell Kebede; International Business; Houston, Texas
"In my efforts to avoid mediocrity, I like to begin with the end in mind. I believe that the future I hope to create will emerge as a result of individual actions I take today. If I perceive that going the extra mile now will produce opportunities later, I feel propelled to push a little harder, to dig a little deeper, and to give every day all that I've got."
- Joshua Neel; Finance; Waco, TX
"I want to empower women to go outside of the norm and be passionate about everything they strive for."
- Alex Lyon; Management and Marketing with Supply Chain emphasis; Houston, TX
"I am not mediocre because I give 100% effort in all of my endeavors. No matter the situation, I always strive to achieve a positive outcome and maintain an optimistic attitude. With an exceptionally optimistic attitude, I set high goals for myself. I am not mediocre because I constantly strive to achieve more and serve others in the process. I am not mediocre because I will never stop learning and I will never settle as I challenge myself every day."
- Star Marlette; Energy Commerce; Valencia, California
"As a freshman coming from a small town; attending Texas Tech University is a big adjustment. It means I need to focus. There is this stereotype of freshman that they slack off, party, and don't go to class due to such an adjustment. I keep myself from being mediocre by not falling into that stereotype and striving to be the best student I can be."
- Johnny Hernandez; Energy Commerce; Sundown, TX
"I have a plan for the future and I try to make every day work for that plan."
- Jacob Fedosky; MIS; Rowlett, TX
"To surpass mediocrity, I work to reflect my heart and soul in everything I do. I push to always keep learning, and just like a true Red Raider, I work to strive for honor in all aspects of life. Through different life experiences, I have learned to turn defeats into triumphs and to never stop working to achieve your dreams."
- Khaki Scrivner; Energy Commerce; Turkey, TX
"I reject mediocrity by persevering after others give up and by inquiring about the "deeper reasons" behind things."
- Joseph Kmetz; Energy Commerce; Houston, TX
"Being "futuristic" is one of my strengths, so I constantly hold myself to the highest accountability, because I know that each and every action I perform today has an effect on the opportunities that I may be granted tomorrow."
- Hayden Turner; Energy Commerce; Lubbock, TX
"I am not mediocre since I have come into Texas Tech with 46 hours completed. As a first year, I am taking junior and sophomore level courses. I stay ahead of the game and love to get things accomplished before the date I plan."
- Caroline Roberson; Accounting; Coppell, TX
"I begin each and every day as an opportunity to live passionately; I always find myself fervently aspiring to fulfill my lifelong ambitions, as well as personal pursuit of success and happiness."
- Kacie Phillips; Marketing and Management; Tipp City, Ohio