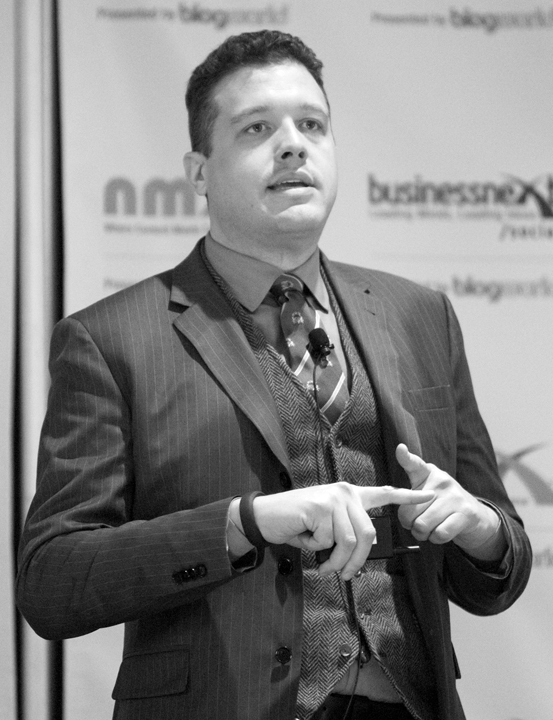 On October 24, 2013, the Lubbock Ad Federation welcomed Lin Humphrey, to speak at their monthly luncheon. Mr. Humphrey is currently working on his Ph.D. in marketing here at the Rawls College of Business, as well as teach undergraduate business classes.
The Lubbock Ad Federation is the local arm of the American Ad Federation, and they boast over 100 local professionals in advertising.
Mr Humphrey spoke about his social media research through a presentation entitled "Connected Consumers."
His presentation had three main components:
1) My background and portfolio of client work (and work as the client): Carnival, American Express, Samsung, Omni, and Norwegian, and he showed a sizzle reel for Samsung Mobile.
2) Case studies on social media: Betabrand, Fab.com, Marriott, and Indochino with some key takeaways.
3) Research & teaching - "I overviewed five pieces of social media research I'm working on, and I talked about BA 1101 and the work students are doing on digital identity and career preparation," said Lin Humphrey.
"I also bragged about students from our marketing courses and how they should be considered for internships. So, it was a fun chance for me to talk research and brag about our students," Humphrey continued.
This supports the efforts outlined in the Rawls College of Business Strategic Plan. Learn more about the
LEADER 2020 Strategic Plan
and follow our progress on Twitter at
#RawlsLeads
.
Written By: Kacie Phillips