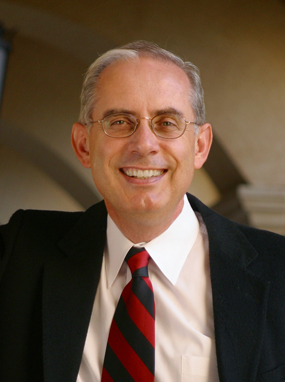 Dr. Ronald K. Mitchell, Professor of Entrepreneurship and the Jean Austin Bagley Regents Chair in Management, joins a select group of business and academic leaders who have been named Fellows of the Wheatley Institution at Brigham Young University. The Wheatley Institution Fellowship results from Dr. Mitchell's distinguished career in both business and academia.
"To be included among the Wheatley Fellows, each of whom is exceptional in her/his own right, is one of the highlights of my career," Dr. Mitchell said. "My hope is to contribute in a way that brings honor to Texas Tech, to our college, and to all who are concerned with lifting society."
The Wheatley Institution is an organization with global reach, whose mission is: "Lifting society by preserving and strengthening its core institutions." Currently, the scholarly and public-policy agenda of the Wheatley Institution includes the following six initiatives:
Family
Education
Business Ethics and Leadership
International Affairs
Foundations of Civil Life and Civic Virtue
Faith and Intellect
Dr. Mitchell joins the Business Ethics and Leadership Initiative.
The Institution is named for Jack and Mary Lois Wheatley. Jack Wheatley's motto is: "In everything, diligently pursue excellence." The Wheatley Institution at Brigham Young University seeks to develop and to spread creative and powerful ideas which lead toward practical and constructive solutions to real societal issues. It broadly disseminates those motivating ideas and policy recommendations to the wider world, and is guided in all its work by the enduring, bedrock values that are expressed through its Initiatives.
The Wheatley Institution currently has 18 Fellows, in addition to six Visiting Fellows and two Affiliated Scholars. Dr. Mitchell was previously honored as a Distinguished Visiting Fellow at the Wheatley Institution in 2013. For more information about this Fellowship or his research and publications, contact Dr. Ronald Mitchell at ronald.mitchell@ttu.edu or visit his website at www.ronaldmitchell.org.
This supports the efforts outlined in the Rawls College of Business Strategic Plan. Learn more about the
LEADER 2020 Strategic Plan
and follow our progress on Twitter at
#RawlsLeads
.