Dr. William P. "Bill" Dukes, an American World War II hero and longtime distinguished finance professor at Texas Tech University, passed away June 3, 2015, in Lubbock, Texas, at age 94. A memorial service will be held at Resthaven Funeral Home (5740 W. 19th St., Lubbock, Texas 79407) on Saturday, June 6, at 1 p.m., with longtime friend Dr. Jack Griggs officiating. Burial will follow afterwards with Marine Corps Honors at Resthaven Memorial Park and visitation with the family will follow at the funeral home.
Dukes was born July 24, 1920, in North Little Rock, Ark., and graduated high school in East St. Louis, Ill. He married the lovely and gracious Janie Blake, and they were faithful and devoted partners for 73 years. Their lives together provided remarkable testimony to what marriage can be. He studied three years at Jefferson College in Hillsboro, Mo., before enlisting in the Navy and was finishing his flight training at Lambert Field in St. Louis when Pearl Harbor was attacked in 1941. Graduating No. 1 in his class, he chose to enter the Marines as a second lieutenant, receiving combat decorations in 1943 and 1944 when he piloted some of the first flights to Bougainville, near Guadalcanal, and was awarded two Distinguished Flying Cross medals and seven Air Medals, among other military honors for his service in the South Pacific.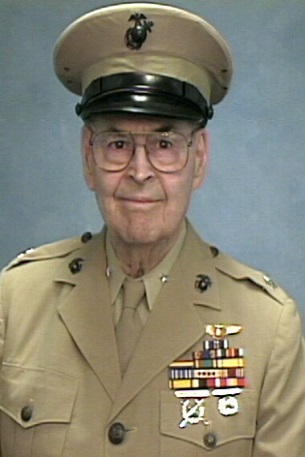 His military career took him to numerous assignments around the world. While in Japan he was commanding officer of the 2nd Battalion, 3rd Marines Division. While stationed at Marine headquarters near the Pentagon, Dukes coordinated a $200 million budget for ammunition and equipment used by combat units around the world. He served as professor of naval science while commanding an ROTC unit at Cornell University and working on his doctorate. He earned a bachelor's degree in military science from the University of Maryland in 1953, an MBA in finance from the University of Michigan in 1958 and a Ph.D. in business and finance from Cornell in 1968. He retired from the Marines as a colonel and was later promoted to the rank of general.
Immediately after retiring from the Marine Corps, he began a distinguished academic career in the Finance Department in the Rawls College of Business at Texas Tech University, where he taught and mentored thousands of students for 45 years. Dukes received the inaugural Outstanding Educator Award from the Southwestern Finance Association in 2004, the 2006 President's Academic Achievement Award - one of Texas Tech's highest honors for a faculty member - and was named James E. and Elizabeth F. Sowell Professor of Finance at Texas Tech in 2007. In all, he received 16 awards for his teaching and research. He also was a consultant to many businesses and business leaders.
Dukes will be greatly missed as a faithful and devoted husband, and as a colleague with those whom he worked and by friends who will continue to cherish their memories of a man they admired and loved. He was preceded in death by his parents; a brother, Merrell Dukes; and daughters Lynn Ayre Wheatcraft and Sheryl "Sheri" Leah Dukes. Among survivors are Janie, his wife of 73 years; many close friends such as "Dukes Dudes," a cadre of colleagues whom he hunted with each year for more than three decades. Memorials may be made to the William P. Dukes Scholarship Endowment in Texas Tech's Rawls College of Business (to be mailed to Dean Lance Nail, 703 Flint Ave., MS2101, Lubbock, Texas 79409).