Current alumni and public relations director Susan Brown has been working at and serving the Rawls College of Business for 16 years. Throughout her time with the college, she has proven that one person can make a difference. Susan has a reputation among alumni, faculty/staff and students of being warm-hearted, helpful and always willing to go above and beyond her job duties. When Susan set out to attend the 2nd Annual San Antonio Scholarship Event in early March, she could not have imagined the surprise waiting for her.
To honor Susan's unwavering dedication to the Rawls College, the Advisory Council and other alumni banded together to create the Susan Brown Scholarship Endowment. With donations from alumni reaching $40,000, Susan will set the parameters for the scholarship. She is currently working with the development office to decide what criteria a student will have to meet in order to qualify for the scholarship.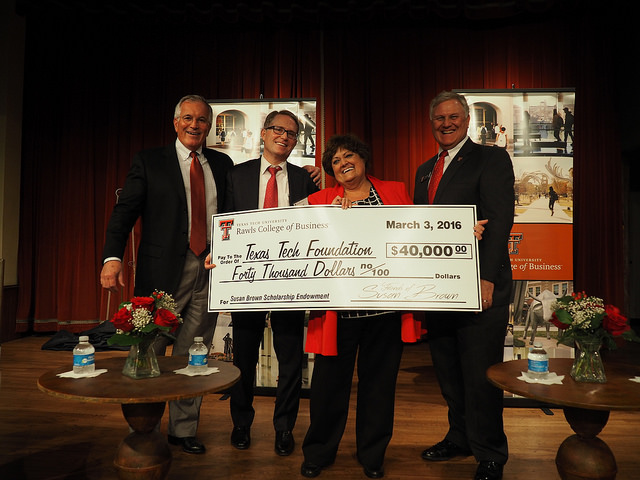 "I do not have the words to express how humbled, honored and beyond thankful I am to the Rawls Advisory Council and friends who made such a selfless gift," Susan said. "It has truly been a privilege to know and work with such amazing individuals."
The project of gathering alumni donations to create the endowment was spearheaded by former Advisory Council Chair Randy Golden. Randy is a 1977 graduate with a bachelor's degree in management, who continues to give back to the Rawls College through his participation with several of the college's leadership and alumni organizations. For several months, Randy has worked with fellow alumni to organize the endowment, which was presented to Susan as a surprise during the San Antonio Scholarship Event.
Randy and others wanted to thank Susan for her work with alumni over the years. Although the college has undergone many executive and developmental changes since her appointment, Susan has remained a constant source of guidance and a steady hand in the sea of change. That continuous support has proven invaluable to the college and its alumni. The Susan Brown Scholarship Endowment is a small token of gratitude compared to her many years of commitment and devotion to the Rawls College.
To view more photos from the 2nd Annual San Antonio Scholarship Event, please visit the Rawls College's Flickr account.
This supports the efforts outlined in the Rawls College of Business Strategic Plan. Learn more about the
LEADER 2020 Strategic Plan
and follow our progress on Twitter at
#RawlsLeads
.