Rawls College of Business faculty, staff and Ph.D. students were honored for their outstanding efforts and contributions to college at the 2016 Faculty, Staff and Student Annual Awards on Wednesday, May 11.
Please join us in congratulating the following individuals on their awards:
RAWLS COLLEGE AWARD WINNERS
Doctoral Student Excellence in Teaching Awards:
Finance - Xu Niu
Accounting - Blair Marquardt
Management - Olivia Aronson
Marketing - Miles Condon
ISQS - David Lucus
Doctoral Student Excellence in Research Awards:
Finance - Hainan Sheng
Accounting - Emily Wang
Management - Robert Evert
Marketing - Kiran Pedada
ISQS - Roozmehr Safi
Faculty Awards:
Excellence in Faculty Service - Liz Karam
Excellence in Teaching - Laura Cardella
Excellence in Teaching - Kelli Frias
Distinguished Faculty Research - Miguel Aguirre-Urreta
Integrated Scholar - Tyge Payne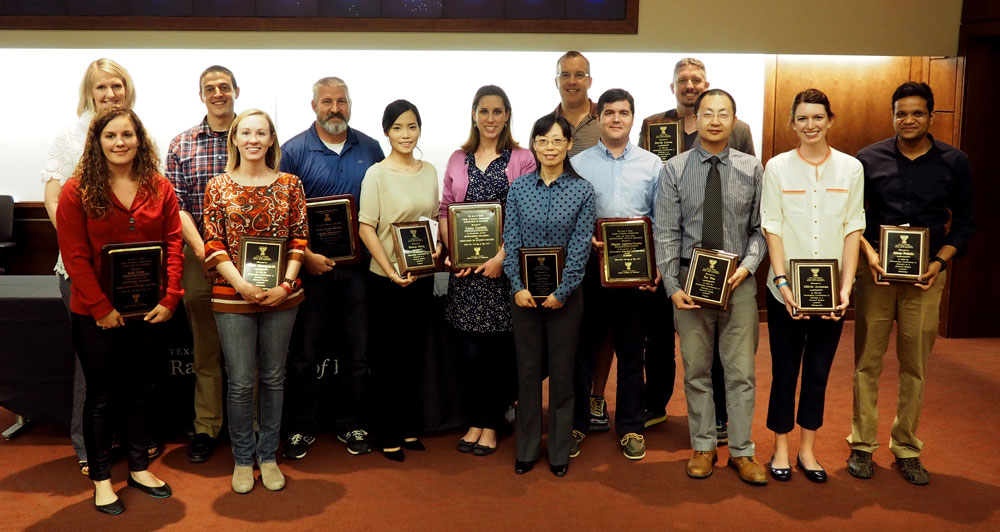 Additionally, faculty and staff members of the Rawls College were honored with university awards for their commitment to Texas Tech, research, teaching, and years of service.
UNIVERSITY AWARD WINNERS
Texas Tech Alumni Association New Faculty Award:
President's Excellence in Teaching Award:
President's Academic Achievement Award:
Provost's 2016 Integrated Scholar:
Horn Professor Recognition:
Shelby Hunt
Peter Westfall
Emeritus Faculty Certificate:
LENGTH OF SERVICE RECOGNITION
5 years
Wendy Arnett
Trevor Bell
Larry Fulton
Wiley Guy
Matt Hart
Rusty McInturff
Ashly Moncrief
Brett Myers
10 Years
Kristen Bigbee
Claudia Cogliser
Bill Gardner
Jeri Lingnau
Ron Mitchell
Mark Moore
Dayton Perrin
Kim Wake
15 Years
Susan Brown
Susan Harkey
Jeff Mercer
Bill Pasewark
Ralph Viator
20 Years
30 Years
35 Years
Paul Goebel
Shelby Hunt
Dawn Kelley
Pam Knighten-Jones
This supports the efforts outlined in the Rawls College of Business Strategic Plan. Learn more about the
LEADER 2020 Strategic Plan
and follow our progress on Twitter at
#RawlsLeads
.