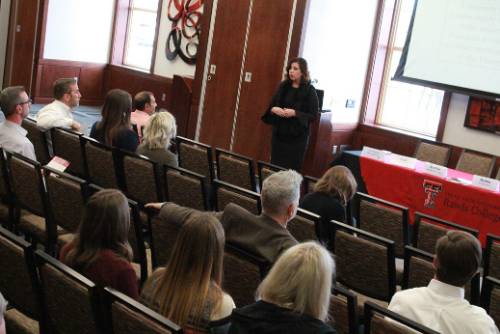 The outreach committee of the President's Gender Equity Council at Texas Tech University held a social and informational meeting on Monday at the Jerry S. Rawls College of Business.
"We're visiting different units and departments across campus to get people familiar with the council and our initiatives, and also to hear from them about any questions, concerns or ideas they might have," said Archie Pitsilides, a member of the council and the director of grants and outreach for Rawls College.
The council advises Texas Tech University President Lawrence Schovanec on matters related to gender equity at the university and makes recommendations to ensure an equitable and inclusive collegiate environment. Originally formed in 2002, it also implements programs, measures and strategies, such as the Texas Tech Women's Leadership Initiative, to help address the social and historical disadvantages that women and other underrepresented people often face.
"The council's reach is intended to be broad. That's why we have a number of committees that look at a lot of different issues," Vice Chair Wendy-Adele Humphrey said.
The event was attended by about 25 people, with a mix of faculty members, staff members and students. Humphrey and council member Sofia Chapman, both associate deans at the Texas Tech University School of Law, invited members of the audience to share ideas and ask questions.
One faculty member asked what protocols are appropriate and safe in the year 2019 when a female student wants to speak confidentially with a male faculty member and asks to shut the door for privacy.
Pitsilides, Humphrey and Chapman each weighed in on the matter and shared their individual perspectives of ways to deal with that type of scenario.
Rawls College senior Emily Massey, a member of the Women's Leadership Initiative, said afterward that she found the discussion interesting and helpful.
"I was really pleasantly surprised by how open they were," she said. "They brought up some really good points."
Top administrators of the college who attended included Dean Margaret Williams, who announced her appointment that day of the college's new co-directors of diversity: Associate Professors Andrea Romi and Kirsten Cook.
Cook said afterward that he looks forward to collaborating with the council on important initiatives that the Rawls Diversity and Inclusion Committee has undertaken.
"I appreciate members of the President's Gender Equity Council taking time from their busy schedules to visit Rawls, introduce themselves to our staff and faculty, and share with us the important work they do for Texas Tech," he said.
Learn more about the TTU President's Gender Equity Council.
Nominate a TTU faculty or staff member for the 2019 President's Excellence in Gender Equity Awards, which recognize individuals for their substantial contributions to activities and programs that advance the academic and professional climate of gender equity in the university. Nominations are due Friday, March 22.