Dan Reif, a STEM MBA student in the Jerry S. Rawls College of Business, was one of only 54 student veterans selected to participate in the 2019 Google Student Veteran Summit held on July 26 and 27 in New York City.
The two-day, all-expense-paid summit brought together military veterans—with varying backgrounds, and from all over North America—at Google's New York City offices for an inside look at Google's unique culture of impact and collaboration.
"It was really interesting to see firsthand their approach to innovation and how the organization itself is structured," Reif said. "Google maintains a very flat organizational structure, meaning no one is off limits. Everyone within the organization is accessible, and in turn it helps foster a collaborative environment. If the CEO is in town and has availability, it might be possible for you to arrange a meeting."
According to Reif, Google also encourages its employees to set aside time for innovation.
"Employees are allowed to dedicate up to 20% of their workweek to explore and work on projects that they are passionate about. If the ideas are good, Google may choose to back the project financially," Reif said.
Reif, who began the STEM MBA program in the summer of 2018, was honorably discharged from active-duty in the U.S. Army in 2013.
"I have a strong technical background," Reif said. "I was a computer system administrator in the army and have additional industry experience with HP and Amazon. I believe being in a STEM-focused MBA program combined with my previous experience played a primary role in my selection for the summit."
Throughout the summit, attendees were given an inside look at each of the functional areas and how they work together within the Big Four technology company.
"Because of what I have learned in my STEM MBA program at Texas Tech, I was able to clearly see how the functional areas operate together to positively impact the organization," Reif said. "Over the course of your academic journey, you begin to connect the dots between courses. You begin to think critically and truly understand not only how the courses integrate, but also how this information can be applied in the real world."
Reif wants other Texas Tech students to realize the power of a Texas Tech degree.
"Texas Tech is on the rise, partially due to our success in athletics over the last few years, but I want other students to also realize the power of our academics," Reif said. "A lot of the skills I have learned here at Texas Tech would be applicable in working with industry leaders, including Google. A degree from Texas Tech has the potential to take you far."
Reif added that as many companies increase their diversity and inclusion efforts, it is important for veterans to recognize opportunities.
"Veterans often bring critical thinking, experience and leadership skills to the table," he said. "This type of skillset is exactly what companies are looking for. It is important for veterans to be confident in their abilities and leverage their skillset."
The summit also included professional development sessions, such as strategies for answering "general cognitive ability" questions, practicing mock interviews with current Googlers and application tips. Participants also had opportunities to hear the experiences of prior service members who hold MBAs and have successfully transitioned into successful roles at Google.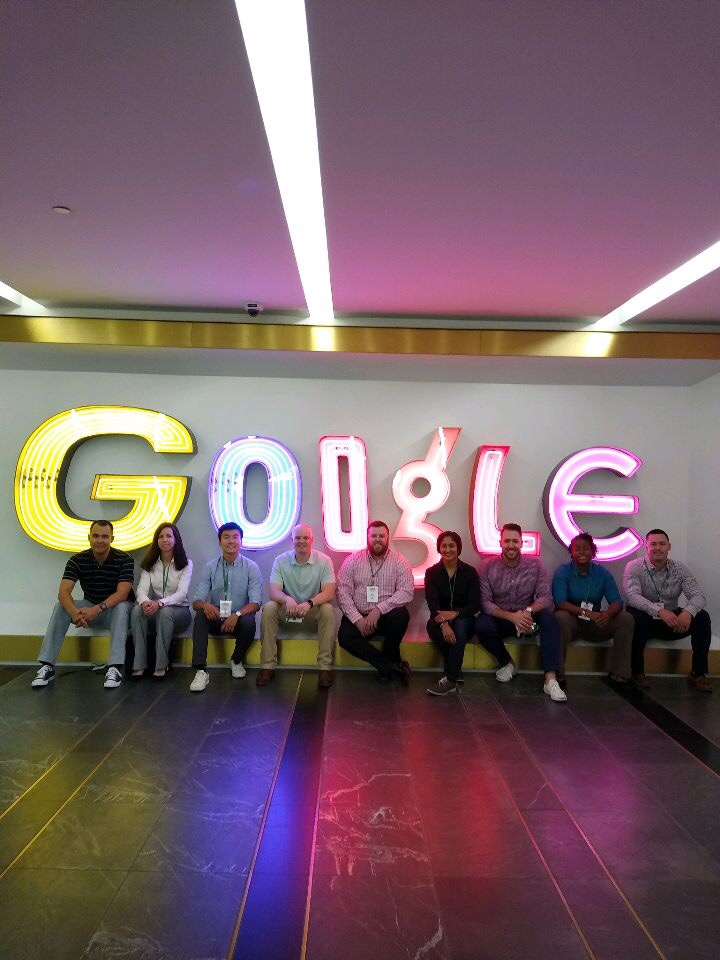 In addition to the valuable networking with Google employees, the summit was a great opportunity to build relationships with other MBA student veterans from top universities around the country, including Columbia, Harvard, Massachusetts Institute of Technology and Carnegie Mellon, Reif said.
"Something really unique about veterans is that we tend to connect with other veterans very easily, and we let down our walls a bit more among other veterans," he said. "The summit was a great chance to connect with people who have been through some of the same experiences as you through their time in the military and are also excited about business."
Reif explained that even though the summit only lasted two days, attendees were able to offer each other valuable academic and professional advice, such as how to set yourself apart from other job candidates or how to become more involved on campus.
"When I say we connected, I mean we really connected," said Reif. "I have a whole new set of contacts from the summit who I have been able to connect with on LinkedIn and other social groups. I know that these relationships will be valuable as I wrap up my STEM MBA program and re-enter the workforce."
Reif is set to graduate this fall and plans to run his own company one day. He is currently applying for cross-functional roles that will allow him to "translate" between business and technical teams.