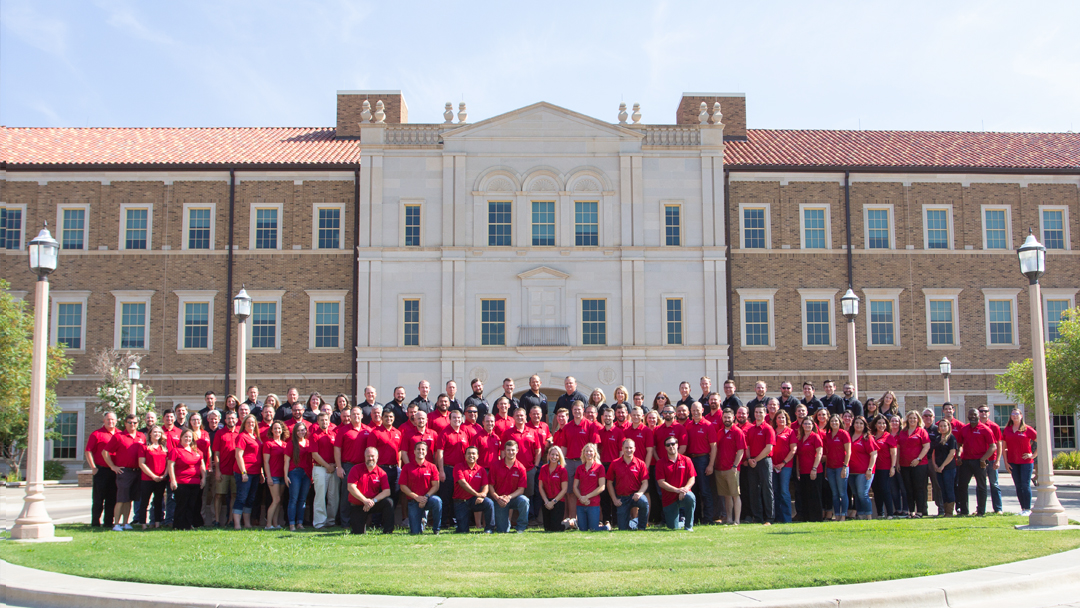 A record number of banks from four states sent participants for the first time.
The Texas Tech University School of Banking experienced a significant increase in enrollment, with a record number of banks sending participants for the first time. A total of 106 professionals from Texas, New Mexico, Oklahoma, Louisiana and Arkansas enrolled in this year's school, which was held August 8-13.
Established in 1973, the School of Banking is a two-year specialized school developed by the finance faculty in the Jerry S. Rawls College of Business, along with industry experts. The school prepares participants to lead their banks by developing a thorough understanding of banking practices, regulations and management principles.
During the course of the two-year program, participants complete an annual one-week residence session at Texas Tech University in Lubbock, Texas. The school provides a well-balanced curriculum featuring Rawls College faculty members, veteran bankers, and other industry experts and specialists.
"Bank leadership sends their promising managers, and emerging leaders, to the school because they know they will learn, from experts, best practices across the entire banking function," said Jeff Mercer, Centennial Bank Chair in Finance and director of the School of Banking.
To kick-off the week, Mercer addressed the participants at a welcome reception and dinner at the Jones AT&T Stadium.
"Everyone in this room is really good at what they do and you have expertise in a particular area," said Mercer. "But you come to the school of banking to broaden your exposure to the rest of the bank. Your bank is sending you because you are a promising leader."
As promising leaders, Mercer emphasized each participant's role in responding to the changing landscape of the banking industry, particularly the digital disruption that has come as more and more financial technology companies, known as fintechs, market bank-like services to technology-reliant generations such as millennials (individuals born from 1981-1996) and Generation Z (individuals born from 1997-2012).
"They [millennials and Generation Z] rarely use cash or write checks, and most often use debit cards and Venmo-like payment services," said Mercer. "Their bank branch is their phone."
Mercer explained that although many of the fintech companies are essentially banks, they don't want customers to recognize them as such.
"They [fintechs] want to infer a social good with messaging focused on caring, loving, saving the planet, convenience, free services, and that banks are bad," said Mercer. "They are targeting half of the country, because right now half the country is 42 years old or less. They are targeting your customers and your future employees."
With the ever-changing needs of their customers at the top of their minds, year-one participants spent the week focusing on foundational concepts covering a variety of topics including: treasury management solutions, auditing of banks, fraud management, credit and lending, and bank performance analysis.
"I have been in banking for 13 years and worked in different areas of the bank, but it's nice to get a reminder of what other areas of the bank do on a day-to-day basis," said Tammy Dudenhoeffer, a year-one student from First State Bank in Gainesville, Texas. "This type of broad exposure is especially important for new bankers, so that they fully-understand how interconnected our roles are and how their specific role impacts the overall success of our bank."
Other banking veterans agree that understanding the entire bank operation is critical to success.
"While I've worked in banking for more than 13 years, my experience has been limited to the HR Department. However, one of my main responsibilities as the bank's HR Manager is to ensure we build the right banking team and help our employees succeed. One way I can do this is by understanding the financial side of operating a bank," said Shea Ferland, a year-one student from FirstCapital Bank of Texas in Midland, Texas. "The Texas Tech Banking School provides the learning opportunities I need to understand how the products we offer, our operations and structure all play a part in the strategic planning for the bank. By becoming a more knowledgeable banker, I'm able to not only advance the banking industry in our state through my current role as a board member of the Texas Bankers Association but I'm also able to better serve the bank by knowing what specific skillsets are needed to help our current employees reach greater success."
Back for their second and final year, year-two participants spent the week applying the techniques and concepts they learned in year one to simulated real-world situations.
"After year one I was able to take a lot back to my bank," said Rose Munoz, a year-two student from Lea County State Bank in Lovington, New Mexico. "With the extra year between the sessions due to COVID, coming back was exciting, but also a little bit nerve-wracking. Once we settled in on Sunday, it just felt so good to be surrounded by colleagues and bank leaders again. When classes kicked-off on Monday it was a relief to just jump back in and pick up right where we left off after year one."
Munoz's year-two colleague from Lea County State Bank's Hobbs, New Mexico branch, Nevada Thompson, echoed her excitement for reuniting with colleagues.
"The interactive portions throughout the week are my favorite," said Thompson. "When you start, you are all strangers, but by the end of the week you have formed strong professional connections and you get an opportunity to learn from each other and more about their particular area of the bank."
Up-to-date knowledge of all major areas of banking, a fresh network of colleagues, and the ability to anticipate and respond to changes in the dynamic banking industry are some of the top goals for the School of Banking.
"I would definitely encourage other banking professionals to attend," said Munoz. "It feels really good to have this knowledge and I anticipate that it will allow me to contribute to more situations outside of my day-to-day expertise and positively impact other areas of the bank."
In addition to classroom sessions and interactive banking simulations, both year-one and year-two students participated in several panel sessions, each led by financial experts.
A regulatory panel included leaders from the Federal Deposit Insurance Corporation (FDIC), Office of the Comptroller of the Currency (OCC), Texas Department of Banking and the Federal Reserve Bank of Dallas. Panelists fielded a variety of questions from students including the impact of the COVID-19 pandemic, the regulation of money indirectly tied to the sale of marijuana, bitcoin, cybersecurity and the evolving relationships between banks and fintech companies.
"We're pleased that industry experts, and the major regulatory banking agencies, are enthusiastic about leading sessions and fielding questions from the participants," said Mercer. "A crucial aspect of banking education is to be able to explain and discuss changes and issues facing the bankers as they do their jobs day-to-day. Additionally, these experts are generous with their advice for career enhancement."
A highlight of the week for both participants and school leaders was the David R. Seim Memorial Lecture. Scott Dueser, chairman, president and CEO of First Financial Bankshares Inc. and the driving force behind the Excellence in Banking Program at Rawls College, delivered "Be a High Performance Bank." The lecture was named in honor of Texas Tech alumnus David Seim, who served as the chair of the School of Banking Advisory Board and whose career in banking spanned almost a half century before his passing in 2018.
"There's no better banker than David Seim," said Dueser, who actually worked with Seim early on in his banking career. "No better friend, no better Christian man. He was just outstanding. David was always there when I had questions or needed help. I miss him terribly, but it's very appropriate that this lecture is named after David and I am honored to present."
Dueser went on to share 12 tips on how to be a high-performance bank from First Financial Bank, which was recently rated the number two bank in the nation by Bank Director Magazine.
"We make great decisions because we have different ideas coming from different places, that's why you want diversity in your company," said Dueser. "Not just diversity of color and gender, but diversity of where they grew up and what country they're from. [. . .] The more diversity you have the better company you're going to have."
The week concluded with the presentation of certificates to the year-two individuals who successfully completed the program.
"Congratulations to the Texas Tech School of Banking Class of 2021," said Mercer. "You have completed our rigorous two-year curriculum during a challenging time for our industry and our country. I am confident that the skills you have learned over the last two years will propel you to successfully lead our banks for years to come."
2021 School of Banking graduates:
Edmond Bachman, FirstCapital Bank of Texas
Blayne Baley, First Financial Bank
Michael Boydston, TIB
Logan Bradley, First National Bank of Floydada
Amy Dawson, Lone Star State Bank
Zachary Dominy, UBank
Jason Fellers, Texas Tech Federal Credit Union
Justin Fleming, FirstCapital Bank of Texas
Sunday Grace, First Command Financial Services
Kelsea Heiman, Happy State Bank
Andrew Heitkamp, ValueBank
Matthew Hernandez, First Texas Bank
Eric Johnson, First National Bank
Alisa Kelly, Chambers Bank
Jay Kidwell, First Financial Bank
Brittney Lambert, National Bank of Andrews
Jeff Lloyd, Wellington State Bank
Zach Maberry, First National Bank Albany/Breckenridge
Nicholas Martin, TIB - The Independent BankersBank, N.A.
Haden McAfee Happy State Bank
Rose Munoz, Lea County State Bank
Samuel Pederson, Austin County State Bank
Viviana Perez, Century Bank
Casjen Rico, First Financial Bank
Eric Schaff, First Bank & Trust
Jason Schoggins, First Federal Community Bank, SSB
Braden Sutterfield, Vista Bank
Zachary Tatum, Vista Bank
Starla Terry, First State Bank
Russell Thomasson, Lubbock National Bank
Nevada Thompson, Lea County State Bank
Joe Turner, The First National Bank of Aspermont
Jacob Wedemeyer, First State Bank
Kendra White, American Bank of Commerce
Mandi Willis, Happy State Bank
Pictures from the week are available online. To learn more about the School of Banking, visit the school's webpage or contact Stephanie Bohn.